Chelsea Barracks
Belgravia, London
Chelsea Barracks, 1 Mulberry Square, London SW1W 8DS, UK
Located in Belgravia, the elegantly low-rise Chelsea Barracks comprises 638 two- to seven-bedroom duplexes, townhouses, and apartments in a former military base. These gleaming Portland stone residences pay homage to the centuries-old buildings found throughout the neighborhood and are interlocked by seven freshly formed garden squares—historically an emblem of upscale London living. Architectural firms Dixon Jones, Squire & Partners, and Eric Parry Architects infused this residential enclave with a modern ambience too. Epitomizing this coming together of classicism and the contemporary are the residences' oversized windows gazing over Chelsea's steeple-studded landscape.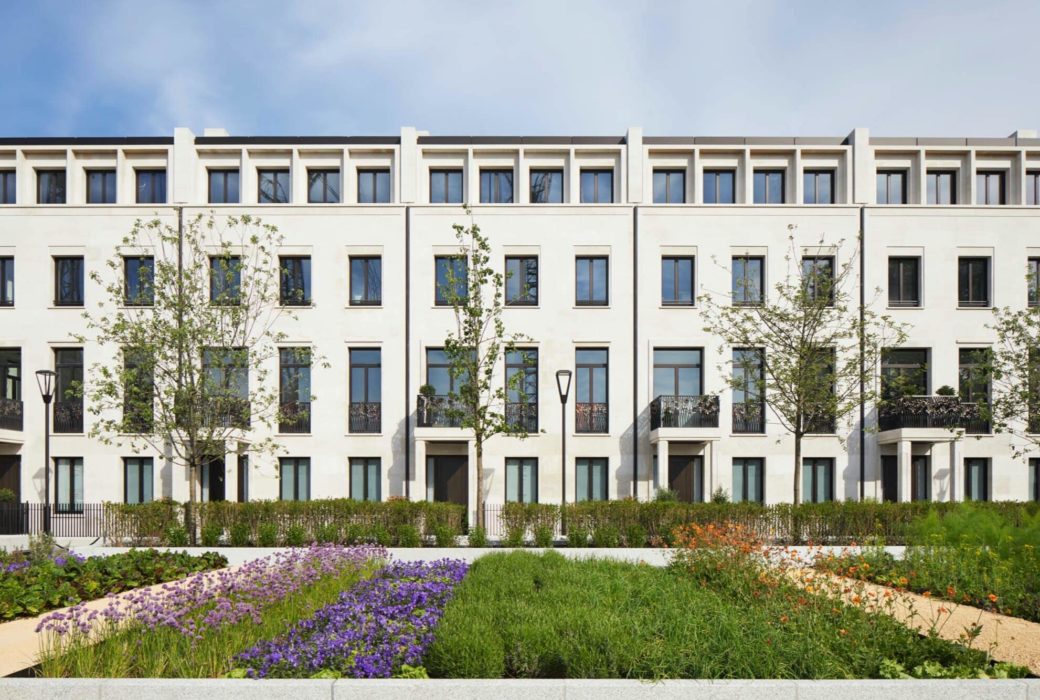 The new Chelsea Barracks is the product of an intricate master plan that involved various architectural and design luminaries, including Dixon Jones, Squire & Partners, and Eric Parry Architects, in the revisioning of the 12.8-acre site. With its Georgian-inspired frontages, ornate lamp posts, and townhouses embellished with William Morris-esque ​​balustrade railings, the streets and fascias of Chelsea Barracks form a well-crafted extension of surrounding Belgravia. Knitting together the scene are several garden squares landscaped by Kim Wilkie Associates (a team that has worked on heritage sites throughout Britain). Running the gamut from traditional woodland to herb-suffused kitchen gardens, these squares are an integral part of the comprehensive design for what is a quintessentially English development.
Chelsea beguiles with its abundance of corner cafes and patisseries, antique shops, prestigious schools, and traditional pubs with gastronomic verve like The Cross Keys. Heritage and the arts are at every turn, from live classical music at Cadogan Hall to world-class exhibitions at the Saatchi Gallery. Indeed, art flows through the area's veins; past residents include Oscar Wilde and James Abbott McNeill Whistler. The annual RHS Chelsea Flower Show—a favorite of the late Elizabeth II—takes place each summer next door to Chelsea Barracks.
An elite team of designers, including Albion Nord, Taylor Howes, and Janine Stone, composed the interiors of the Chelsea Barracks homes. The overall look is of a palatial Georgian residence reimagined for the needs and interests of a sophisticated 21st-century resident. The sheer refinement of solid oak herringbone floors, gold-veined Port Laurent fireplaces, and majestic chandeliers is blended with contemporary flourishes, such as walk-in showers, open-aspect living, and floor-to-ceiling glass.
At the heart of Chelsea Barracks' amenities is The Garrison Club, a residents-only space with oak-paneled lounges and a low-lit billiards room that evokes the famed gentlemen's clubs of nearby St James's. Other perks include an on-site restaurant, an indoor pool, a private cinema, a spa, and a Victorian chapel given new life as an on-site art gallery. Exemplifying the ways that art and culture are interwoven at Chelsea Barracks, Conrad Shawcross RA's Bicameral public sculpture is on permanent display on the grounds.
Conference Room
Fitness Center
Gallery
Game Room
Lounge
Private Event Space
Sauna
Screening Room
Spa
Steam Room
Swimming Pool