The Butterfly
Davie Village, Vancouver
1019 Nelson St, Vancouver, BC V6E 1J1, Canada
One of the last projects of late architect Bing Thom, the Butterfly makes a clear distinction between work of art and building and between home and apartment. Set in the heart of Downtown Vancouver, this cloudlike tower was inspired first and foremost by the emotions it wanted to evoke and by a desire for interrelatedness with its surrounding environment. Of note are the neighboring stone church, which is integral in so many ways, and nature as a whole: light, trees, movement. This is not just a luxury condominium development; it's a redefinition of what luxury living means.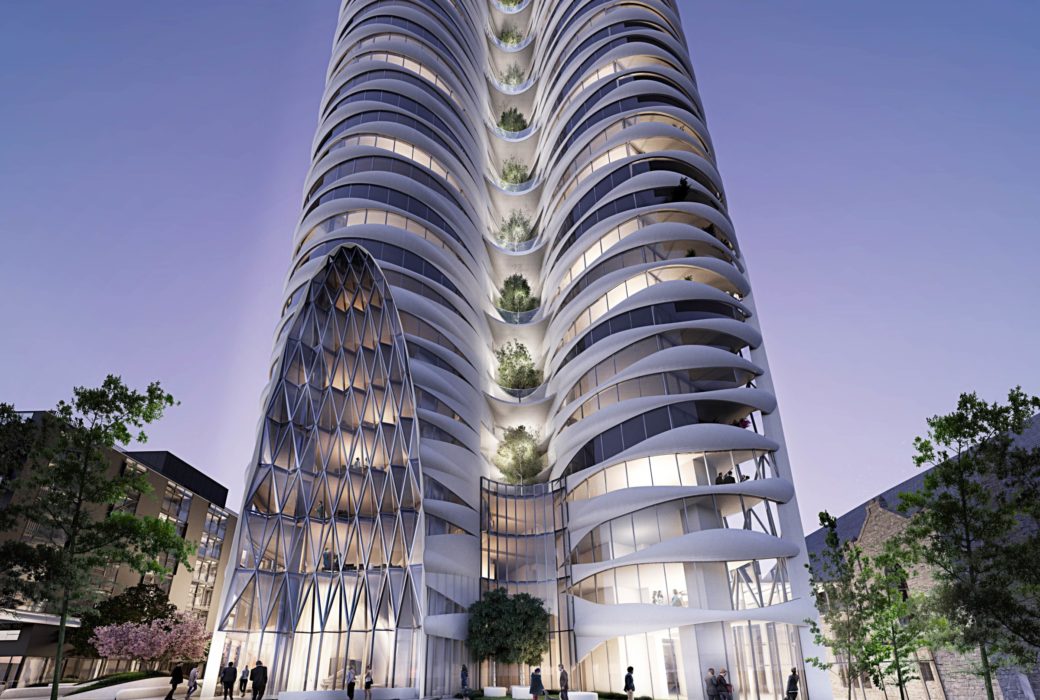 Availabilities
Residence Name
Bed
Bath
Price
Int

SqFt

Ext

SqFt

Taxes
Common

Charges

Floor Plan
Thank you for your interest in Vancouver House. For the latest list of availability, please contact info@lxcollection.com and we will connect you directly with a sales specialist at the property.
These days, when we talk about architecture, it's often about height. And, at 556 feet, the Butterfly is no slouch. Plus, its already impressive stature seems even taller thanks to its location on a rise that gives it another 120 feet. And yet, height may be the least notable aspect of this 57-story tower, designed by Revery Architecture—formerly Bing Thom Architects (after its late founder and renowned Canadian architect). The design draws inspiration from a few sources: a butterfly, yes, but also clouds and organ pipes, a nod to the adjacent First Baptist Church. The overall effect is sculptural and solid but also ethereal and ephemeral, as if it might decide to take off in flight at any moment. This is truly a landmark tower for Downtown Vancouver and a testament to Bing Thom's architectural legacy.
During the day, Downtown Vancouver is a shopping mecca where vintage stores mix with high-end boutiques, and it's a destination for business lunches and food truck pit stops. At night, it's the place to be for bars and clubs of every ilk. You're in the center of it all, with easy access to fashion-forward Yaletown, upscale Coal Harbour, and eclectic Davie Village.
The 331 homes, estates, and subpenthouses range in size from airy one-bedrooms to palatial three-bedrooms. Also designed by Revery Architecture, the interiors are informed by the architecture and a desire to connect the tower and its residents to nature. The curvilinear exterior design, for example, means floor plans that defy classic (rectangular) layouts. White floors and ceilings and glass walls add a fluidity to living spaces. And instead of corridors, there are breezeways—open-air spaces that not only create social spaces but also allow for natural ventilation and reduce energy use. 
There are swimming pools, and then there is this swimming pool, an Olympic-size, glass-roofed pool set in a concrete exoskeleton with spectacular views of the First Baptist Church. You might call it a spiritual experience. The biophilic lobby and gym are nearly as spectacular—and then there are those communal breezeways, which create connection where there might otherwise be isolation.
Concierge
Fitness Center
On-Site Parking
Swimming Pool