Post House
Boerum Hill, New York
533 Pacific St, Brooklyn, NY 11217, USA
An enviable address in one of Brooklyn's most enviable neighborhoods, Post House combines old-world charm with all the luxuries of condominium living. The ground-up build on the site of a former post office was designed by Workshop/APD and pays homage to the past with its art deco-inspired arches and geometric facade. At the same time, it feels modern and forward-looking, particularly in the residences, where oversized windows, soaring ceilings, and open layouts create a loft-like vibe, and in the thoughtfully curated amenities, which feel like an expansion of the home. As Workshop/APD Design Director Brook Quach says, "Post House is a love letter to Brooklyn—the perfect blend of past and present with an undeniable elegance that permeates all aspects of its design."
Developed By Sterling Town Equities
Broker
Compass Development Marketing Group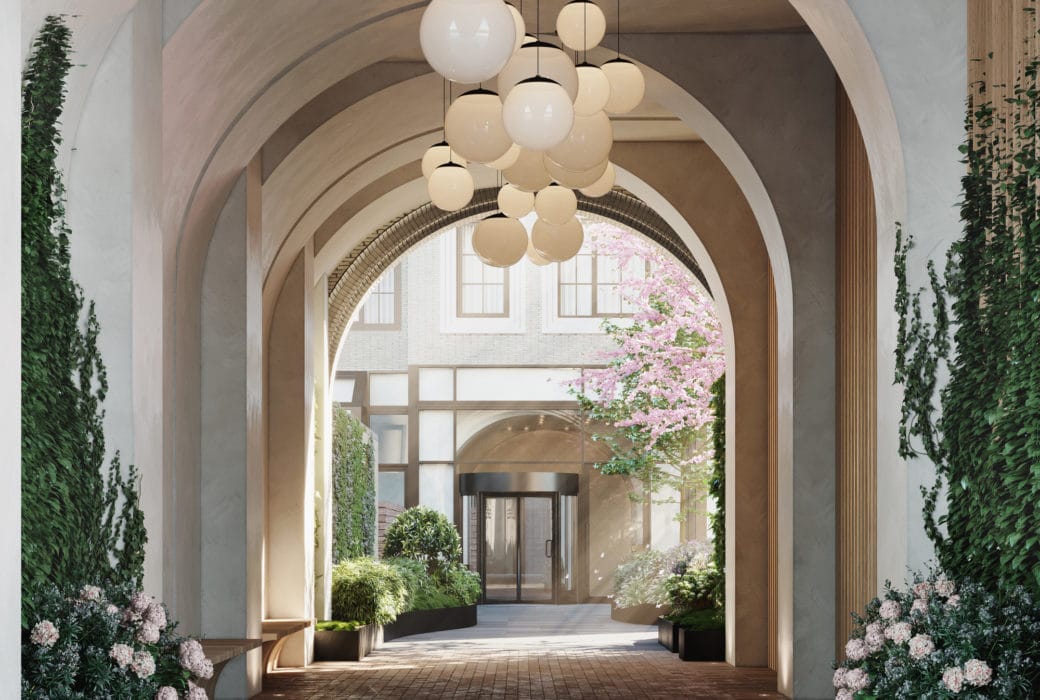 Designed by Workshop/APD, Post House is a modern tribute to the site's original occupant, the Times Plaza Post Office. On Atlantic Avenue, the building rises 11 stories, and, for the first seven stories, its white masonry facade and tall, arched windows are a clear nod to the past. From the eighth to the eleventh floor, setbacks pair with geometric black metal cladding for a more contemporary vibe. The juxtaposition feels dramatic but still referential to the surrounding architecture—and allows for expansive outdoor terraces on the higher floors. On Pacific Avenue, Post House is more demure in stature, rising just five stories and mimicking the three-bay configuration of the area's rowhomes with its trio of entrances.
With its tree-lined streets and well-preserved 19th-century row houses, Boerum Hill is one of Brooklyn's most desirable residential neighborhoods. Its proximity to Downtown Brooklyn, Cobble Hill, Brooklyn Heights, and Park Slope puts everything from world-class parks to cultural attractions like BAM and Barclays within walking distance. The area is also home to its own robust restaurant and bar scene, and nearby shops run the gamut from locally owned bookstores and antique shops to high-end retailers. 
Workshop/APD also designed the interiors for Post House's 41 luxury condominiums and two townhouses, many of which have private outdoor spaces. On the lower floors, balconies overlook the interior courtyard, while higher floors have double-height loggias affording views of Downtown Brooklyn. Inside, arched windows, curved ceilings, and chamfered detailing mimic the building's exteriors and pair with distressed oak floors, brass accents, and white marble. The effect is loft-like and serene, offering a sense of both connection to and refuge from the surrounding streetscape. 
Post House's amenities do more than just check off the requisite boxes. Individually, they are refined and sophisticated spaces, from the secret garden-like courtyard to the light-filled residents' lounge, from the rooftop gym to the makers' room for arts and crafts. Together, they create a feeling of community, where residents can come together to relax in their shared sanctuary.
Bike Storage
Children's Playroom
Fitness Center
Lounge
On-Site Parking
Outdoor Fitness Terrace
Outdoor Space
Pet Spa
Terrace