Vancouver House
Davie Village, Vancouver
1480 Howe St, Vancouver, BC V6Z 1C4, Canada
Perched over the Granville Bridge, framing the entrance to Downtown Vancouver is this award-winning tower from architect Bjarke Ingels. And there is nothing subtle about it, from its gravity-defying design to its graphic facade to its ultramodern interiors. In fact, Vancouver House is such a departure from its surroundings that it has given rise to a brand-new neighborhood: the Beach District. Here is a chance to be a part of a microrevolution in urban architecture.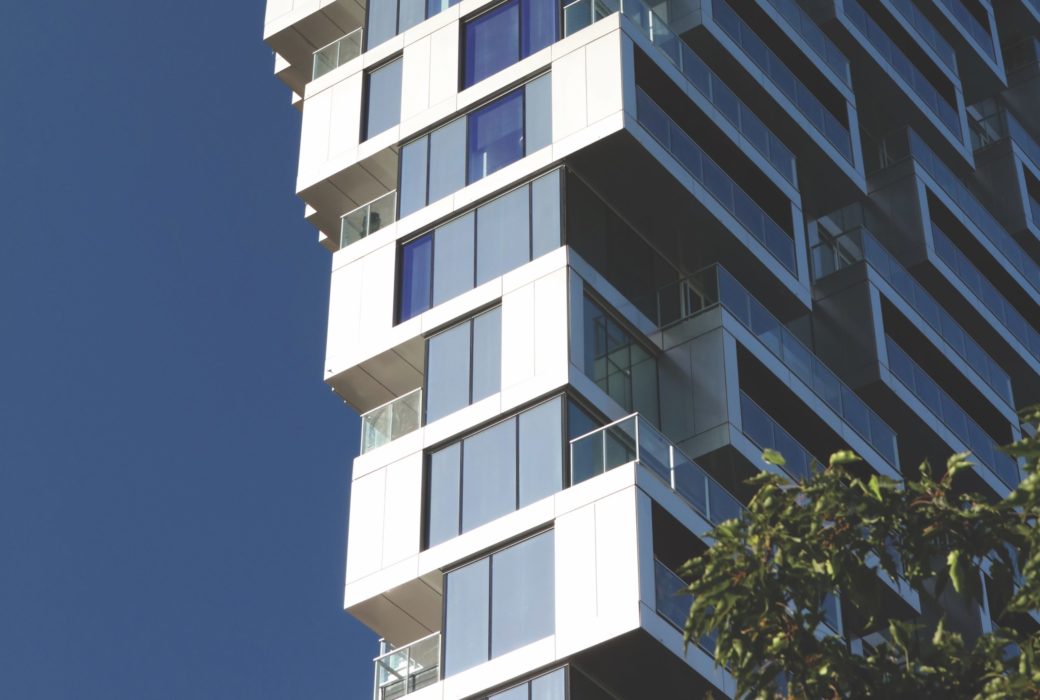 Availabilities
Residence Name
Bed
Bath
Price
Int

SqFt

Ext

SqFt

Taxes
Common

Charges

Floor Plan
Thank you for your interest in Vancouver House. For the latest list of availability, please contact info@lxcollection.com and we will connect you directly with a sales specialist at the property.
Designed by Danish starchitect Bjarke Ingels, Vancouver House makes a twisting, turning, almost tornado-like statement. The cantilevered tower rises 493 feet from an unlikely footprint, a triangular base defined by the intersection of ramps and roads leading to Granville Bridge. The result is a 59-story feat of architecture that's impossible to miss, no matter what your vantage point. Ingels's inspiration? New York's Flatiron Building, although he describes Vancouver House as its "contemporary descendent."
During the day, Downtown Vancouver is a shopping mecca where vintage stores mix with high-end boutiques, and it's a destination for business lunches and food truck pit stops. At night, it's the place to be for bars and clubs of every ilk. You're in the center of it all, with easy access to fashion-forward Yaletown, upscale Coal Harbour, and eclectic Davie Village.
Bjarke Ingels also designed the ultramodern interiors for the 375 luxury condominium residences, which range from studio apartments to three-bedroom homes and are very much influenced by the exteriors. The pixelated facade (an effect Ingels is known for) creates space for deep balconies, while the uniqueness of the tower's shape means that there are 220 different layouts. There are some commonalities throughout, however: gorgeous oak floors, lofty ceilings, and Boffi kitchens with carved islands and Miele appliances.
Art is an important thread throughout Vancouver House. There's the tower itself, which Ingels describes as "living sculpture," but also the gallery-like lobby, where mailboxes are elevated from ordinary to sculptural, and then, just outside, Rodney Graham's Spinning Chandelier. The 14-by-21-foot chandelier activates three times a day, lighting up, lowering, and spinning for four minutes at a time. There's also a rooftop terrace with a heated pool, a 10,000-square-foot fitness facility curated by House Concepts, and more practical amenities, like a 24-hour concierge, ground-floor parking, and 200 square feet of storage space per residence.
Concierge
Fitness Center
On-Site Parking
Vancouver House's Spinning Chandelier
The "Spinning Chandelier" brings the urban space under the bridge to life as part of the "living sculpture" manifesto of Vancouver House. Designed by artist Rodney Graham, the chandelier slowly rotates for 24 hours. Once a day, it will release and dramatically spin back to its original position.