Design
Four Stunning Materials Trends of 2020
Dec 23, 2020 | By: LX Collection
As they spend an increasing amount of time in their homes, homebuyers are more likely than ever to focus on quality, seeking residences that prioritize craftsmanship and unique details. And while some developers have stuck with classic materials, others have sourced specialty options for interiors that are modern, chic, and livable. Here are some of the most striking materials trends we've seen this year.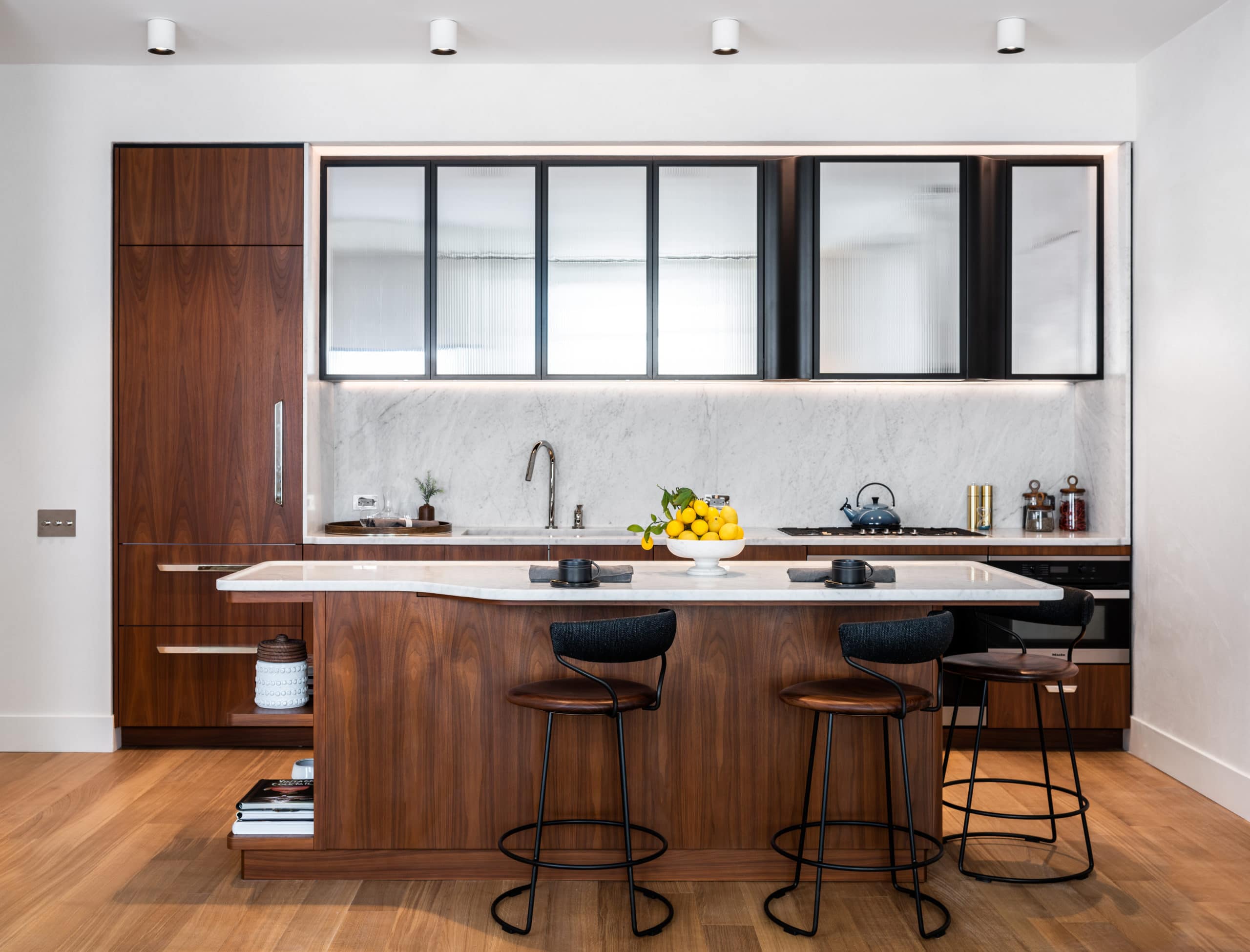 Fluted And Mirrored Glass Finishes
Several properties use a fresh take on glass as a focal point in communal spaces. Deborah Berke Partners turned to large panels of fluted glass to bring texture to the expansive marble bathrooms at 40 East End, while at 40 Bleecker Street, interior designer Ryan Korban installed bespoke fluted glass kitchen cabinets, as well as floor-to-ceiling panels in the fitness center. At 555 West, a Beaux-Arts vision on the Upper West Side, the custom white oak cabinet doors, crafted by master cabinetmaker Christopher Peacock, feature fluted glass, as do the cabinets at the Sebastien Segers-designed Greenwich West. "The choice of glass for the kitchen cupboards came about naturally," Segers explains. "The open kitchen is a destination. The glass is mirrored and reflects both light in space and is a fractal image of the living environment."
CetraRuddy, the architecture firm that designed the 45-story Rose Hill luxury condominium building in NoMad, employed fluted glass sliding panels to create flexible living areas within the residences while also experimenting with modern touches such as textured linen and smoked glass finishes. As Ximena Rodriguez, principal and director of interior design at CetraRuddy, explains, "It gives added depth and sparkle due to the transparency of the glass yet has enough tint to obscure the objects in the kitchen."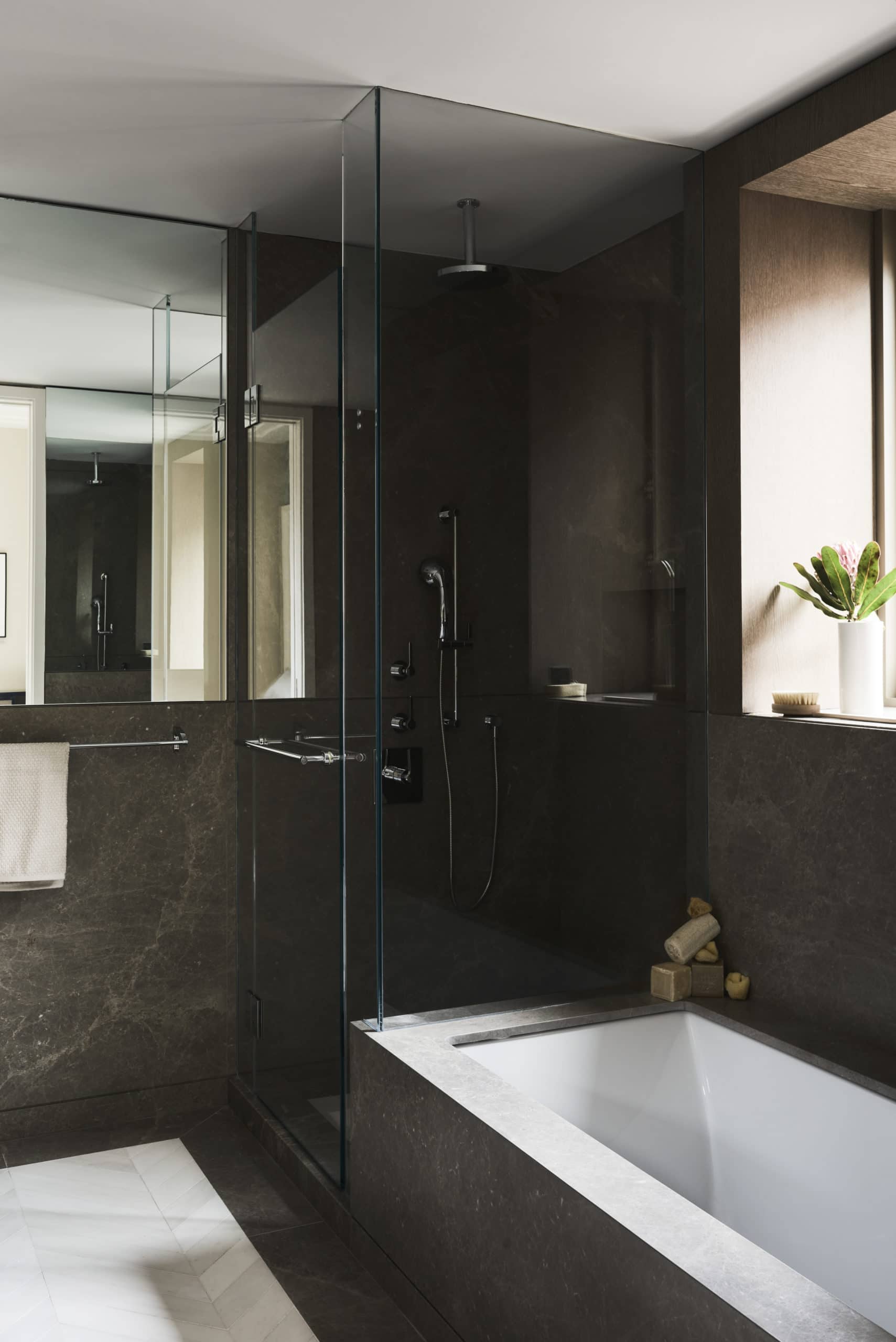 Rustic And Strong Grain Woods
For years, an elegant bathroom meant tonal white with a floating Corian sink that made the act of running water as unobtrusive as possible. Lately, designers have been incorporating earthy textures into the landscape with millwork in cerused woods or rusticated finishes. The hand-raked effect in the powder rooms at Rose Hill and on the oak veneers in the 40 Bleecker bathrooms have a touch and feel that are warm and modern, while the custom oak vanities at 555 West are an inviting contrast to the marble surrounds. 
Reimagined Classics
Sometimes traditional materials in contemporary applications bring a new visual result. At 40 Bleecker, French oak floors in a traditional chevron pattern were made by an Italian family out of recycled wine barrels. March and White Design breathed new life into classic elements at Lantern House in Chelsea. The soaring residences feature heritage brick in new configurations, alongside the unexpected detail of fluted walnut cabinets. Designer Sophie Goineau, who produced luxury condominiums in Montreal for esteemed firm Sid Lee, and who most recently used fluted walnut throughout the brand-new Rick Caruso restaurant Porta Via in Calabasas, appreciates tambour wood because it is "rich for the eye," she says. "To take a shape like that and explode it into so many articulations? That's where the fun starts." 
Bronze
Smoky, burnished bronze finishes on hardware and light fixtures make for a modern industrial tether to luxury spaces. Lantern House uses bronze throughout its interiors, from the suspended fixtures over kitchen islands and on Waterworks faucets to master bath mirrors and cabinets, as well as in custom accents on undermount detailing, door pulls, and sconce trim. Interior designer Daniel Romualdez used bronze casements to ground the aerial views at Robert A.M. Stern's 70 Vestry, while Korban used bronze to line the "Romantic meets Brutalist" black marble fireplace in the lobby of 40 Bleecker. 
With so many homeowners seeking a personalized haven in residential buildings, designers will continue to expand their use of materials and workmanship for a new standard of bespoke-quality spaces.