Design
Kelly Behun on 1228 Madison Avenue, Her First Multi-Family Residential Project
By: Stephanie Sporn
Having been lauded by The New York Times as "an interior designer with the eye of a gallerist," Kelly Behun injects sophistication and personality into every space she conceives. It's only fitting, therefore, that her first multi-family condominium project would be located between East 88th and 89th Streets, one block away from Manhattan's famed Museum Mile. 
Designed by Robert A.M. Stern Architects (RAMSA) and developed by CBSK Ironstate (a partnership of CB Developers, SK Development, and Ironstate), 1228 Madison Avenue is a 20-story residential building comprising 12 full-floor homes, a duplex penthouse, and a triplex penthouse. Always giving special attention to bespoke furnishings, often with bold, sculptural silhouettes, Behun possesses a highly individual ethos that may seem counterintuitive to multi-unit housing design. However, the opportunity to team up with RAMSA, and the creative freedom afforded to her by CBSK Ironstate, convinced her to come on board.
"I love that the developer thought of pairing RAMSA and my studio because the combination is a bit unorthodox," Behun says. "I love the idea of working a little bit against type. RAMSA, who needs no introduction, excels at creating buildings that have a timeless quality, and I learned a lot from peeking inside its process."
Complete with cornices and Juliet balconies, RAMSA's prewar-inspired, brick-and-stone façade (just unveiled to the public this June) gives way to Behun's whimsical and contemporary interiors, which include the lobby, residences, and a fitness center. Designing with a more muted palette inspired by the classicism of RAMSA's architecture, Behun makes her mark in the units' varying floor plans and rare finishing touches. This is best seen in the kitchens, Behun's favorite feature, where a bleached-oak wood tambour trim extends across satin-lacquer cabinetry and an island adorned with Portuguese marble countertops. 
"The wooden detail is really pretty and very tactile. It provides a little texture and warms up the space," says Behun. "We also added French Lacanche ranges, which is not something you typically see, even in a luxury building." 
With 1228 Madison Avenue's closings commencing this summer through Corcoran, the building tapped Behun again to further entice prospective buyers. For the Living Gallery, the designer fully realized her vision by modeling the full four-bedroom, fourth-floor residence. The stunning space can be viewed virtually; several of the furnishings and artwork are shoppable. Prospective buyers can also connect with makers and explore the idea of custom commissions.
"The initial idea was to create this beautiful model apartment that would help people understand how they might live in the building," says Behun. "We also thought, 'How can we make this apartment more accessible to people who don't live in New York? How can we make it feel like a gallery where you can just stroll in?' I like doing things that push us."
Behun took full advantage of the building's soaring ceiling heights (some as high as 18.5 feet), with Callidus Guild wallpaper, her own lighting designs, and contemporary art by Ken Price, Rob Wynne, and Ellsworth Kelly, among other emerging and blue-chip artists. A collector herself, Behun worked with Mellyn, Dvorkin & Monrow Art Consultants for the curation. Other furniture and décor highlights include pieces by Jonathan Adler, Wendell Castle, Sunshine Thacker, and Gucci Décor. Several of Behun's collaborative creations, such as that with The Rug Company, make an appearance. Breezy bedrooms are contrasted by a gold-dusted entryway and a moody, gem-toned library and media room. 
"I think what a lot of developers are realizing is that the New York luxury buyer is a very savvy client who has seen it all before," Behun says. "So, even though you may not get 100% behind a model apartment's very unique and specific vision, I believe that—almost conversely to logic—if you make it more personal, the apartment just seems more real to people." 
As for future multi-unit residential projects, Behun isn't saying no, but rather: "There has to be a hook." In the case of 1228 Madison Avenue, those hooks were the project's prestigious architecture firm and the location in Carnegie Hill, which so happens to be the first neighborhood she lived in when she moved to New York. 
"I'm always open to new things," she says. "It would just have to be the right thing."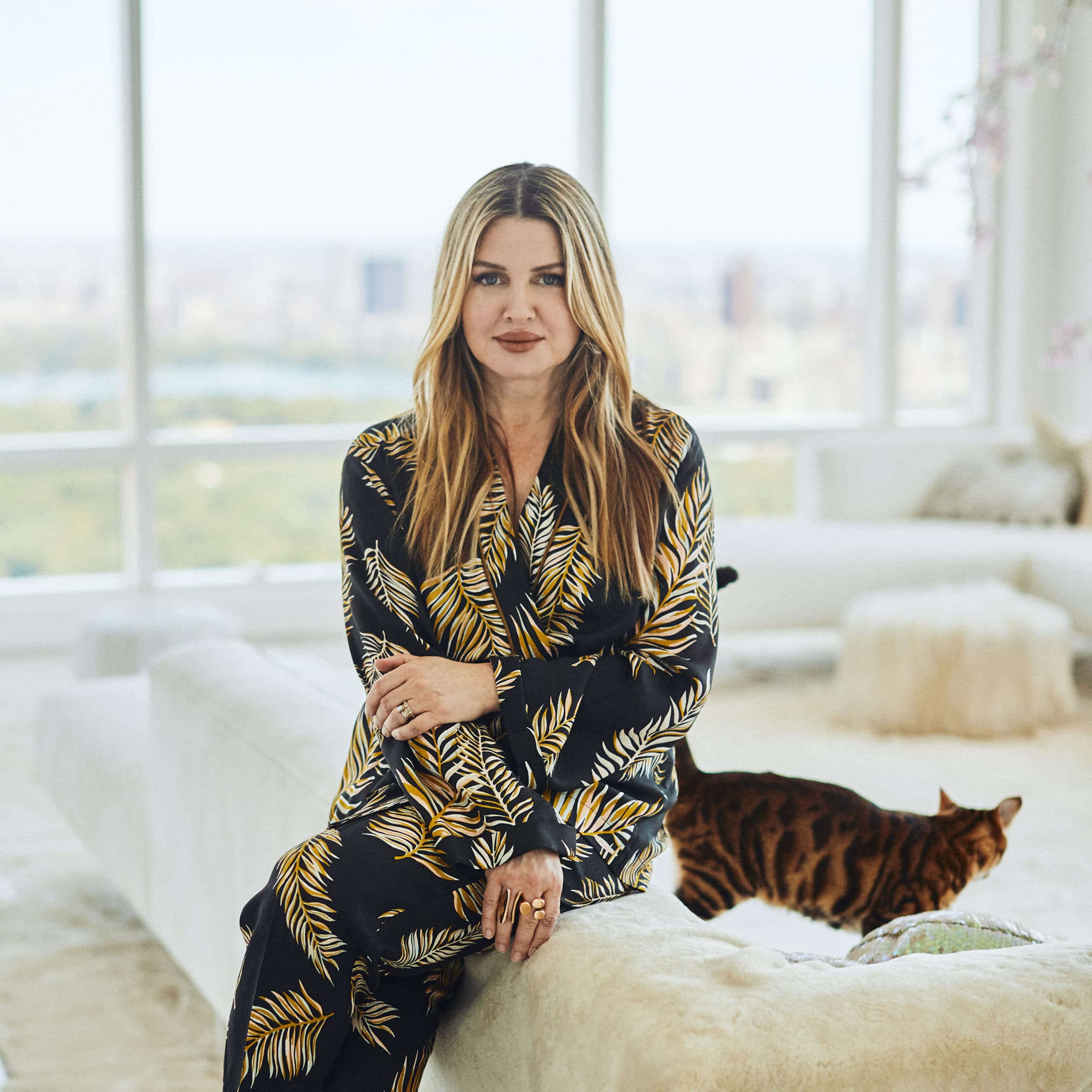 FIRM // Kelly Behun Studio
OFFICE LOCATION // New York, New York
PROJECTS // The Delano in Miami, Mondrian in Los Angeles, and Royalton, Paramount, Morgans and Hudson hotels in New York City
AWARDS // AD100, Elle Decor's A-List
STYLE // An interior designer with the eye of a gallerist