Alberni by Kengo Kuma
West End, Vancouver
1550 Alberni St, Vancouver, BC V6G 2Z6, Canada
Westbank developer Ian Gillespie describes Alberni as "a hundred special moments that reveal themselves as a cohesive work of art." And, with its curved construction, intricate lattice-like layering, and interplay with the surrounding environment, this residential tower from Japanese architect Kengo Kuma definitely makes a sculptural impression. But it's so much more than just a striking silhouette; the design also affords views—of the ocean and the mountains—from every home, creating a connectedness to nature. Likewise, the use of wood detailing is not just a visual counterpoint to the gleaming glass but "a cultural exchange between East and West," says Kuma. And the ground-level Japanese moss garden is a point of conversation between the tower and the street, a place where "anything can happen."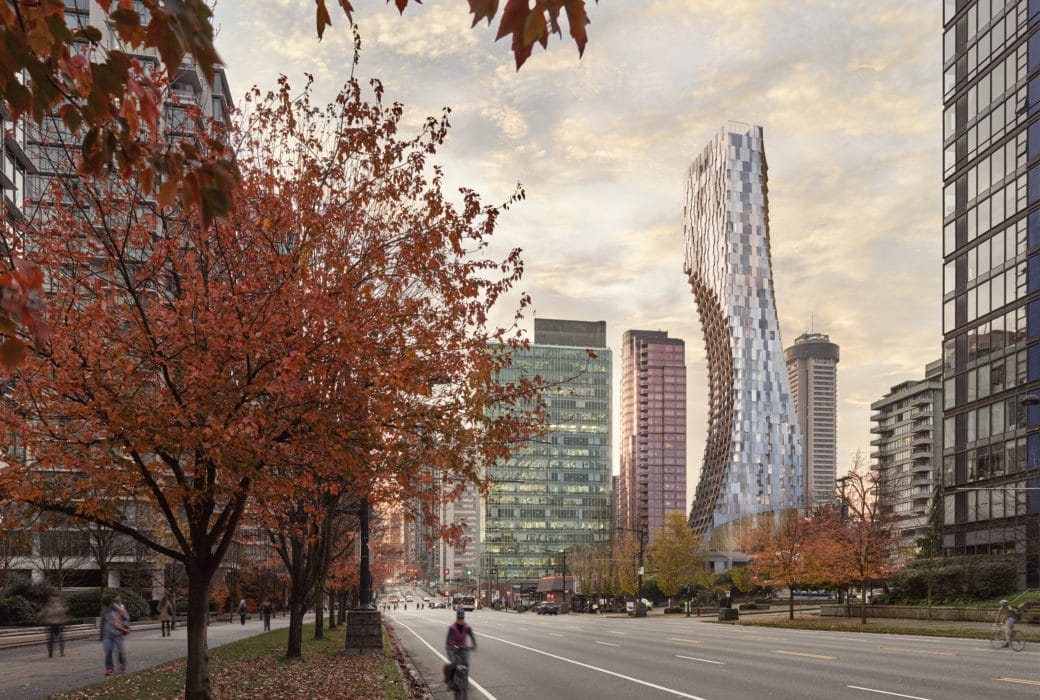 About Alberni by Kengo Kuma
Kengo Kuma's aim in designing this undulating 43-story tower was to "recover the place." He wanted the building to be a response to the city, and he achieved this, in part, by creating negative space, subtracting in order to add to the urban landscape. Other notable design features include the use of wood, a traditional Japanese material that adds warmth and texture, and a focus on transparency. "I try to use light and natural materials to get a new kind of transparency," Kuma explains. 
Originally named for (you guessed it) the discovery of coal, Coal Harbour is a historic neighborhood that has become one of Vancouver's most desirable places to call home. Bordered by the Burrard Inlet and Stanley Park, it's a calm oasis with easy access to nature. But it's not too quiet: there's a pleasant mix of upscale restaurants, waterfront pubs, and locally owned shops to keep residents entertained. This former shipyard is also home to Canada Place, an iconic landmark with five towering white fiberglass sails.
Often, architects design the skin, or exterior, of the building only; with Alberni, Kengo Kuma had a hand in every aspect, down to the timber elements in the 188 residences, which range from roomy one-bedrooms to a trio of palatial penthouses. The unique design of the tower means that every residence has exquisite views through floor-to-ceiling windows and from deep wood-furnished balconies.
The architectural significance of its design and the intricacy of detail that reveals itself throughout the tower are certainly a draw for future residents. Add to that Alberni's location on one of Vancouver's toniest streets, a Japanese restaurant in collaboration with a two Michelin-starred restaurant in Tokyo, and a swimming pool and moss garden framed by elaborate woodwork. Now add the piece de resistance: a Kengo Kuma-designed Fazioli piano, which took over a year to build and cost nearly $1 million.
Concierge
Fitness Center
On-Site Parking
Swimming Pool
Wine Tasting Room
Property Overview
With its curved construction, intricate lattice-like layering, and interplay with the surrounding environment, this residential tower from Japanese architect Kengo Kuma definitely makes a sculptural impression. But it's so much more than just a striking silhouette; the design also affords views—of the ocean and the mountains—from every home, creating a connectedness to nature.