Horseshoe Bay
Horseshoe Bay, Vancouver
6707 Nelson Ave, West Vancouver, BC V7W 2B2, Canada
Imagine a village within a village, a series of timber-topped buildings peeking out from the forest, overlooking a revitalized marina. Beyond that is Howe Sound, the world's most southerly fjord, with a backdrop of snow-capped mountains. This is Horseshoe Bay Sanctuary, a collection of villas designed by modernist architect Paul Merrick and located on one of British Columbia's most spectacular waterfronts. The inspiration is Portofino, Italy, but the vibe is 100% West Coast, especially in the Boat House, which is home to a gathering hall for wine tastings and yoga workshops, a world-class fitness facility, and a Chris-Craft powerboat for cruising around the harbor.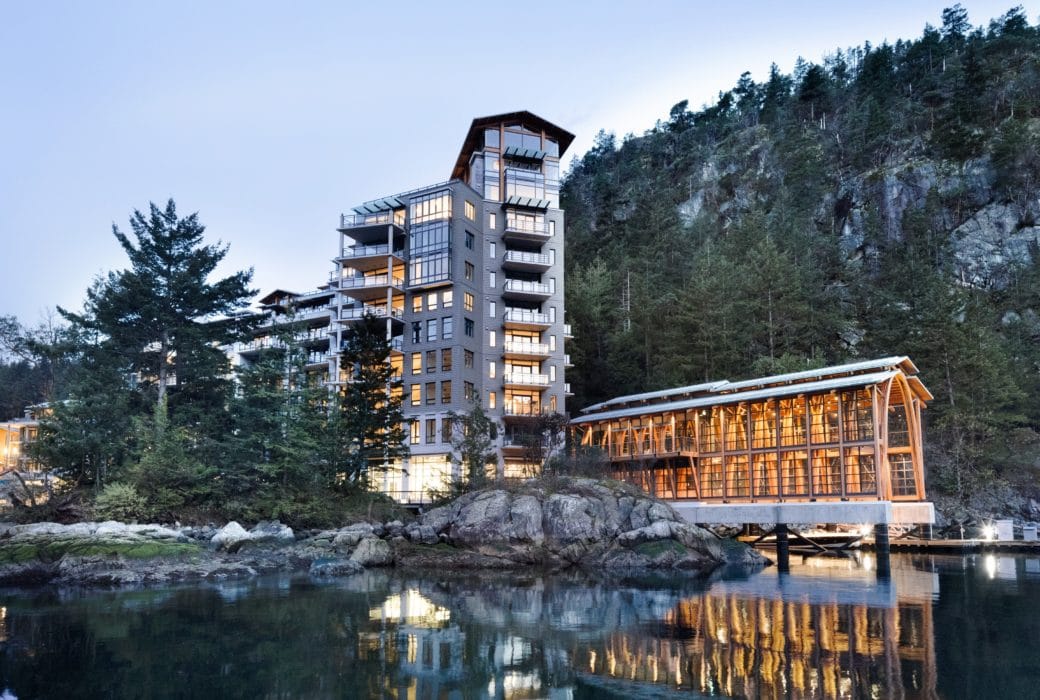 Availabilities
Residence Name
Bed
Bath
Price
Int

SqFt

Ext

SqFt

Taxes
Common

Charges

Floor Plan
Thank you for your interest in Horseshoe Bay. For the latest list of availability, please contact info@lxcollection.com and we will connect you directly with a sales specialist at the property.
Paul Merrick is one of Canada's great West Coast modernist architects, and he brings his considerable experience to bear at Horseshoe Bay Sanctuary. This is evident not just in the six low-slung concrete buildings, which emphasize a communion with nature, but also in the connection between the buildings and the surrounding community. Also worth noting is the dedication to the environment and sustainable building practices, including a seawater-based geothermal loop for heating and cooling, which reduces greenhouse gas emissions by 70 percent.
Horseshoe Bay Sanctuary encompasses 158 homes, ranging in size from one bedroom to three bedrooms, from 651 square feet to 6,405 square feet. "Homes" is the key word here. "This isn't a downtown-style condo," explains developer Karim Virani. "There are 158 luxury homes—each with grand front doors and 10-foot ceilings. You get maximum light and the fresh crossbreeze of both ocean and forest." Like the exteriors, interiors embrace the elements around them, with materials like oak, teak, limestone, quartz, and travertine. Paired with clean lines and state-of-the-art appliances, they create an overall vibe that is modern but at one with the natural environment.
It's all about location, location, location. Of course, there's the Boat House, which doubles as a residents' lounge and gym. It's not to be undersold. But the real draw here is the setting itself. Not only is it one of the most gorgeous areas, but it also offers easy access to just about everything. "Just 20 minutes from downtown Vancouver, Horseshoe Bay is also the gateway to Howe Sound, Vancouver Island and the Sunshine Coast," says Virani. "You can drive to Squamish and Whistler, or walk over and catch a ferry to the Sunshine Coast, Vancouver Island or for an afternoon adventure on Bowen Island."
Concierge
Conference Room
Fitness Center
On-Site Parking
Property Overview
Architect Paul Merrick's entire practice has established him as the inheritor of Vancouver's rich modernist legacy, and his palette of forms and materials speaks to this special community framed by nature. Westbank has risen to the challenge by encouraging the design team to stretch its legs; to acknowledge that we will never have a better opportunity to pay homage to Canada's most important contribution to the continuation of architecture.