Oakridge Park
Oakridge, Vancouver
650 W 41st Ave, Vancouver, BC V5Z 2M9, Canada
One of Vancouver's most anticipated mixed-use projects, Oakridge Park is a place to work, a place to enjoy culture, a place to call home, and, according to Westbank Corp. founder Ian Gillespie, "a place for people to be inspired." The 28-acre development more than delivers, thanks in large part to its collaborations with some of the world's leading architects and designers. Together, Gregory Henriquez of Henriquez Partners Architects, Italian designers Piero Lissoni and Sergio Castiglia, French designer Clémande Burgevin Blanchman, Japanese flower artist Makoto Azuma, and Japanese designer Masamichi Katayama created a new town center: a cultural and civic hub. "When we add a collaborator to our midst, something better comes out of it," explains Gillespie. "Something magical."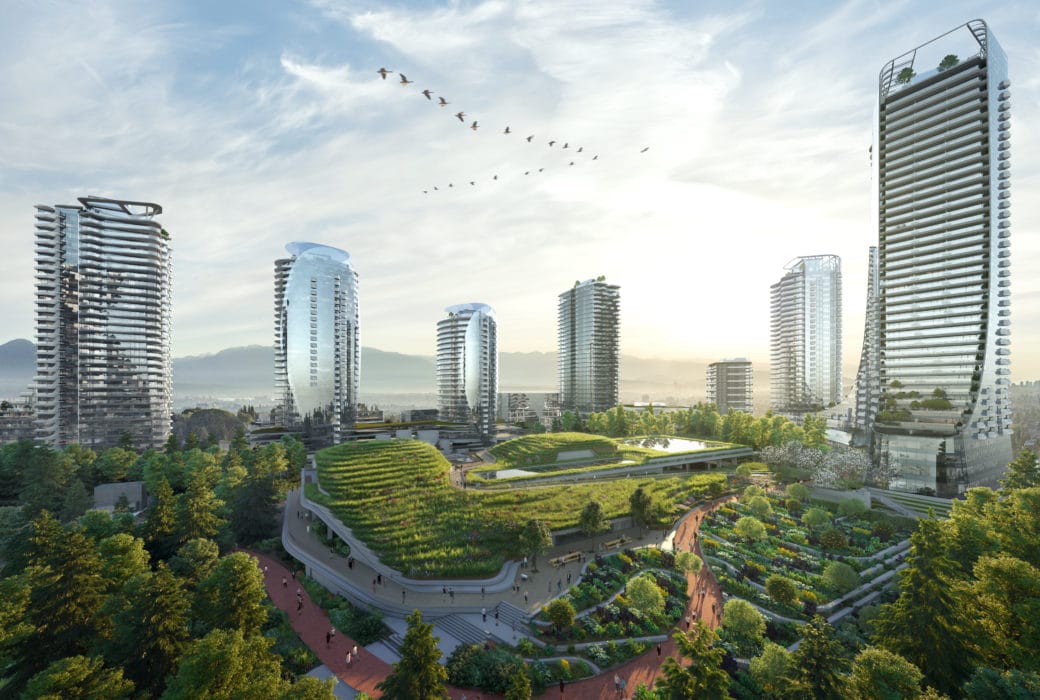 The design of Oakridge Park is more than a decade in the making, a dramatic transformation of a 1950s suburban mall into a massive development that combines cutting-edge architecture with expansive greenspace. The goal was to create a modern urban experience that pays homage to the site of the city's last old-growth forest park. While the towers themselves feel slightly futuristic, the overall effect is organic, with buildings that seem to rise up naturally from the ground and parks that rise and fall over and around retail and cultural spaces.
In the geographic center of Vancouver, 15 minutes from Downtown, Oakridge Park is a new cultural hub, boasting the city's largest public art program, a sprawling shopping center with more than 300 brands, a 10-acre park with running, walking, and biking paths, and a global food hall. It is a microcosm of a city, a planned neighborhood with no shortage of opportunities to eat, drink, see, and play. But even more than the scale of Oakridge Park, what stands out is the intentionality of its design. The goal was to create a community that would support culture. 
With more than 3,300 residences spread among five different towers, there is literally something for everyone at Oakridge Park. On its own, Oakridge x Westbank — aka "Building 6"—offers three different types of homes: Eastern-inspired, Western-inspired, and contemporary, while the 17-story Oakridge x Clémande takes turnkey to a new level, with one- to three-bedroom homes fully furnished by French designer Clémande Burgevin Blanchman. Throughout, the emphasis is on Vancouver's dramatic natural setting—and the views. "Nothing should detract from the view," says Clémande.
With everything you could possibly want or need at your doorstep, Oakridge Park offers one of the ultimate amenities: convenience. Here you can see the ballet, hear live music performances at one of six theaters (indoor and outdoor), get a taste of Vancouver's multicultural dining, or just take a stroll in the 10-acre park. And when the larger city beckons, the SkyTrain is right there to whisk you to Downtown.
Concierge
On-Site Parking
Outdoor Pool
Tea House
Welcome to Oakridge Park
Oakridge Park is the creative hub in an emerging corporate city. Westbank's next residential offering at Oakridge Park is the reinterpretation of their best work, in combination with our collaboration with Azuma Makoto. The incredible artist from Tokyo represents everything they value: beauty, inspiring design, meticulous attention to detail, nature, and creativity.