Puck Building – 293 Lafayette Street
Nolita, New York
295 Lafayette St, New York, NY 10012, USA
Located in the historic home of Puck, one of America's most important (and irreverent) publications, at the intersection of some of Manhattan's chicest neighborhoods, the Puck Penthouses are a collection of six of the city's most exclusive accommodations, all with sweeping views of the Downtown skyline. Designed by Jose Ramirez, the sprawling homes combine original details (exposed beams and columns and barrel-vaulted brick ceilings) with unrivaled fixtures and finishes, from the custom hardware, artisan stonework, and mahogany casement windows to the La Cornue ranges and Urban Archaeology bathtubs. "The goal was to create penthouses that embodied a precise blend of elegance, modernity, industrial feel, comfort, and luxury," Ramirez says.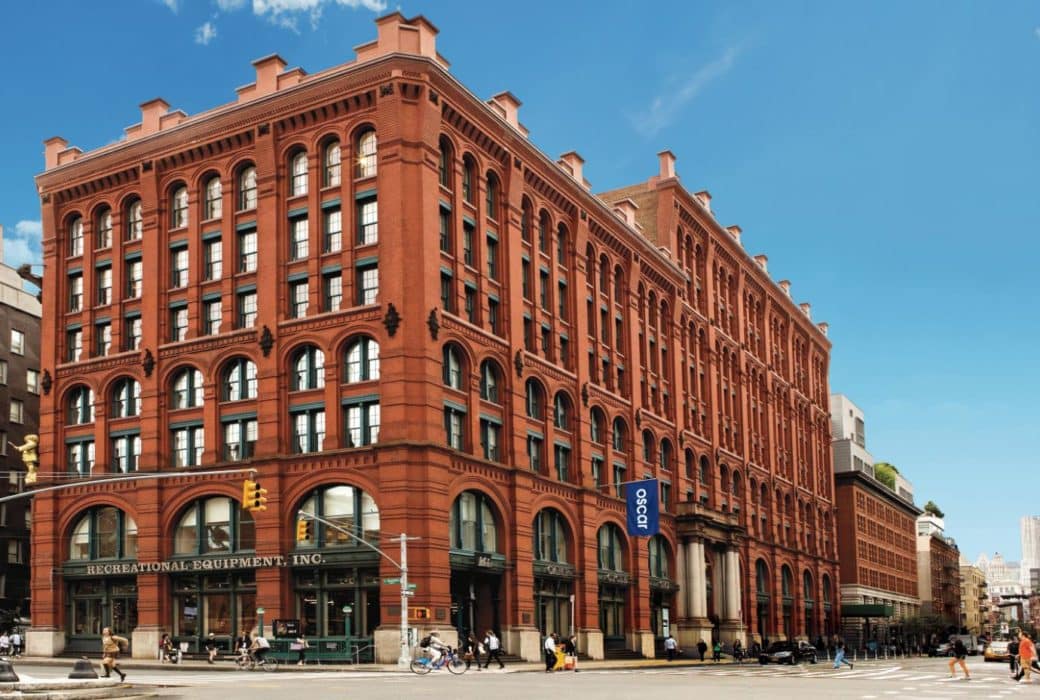 About Puck Building – 293 Lafayette Street
The building itself was originally built by German architect Albert Wagner to house Puck, the satirical magazine started by cartoonist Joseph Keppler. A response to the neo-Gothic revival, the brick and wrought-iron structure is a well-preserved example of a neoclassical architecture known as "Rundbogenstil"—which translates as "round-arch style"—and is also known for its gilded Puck statues. Here's what Keppler had to say about New York's largest press building at the time: "The general effect combines strength with lightness and a graceful simplicity most refreshing in this day of architectural affectation, when all our bright young designers are straining after cheap effects and 'sincere' forms which have no sincerity in them."
A compact neighborhood, Nolita manages to squeeze a lot into its 20(ish) square(ish) blocks. Boutiques sell everything from trendy sneakers and homemade hats to French "vêtements" and vintage jewelry and share real estate with sidewalk cafes, matcha shops, eclectic eateries, and chic watering holes, while just beyond its borders, there's even more to explore. To the east and north, SoHo and NoHo have even more shops, restaurants, and art galleries, while the Lower East Side offers every kind of nightlife, plus food markets and museums. Of course, its name stands for North of Little Italy, and its proximity to that neighborhood guarantees easy access to old-school institutions and modern classics.
Each of the six penthouses is truly unique. Some are duplexes with outdoor terraces; some are single-floor homes whose sprawling master suites have two private bathrooms and two private dressings areas. Some lean more industrial in their design, with more exposed ceilings and walls, while others feel more contemporary. What the penthouses have in common is an attention to how people live—all the layouts, for example, create a clear separation of public and private spaces—and an unprecedented level of quality throughout, starting with the thick, black-stained oak doors built by Quebecois furniture manufacturer Saint-Damase. "I think anyone who is looking here will understand the caliber of the residence from the first thing they touch, the door," says Ramirez.
The Puck Building's prime location—both geographic and historic—is complemented by in-residence amenities, such as private media rooms, wine cellars, and gyms with floor-to-ceiling windows that look out on dedicated yoga lawns. Everything you need or want has been thought of, including the ability to order "room service" from the on-site Chefs Club by Food & Wine.