Tridel at The Well Signature Series
King West, Toronto
455 Wellington St W, Toronto, ON, Canada
Located in trendy King West, within one of Toronto's largest and most exclusive mixed-use communities, the Signature Series at The Well offers a boutique condominium experience with all the perks of a much larger development. It's the best of big and small, or, as developer Jim Ritchie of Tridel explains, "This particular building can be very intimate. Or people can be part of the bigger undertaking, with its unbelievable services and restaurants." Either way, you're guaranteed to (ahem) live well in this Wallman Architects-designed tower, which boasts light-flooded interiors, meticulous finishes, and private amenities, as well as access to three million square feet of culture. 
Broker
Del Realty Incorporated Brokerage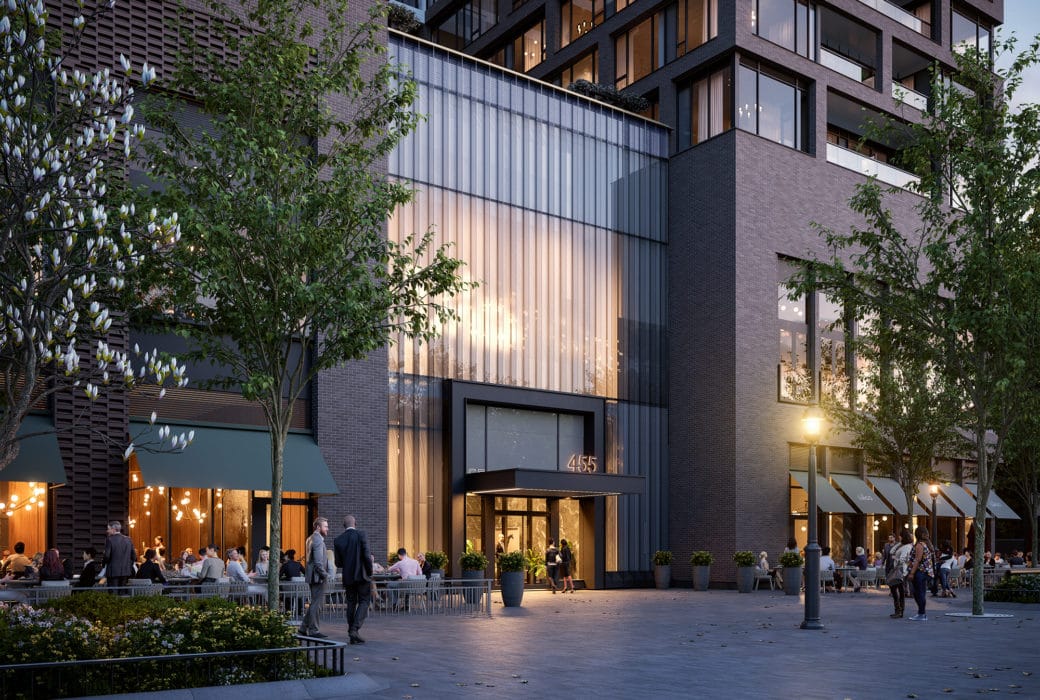 Tridel tapped Wallman Architects to design a tower that felt at home among the surrounding warehouse architecture of King West, but also fresh and contemporary. The result is a 12-story building that becomes more modern as it rises up, with a masonry base that steps back to a facade dominated by white precast concrete panels. The setback provides a visual counterpoint to the brickwork, as well as the opportunity for sprawling terraces overlooking the promenade below.
The following prices have been approximated based on the developers price sheet using standard currency exchange rates. Please consult the property's sales center for final pricing.
Residence
Bed
Bath
Price
Int

SqFt

Ext

SqFt

Taxes
Common Charges
Floor Plan
Contact
811
2
3.5
$2,476,759
2228
114
$1,586
$1,261

N/A

Contact
902
2
3.5
$2,476,759
2156
114
$1,261
$1,666

N/A

Contact
803
3
3.5
$2,945,872
2402
592
$1,500
$1,795

N/A

Contact
PH3
3
3.5
$3,371,255
2603
261
$1,717
$1,946
View
Contact
Nicknamed The Entertainment District, King West is one of downtown Toronto's coolest micro-neighborhoods. It's one of the best places to go out for drinks and dinner, and its streets are also lined with art galleries and shops, workout studios and boutique bakeries. Chinatown and Kensington Market are also within walking distance, as are Toronto's waterfront trail and numerous parks. In addition to its abundance of low- and mid-rise condo condominium buildings, historic row houses, and townhomes, King West is also home to office buildings — and it's just a 10-minute streetcar ride to the downtown core.
In total, there are just 98 private residences, with options including two bedrooms, two bedrooms plus den, three bedrooms, and three bedrooms plus den. II by IV Design built on existing architectural elements (like floor-to-ceiling windows) and expansive great rooms with exquisite detailing and finishes, organic materials, and metallic touches to create elevated interiors throughout.
In addition to private amenities, like the stunning double-height lobby, entertainment lounge, and fitness center, the Signature Series offers the chance for discovery. Residents can enjoy global cuisines at the 95,000-square-foot food court, shop at established world-class brands, or find couture up-and-comers within the 420,000 square feet of retail space. They can also take a stroll in the open-air promenade, lounge in the park, or step outside to explore one of Downtown Toronto's coolest microneighborhoods.
Bike Storage
Catering Kitchen
Concierge
Fitness Center
Lounge
Outdoor Pool
Outdoor Space
Pet Spa
Private Dining
Swimming Pool