Design
ASH NYC Brings Luxurious-Yet-Livable Interiors to The Leyton's Sky-High Model Residence
Sep 9, 2021 | By: Stephanie Sporn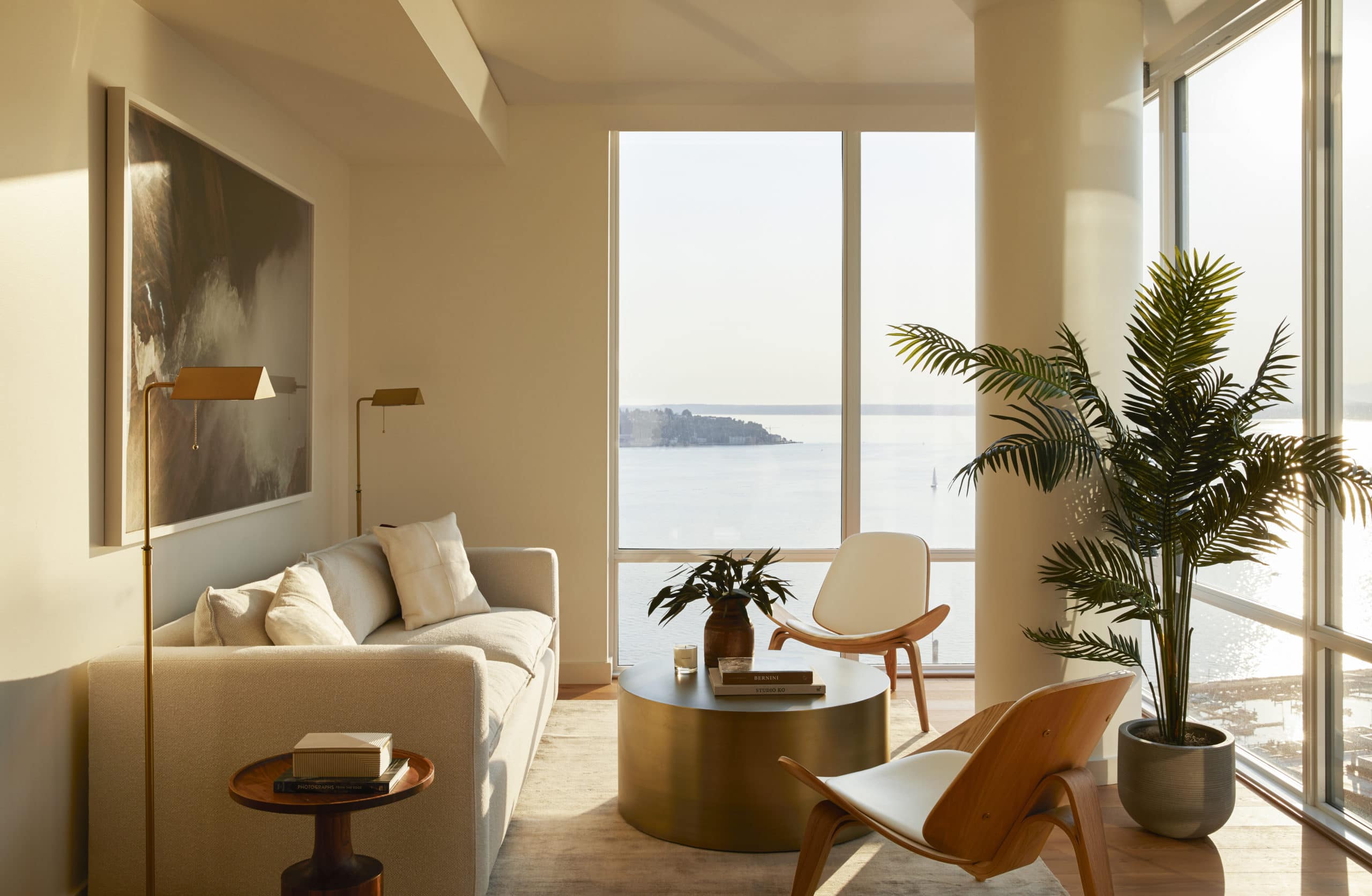 In today's luxury condominium marketplace, rare finishes, hotellike amenities, and sweeping views are not necessarily enough to seal the deal. Believing that any space, including even the grandest, can benefit from great design, ASH Staging (a division of AD100 firm ASH NYC) is increasingly called upon by developers to unlock a space's full potential before its sale by equipping it with an elevated and site-specific mix of furniture and accessories. The Manhattan-based company has additional offices in the Hamptons and Los Angeles, and its projects, which range from private interiors to office spaces and historic hotels—such as The Siren in Detroit and The Dean in Providence, R.I.—are rapidly expanding across the country. 
ASH NYC's staging requests have surged during the pandemic (recent ventures include PIER 4 Residences in Boston and The Emerald in Seattle), and the company's current New York standout is The Leyton, a 38-residence tower on the Upper East Side, with sales exclusively managed by Brown Harris Stevens Development Marketing. Manuel Glas Architects conceived the Art Deco-inspired exterior, while Champalimaud Design is behind the design of the amenities.
 To activate The Leyton's private residential interiors, designed by Frampton Co, ASH Staging furnished the building's 31st-floor residence, comprising four bedrooms and four and a half bathrooms spread across 3,556 square feet. "The features of this home that really stand out are the extraordinary ceiling heights of up to 14 feet, and the fact that it has a substantial outdoor space, of 204 square feet, while being high in the sky," says Andrew Bowen, partner and head of staging at ASH NYC. "Every home at The Leyton feels like a penthouse."
When it came to decorating the $13 million model residence, Bowen strove to balance the neighborhood's historic splendor and artistic heritage with The Leyton's contemporary edge. "We believe it represents the new grand apartment living of the Upper East Side," explains Bowen, who emphasizes that for ASH, a sense of character and life is crucial in any project to which they contribute. "The Leyton's finishes are extremely high-end, but it's tailored without being fussy." 
To achieve the desired luxurious-yet-livable look, ASH Staging turned to its inventory of more than 25,000 contemporary and vintage pieces by designers including Gio Ponti and Kelly Wearstler. The firm's process also relies heavily on custom furnishings, both under its own label and in collaboration with other designers and artists. In The Leyton's model residence, for example, the great room features a Serge Mouille-inspired three-arm floor lamp, navy velvet curved sofas, complementary lounge chairs made custom by ASH, and a specially commissioned area rug. Ample seating was selected with entertaining in mind, so that residents and guests can relax around the monolithic stone fireplace or enjoy the skyline and Central Park views.
Bowen calls the residence's primary bedroom suite "a private sanctuary with cascading light pouring in during the day, and twinkling lights from classic city views at night." Above the velvet bed and its extra-wide walnut nightstands is an image by André Carrara, one of many renowned fashion photographers whose limited-edition works are on view in the space courtesy of The Selects Gallery. Other design details include chairs inspired by Milo Baughman, a writing desk with a contemporary James Devlin sheepskin stool, and a Greta Grossman brass task lamp. The residence's three additional bedrooms combine wood and mixed-media furnishings with photographs and paintings reminiscent of Wassily Kandinsky and Agnes Martin. In the children's room, a New York artist has completed a bespoke mural, one of several local touches that grounds the ASH NYC approach.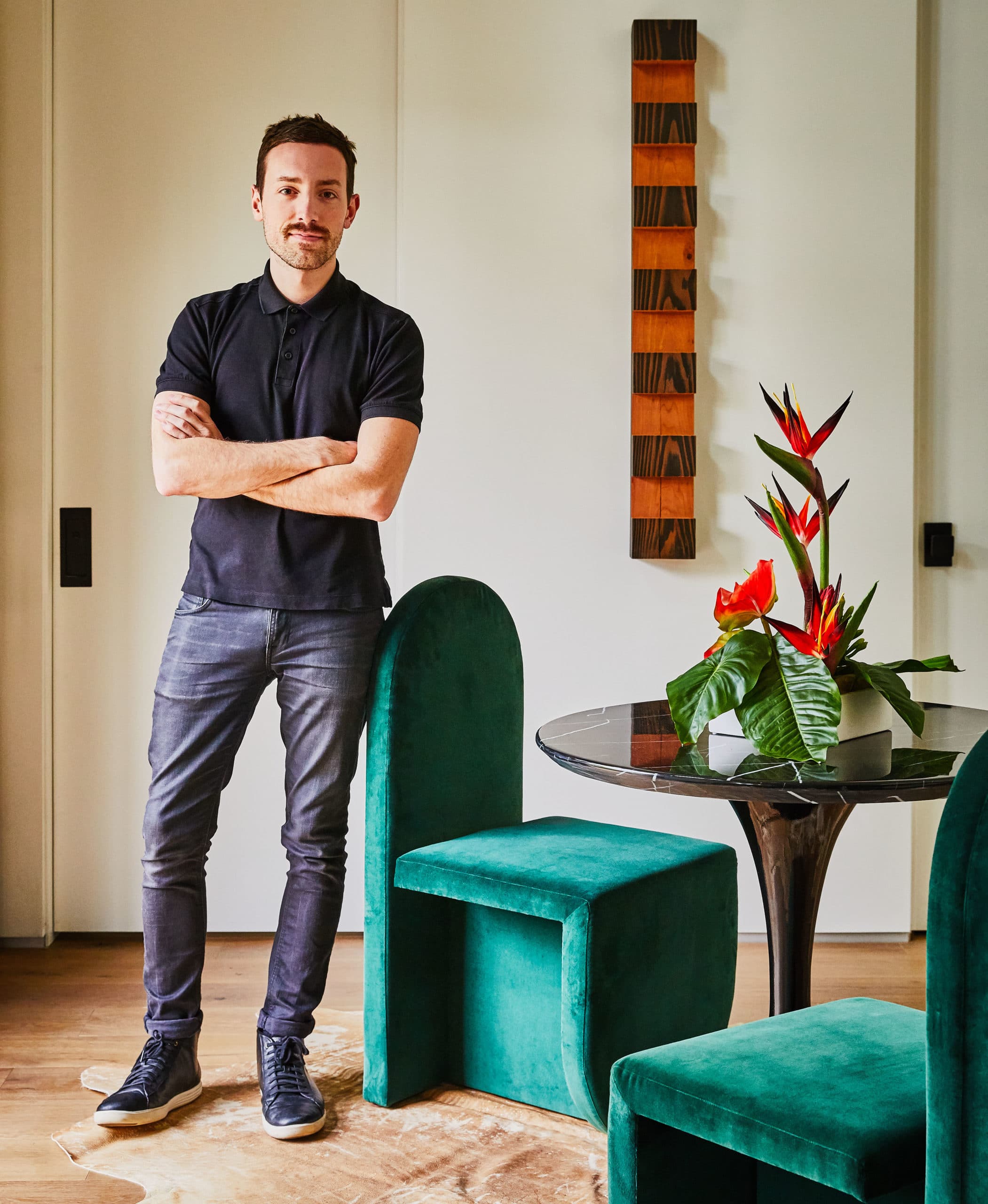 "Our company's overall vision is one of warmth, hospitality, and experiences," says Bowen on how thoughtful details like serving coffee or incorporating florals and fragrances from local suppliers add a meaningful layer to ASH Staging's model residences. "It's not just how you see the home. It's how you smell, hear, and taste it. It's all about connecting to the space and making people feel truly at home."
ASH NYC: Quick Hits
OFFICE LOCATIONS // New York, New York; Sag Harbor, New York; Los Angeles, California
ASH STAGING PROJECTS // One Prospect Park West, 17 Jane, and 208 Delancey in New York; PIER 4 Residences in Boston; The Emerald in Seattle
AWARDS // AD100; Hospitality Design Hotelier of the Year Award
STYLE // The confluence of history and innovation