People
For Interior Designer Elena Frampton, Art Is Anything but an Afterthought
Mar 25, 2021 | By: Stephanie Sporn
From a very young age, interior designer Elena Frampton possessed a rare understanding of how people experience space. In addition to the diverse landscape of architecture, art, and design that surrounded her during her Southern California upbringing, Frampton found inspiration in her oddly shaped childhood bedroom, complete with double-height ceilings and a skylight. Her fascination with form and proportion eventually evolved into Frampton Co, her eponymous multidisciplinary design practice prized for its focus on art. 
"We are extremely sensitive to the way that art interacts with space. That's what comes across in our portfolio, and that's what draws clients in," Frampton tells LX Collection. Her projects include designing private residences, boutique commercial spaces, and multiunit luxury developments, such as The Leyton, a stunning condominium building on the Upper East Side, whose sales launched this month. As Frampton Co's principal, the designer also manages an art advisory and two gallery spaces that serve her clients and the design community at large.
Beyond being art-forward, Frampton characterizes her style as "livable elegance." In one instance, Frampton imbued historic elements of a landmarked Fort Greene, Brooklyn, townhouse with contemporary architectural features, such as sleek yet sculptural lighting. For an expansive Mediterranean-meets-modern home in Jupiter, Florida, Frampton spent several years curating an art collection of more than 80 works.
"Unlike other design practices, art is always a part of our first conversation with the client," says Frampton, who considers herself an avid researcher and relationship builder, connecting the dots between her clientele and other gallerists, dealers, and artists. With nearly half her business coming from repeat clients, the designer remains involved long after a space is completed, as she always keeps an eye out for works that may suit a client's evolving collection, whether they are seasoned or just starting out. 
To fuel her creativity and help her clients understand her process, Frampton opened two galleries, Exhibition The Barn in Bridgehampton in 2018 and, one year later, Exhibition Penthouse in Manhattan. Like a runway for a fashion designer, these venues are "spaces where we could constantly be exercising our artistic and curatorial ideas beyond a sponsored showhouse, which is more typical," says Frampton. She adds: "It's a place to showcase emerging artists and how art interfaces with design." 
Expanding her vision to the skies, Frampton was tapped by Dart Interests and Real Estate Inverlad to craft elevated and original residential interiors for one of Manhattan's newest luxury condominium developments, The Leyton. Located at 1059 Third Avenue between East 62nd and 63rd streets, the modern art deco building (whose sales are being managed by Brown Harris Stevens) was constructed by Manuel Glas Architects. Champalimaud Design conceived its amenity spaces, which include a solarium, multiple dining areas, a fitness studio, and a "paw spa." 
"Manuel's work is so unique to the Manhattan skyline, and I absolutely took cues from The Leyton's rhythmic, modern facade into the interior," says Frampton on designing each of the 38 full-floor homes, which range from one to four bedrooms, plus a duplex penthouse rising to 460 feet. For the penthouse, which will serve as the model unit, Frampton went all out with custom mural wallpaper, sculptural light fixtures, and a specially curated art collection.
Limestone, quartzite, and more stones are among the elements that provide bold visual counterpoints to every unit's open-concept floor plans, high ceilings, and expansive windows. For further personalization, Frampton designed the powder room, secondary bathroom, and master bath with geometric mosaic tiles, stone feature walls, and herringbone patterns, respectively. "The reality is that a lot of new constructions fall into a bucket of sameness," says Frampton. "At The Leyton, we were able to create something that has an appealing foundation for anybody, but its original features definitely break out of that vanilla box."
Elena Frampton: Quick Hits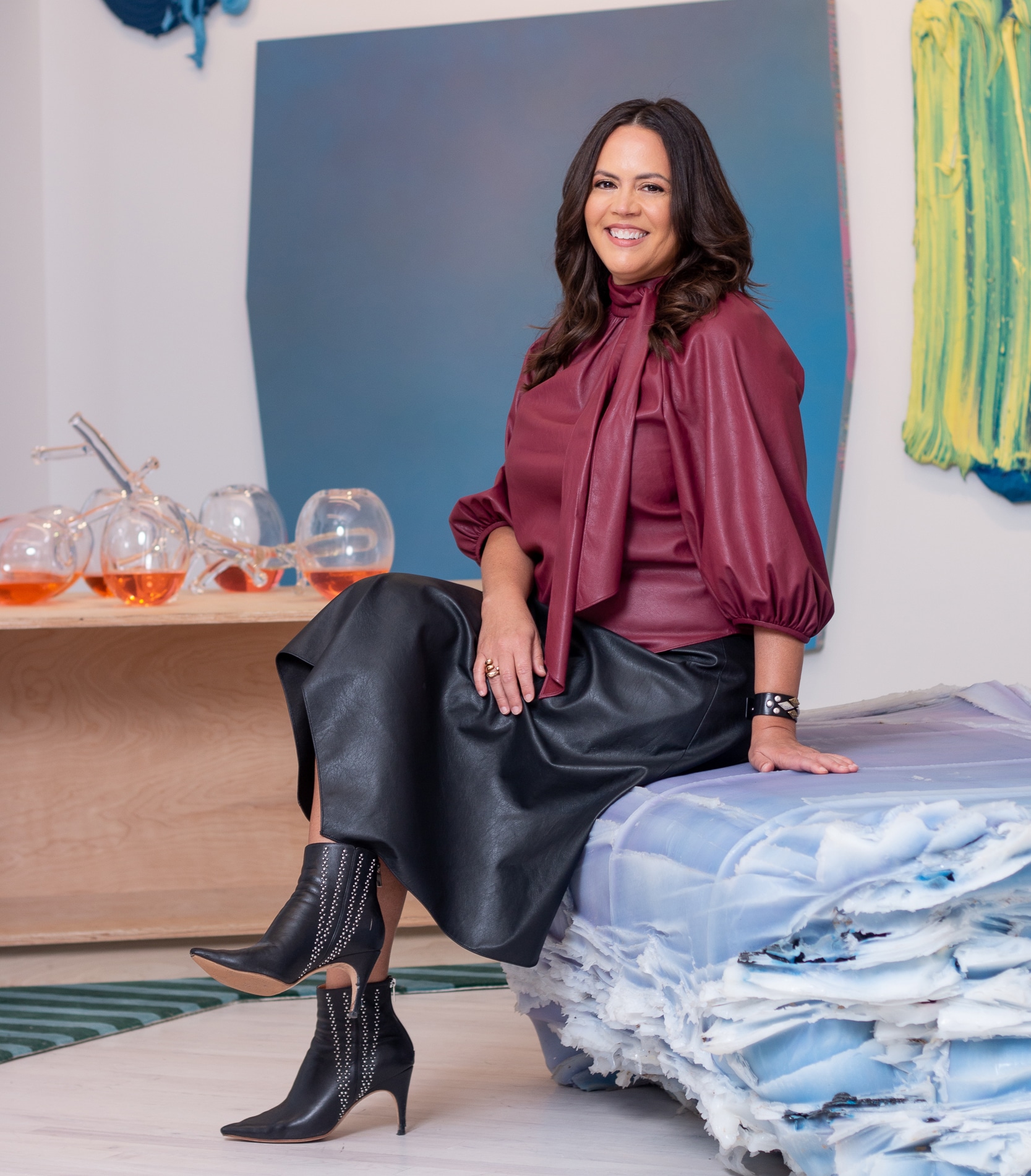 FIRM // Frampton Co
OFFICE LOCATION // New York, New York
PROJECTS // 540 West 28th Street in Hudson Yards and Rosie's Restaurant in Amagansett
GALLERIES // Exhibition The Barn in Bridgehampton; Exhibition Penthouse in Manhattan
STYLE // Livable, Art-Forward Elegance
QUOTE // "I come out of the gate each time with an entirely new vision for every project. The design solutions come very quickly—I know what I want to create."