Design
Innovative Condominium Design Is Changing How We Live
By: LX Collection
Contemporary luxury residential developments are continuing to embrace the latest innovations in architecture and design. From environmental design to smart technology, these novel buildings are unlocking the potential of new construction and its role in sustainable urban living.
Environmental Design
A new class of residential towers is showing a commitment to environmental design by pursuing certification from the US Green Building Council's Leadership in Energy Efficient Design (LEED) program and following other industry groups' guidelines for greener, healthier buildings. The homes at 15 and 35 Hudson Yards, designed by Diller, Scofidio, and Renfro, and David Childs of SOM, respectively, are located in luxury condominium towers rising from within New York's latest eco-friendly megadevelopment. With facades employing advanced glass materials that reduce solar heat gain to cut back on cooling requirements, both buildings have attained LEED Gold status. Efficient cogeneration plants power the buildings and recapture heat energy to heat and cool them, saving some 25,000 metric tons of CO2 each year. A stormwater capture and filtration system irrigates the complex's many trees and plantings and serves to cool the buildings' mechanical systems.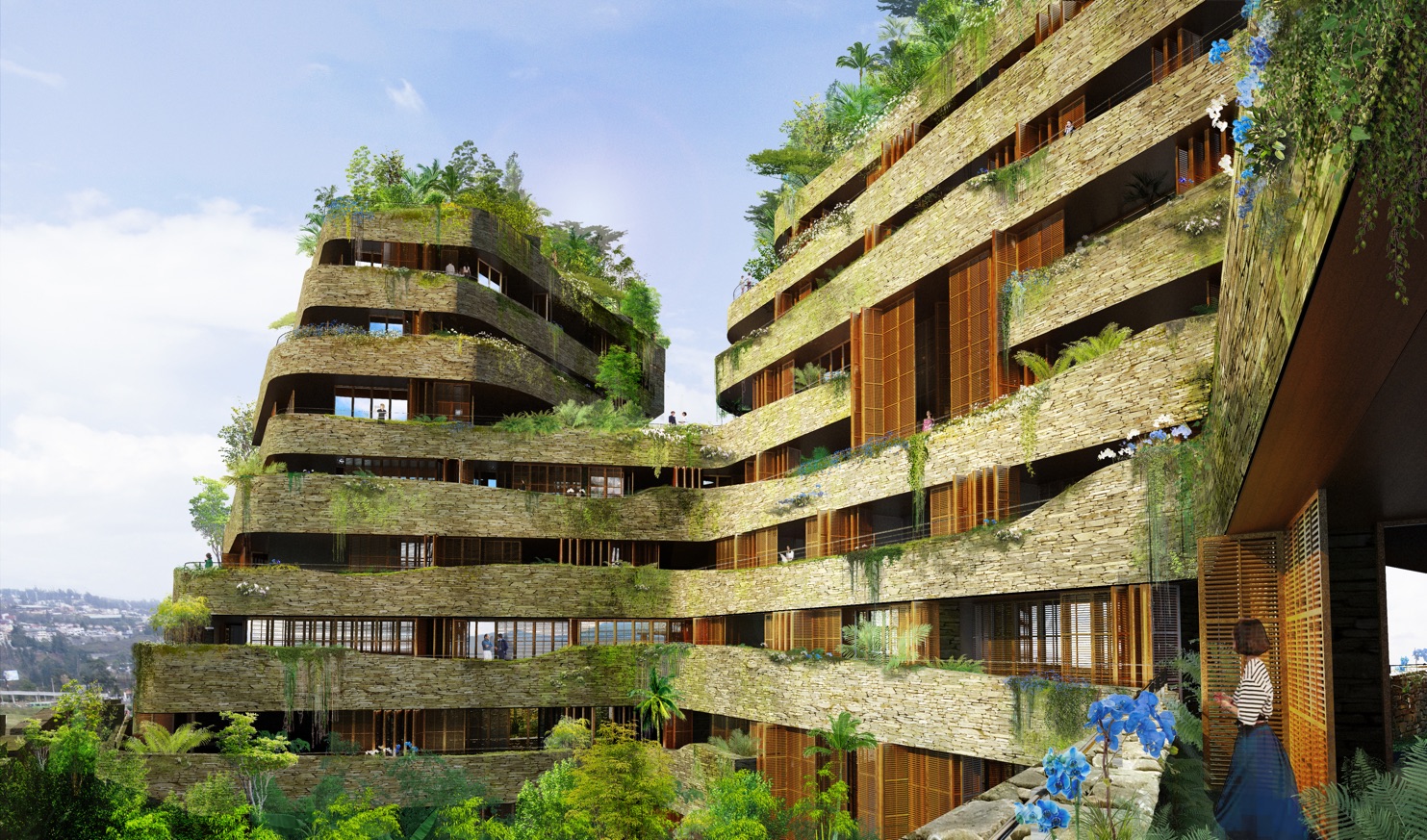 Other new developments turn to natural materials and lush greenery as organic alternatives to building in glass and steel. Shigeru Ban's groundbreaking Terrace House is a luxury residential building that will rise 20 stories above Vancouver on an innovative hybrid frame constructed primarily from local wood. Timber is becoming more popular as a sustainable structural material that's readily renewable and recyclable and requires fewer emissions to produce and transport. Currently being built just outside Ecuador's capital, Quito, is Aquarela, a high-end residential complex by Jean Nouvel that's designed to integrate with the mountainous landscape. Its nine buildings merge interior and exterior with numerous green walls, terraces, and facades covered with native vegetation. These verdant features will be fed by recycled wastewater and serve to naturally regulate interior temperatures without the use of heating or air conditioning.
"A supertall tower can be a good place to live," says supertall specialist and SOM alum Adrian Smith. "But I see them more as a symbol of success and optimism for the future of any city."
The Rise of the Supertall
By readily adopting 21st-century innovation, new residential buildings have been able to ascend to new heights, get smarter, and push the boundaries of what the field of architecture can achieve.
One of the most visible manifestations of these new capabilities is the "supertall"—a new category of luxury residential towers stretching thousands of feet into the sky. These architectural marvels are made possible by advanced computer modeling, wind-mitigation features, and sophisticated stabilization mechanisms. "A supertall tower can be a good place to live," says supertall specialist and SOM alum Adrian Smith. "But I see them more as a symbol of success and optimism for the future of any city." His Central Park Tower ascends 98 stories (1,550 feet) above Manhattan to clinch the title of the world's tallest residential building. The tower's notched and flanged design was devised through extensive wind-tunnel testing of a scale model that determined how to keep the tower stable despite the amplified wind velocities and vortices created by Manhattan's forest-like skyline.

Tech is the New Amenity
Today's newest buildings are also tapping into the latest technology for a seamless living experience that offers convenience and comfort at the tap of a smartphone—or simply by walking in the door. AI and facial recognition software can "see" who is at the door or what's in the fridge to automate security and even meal planning. Smart locks and appliances are just the beginning, however, as some buildings are already serving residents with custom multilingual apps for placing maintenance requests or for booking in-house personal chefs, dog walkers, and spa treatments. The Quay Tower, along Brooklyn's waterfront, partnered with Amazon to integrate voiceless technology into each residence. "We're working hard to deliver homes that meet modern-day needs of active New Yorkers and their families," says Robert Levine, President and CEO of developer RAL Companies. "We're taking that to the next level by integrating Alexa, simplifying life for our residents so they can relax and enjoy time with those they love."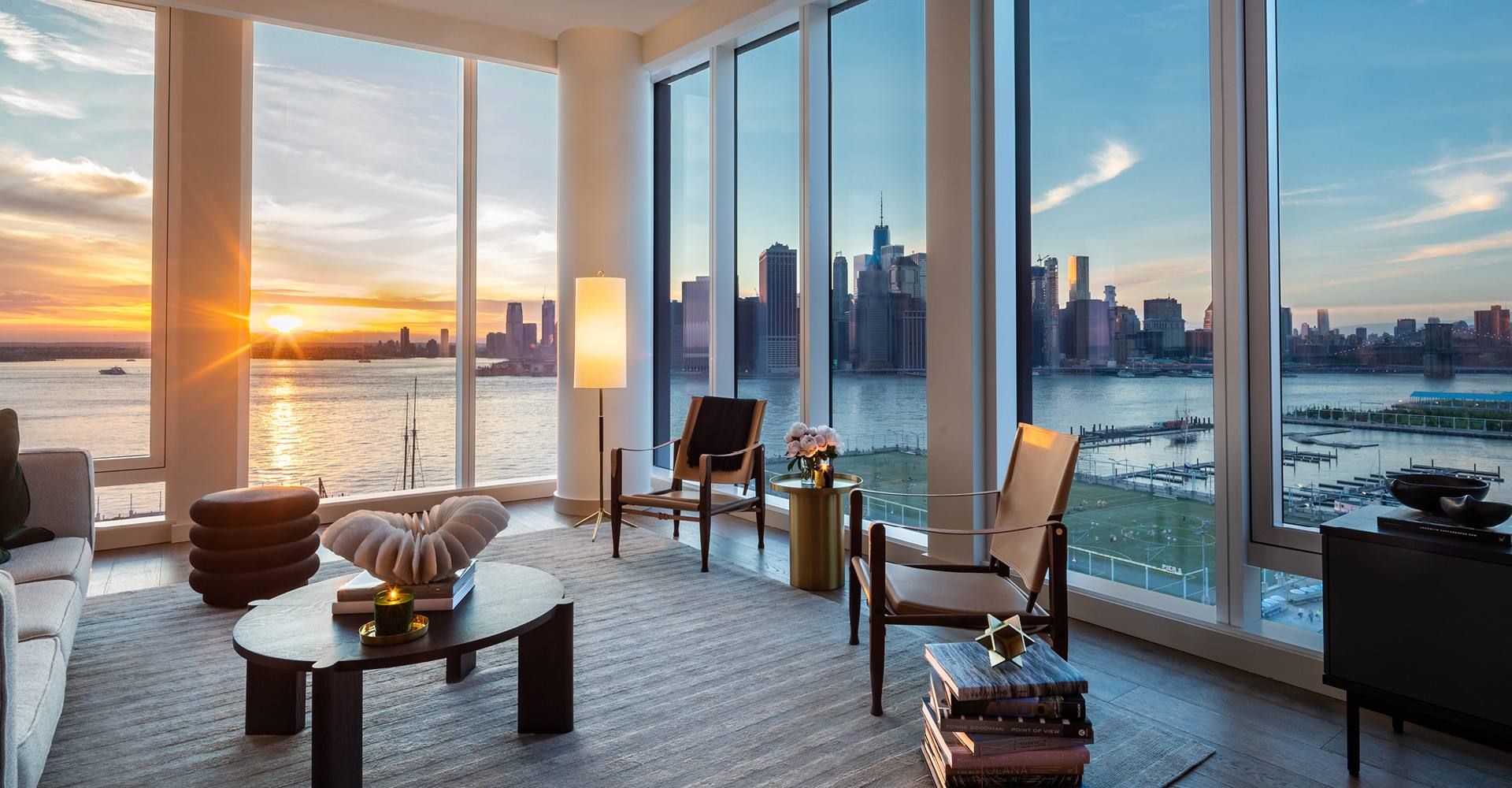 Beyond smart vacuums, technology is bringing robotics into the domestic realm to make household tasks and hosting even easier. Wi-Fi-as-a-service is also emerging as a desirable feature for international luxury condominium owners who travel often. These services provide the fastest, most reliable internet connections through a subscription-based plan managed by the building, which can be easily switched off when the user is away for an extended time.
With their optimistic spirit and forward-looking embrace of innovation, new residential developments represent the cutting edge of sustainability, design, and architectural ingenuity.