Culture
'Live at the Loggia': A One-Of-a-Kind Musical Event With Panoramic Views
Jun 10, 2021 | By: LX Collection
New York City is never silent. There is the din of traffic, the blaring horns, the streets abuzz with life. And there is also the music: the violinist on the subway platform, the drummer in Central Park, the pianist under the Washington Square arch.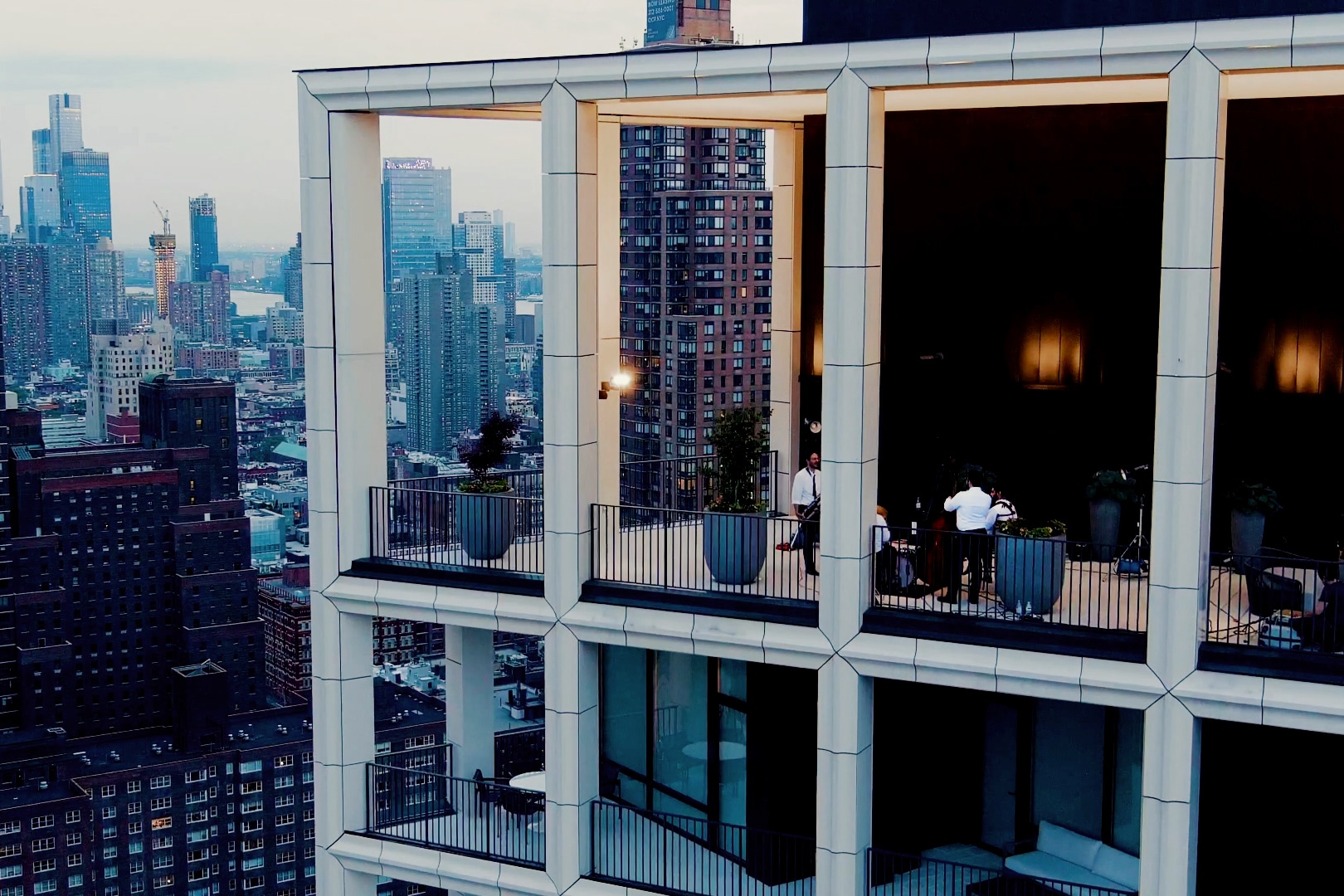 Over the past year, those sounds have been muffled. Broadway will likely be closed until fall, indoor concert halls at Lincoln Center remain shuttered, and other live music venues haven't quite sprung back to life yet. But as the trees bloom and the city emerges from its pandemic slumber, music is making its slow return.
Last month, music came back to the city by way of a rooftop concert at Park Loggia, a singular 33-story condominium tower at the corner of West 61st Street and Broadway. Designed by Skidmore, Owings & Merrill (SOM), the handsome new development has a delicate grid of terracotta-framed loggias that shelter the outdoor spaces of every Broadway-facing residence. At the crown, a communal triple-height loggia offers panoramic views—the perfect location for this one-of-a-kind musical event.
"Live at the Loggia" featured guitarist and composer Adam Moezinia and three musicians from The Juilliard School: Lucas Pino, Phillip Norris, and Charles Goold. A highlight of the quartet's performance was an upbeat version of "After You've Gone," a 1918 song by Turner Layton. 
A Los Angeles native, Moezinia graduated from The Juilliard School's Jazz Studies program in 2014. In the years since, he has performed all over NYC, including at Lincoln Center, just down Broadway from Park Loggia. 
"I like this neighborhood a lot; it's very nostalgic to me," Moezinia said. "It's my home base in New York."
During the course of his career, Moezinia has played in churches, hotels, people's homes, and every other type of space imaginable, so he is no stranger to unique venues. But Park Loggia, with its recessed terraces that seem to act as their own amplification systems, delivered an altogether different experience—a fitting coda to a period when the city was almost silent, and a hopeful prelude to all the sounds to come.