Culture
Block & Lot: An Art-Studded Corner of Midtown Manhattan
Feb 8, 2021 | By: Elissaveta M. Brandon
Welcome to Block & Lot, a new series that takes an in-depth look at the blocks—the actual rectangles bounded by streets and avenues—that make up Manhattan. In this installment, we visit Block 01269.
Every block in New York City has a story to tell. Few of them involve one of the largest and most influential modern art museums in the world. Right in the middle of 53rd and 54th Streets, between Fifth and Sixth Avenues, the Museum of Modern Art (MoMA) is an art-studded island in the sea of office towers and hotels that make up Midtown Manhattan. Thousands actually live on this block, too, where historic limestone townhouses mix with red brick residences and glass luxury condo towers.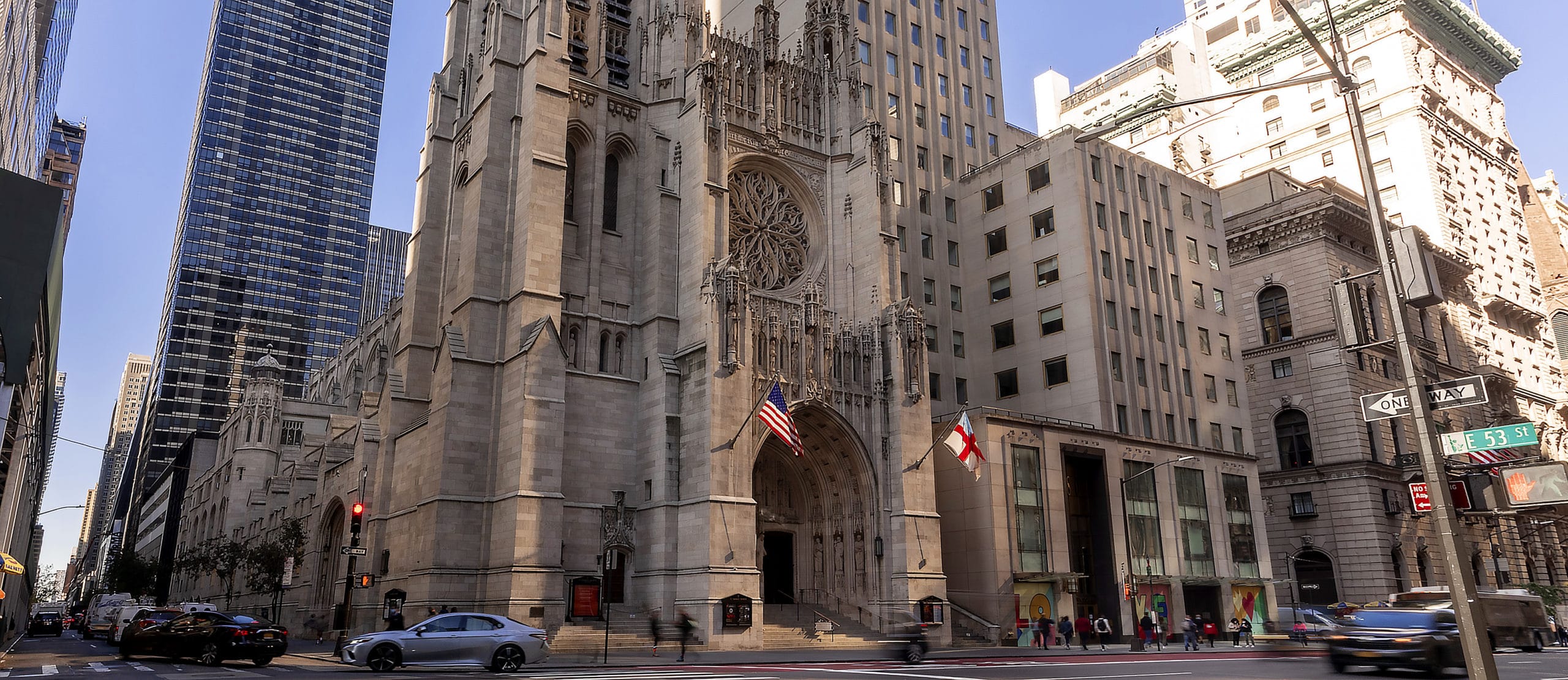 Nestled between Central Park and the iconic Rockefeller Center and served by the E and M lines on the southeastern edge, the block surrounding MoMA is a Midtown microcosm where tourists flock to every street corner and white-collar workers crowd food trucks—or at least they did before the pandemic brought the area to a temporary standstill. A series of public plazas, like the two hugging the Knoll Home Design Shop at 1330 Sixth Avenue, offer some breathing room, while playful sculptures like Xavier Veilhan's multifaceted blue giant and Haresh Lalvani's patterned, stainless-steel egg add a touch of color on the west side of the block.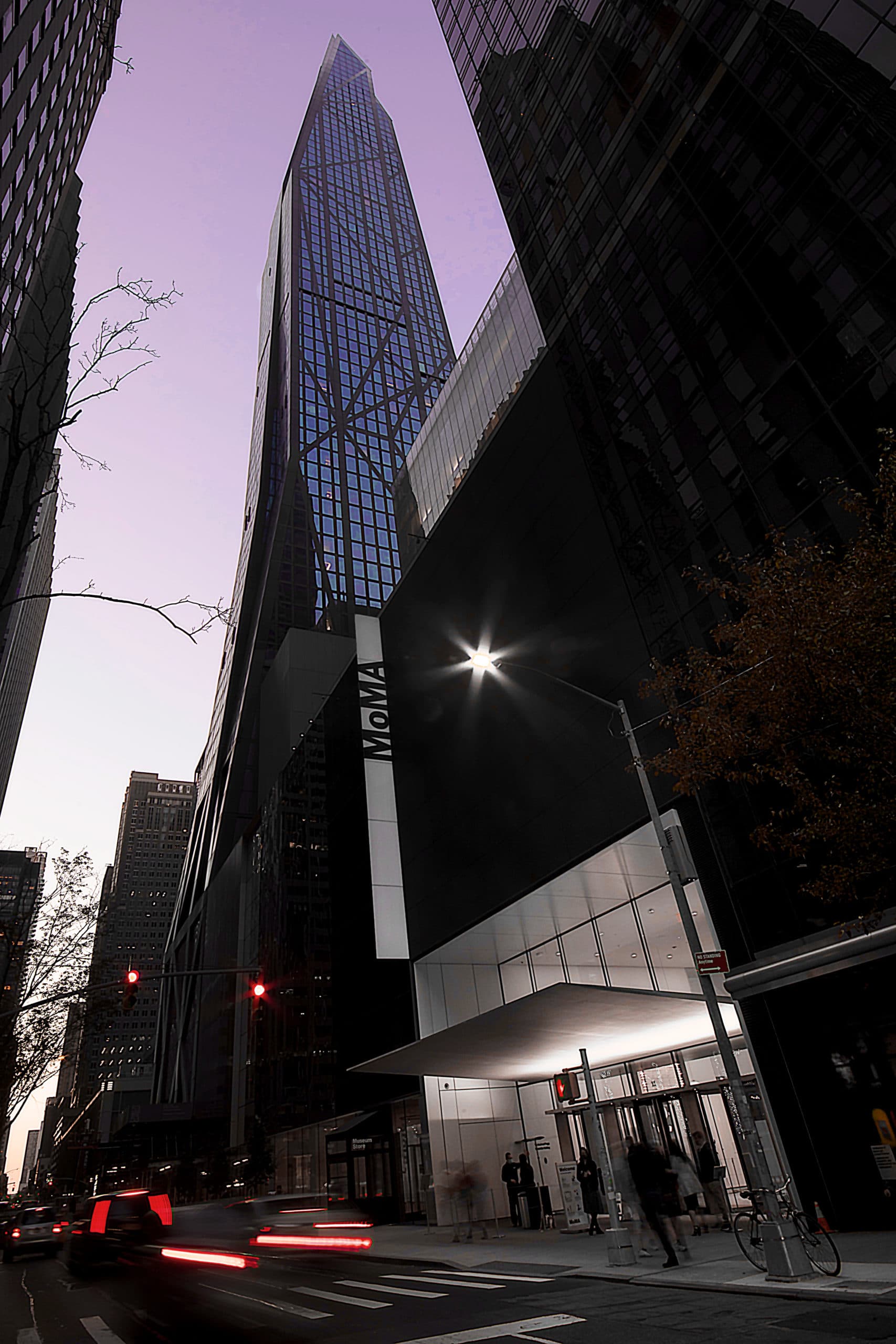 THE MUSEUM OF MODERN ART
In many ways, the block is defined by MoMA—a museum that, much like the city it's rooted in, has reinvented itself continuously. Constructed in 1939, the museum's first purpose-built home on West 53rd Street was a taut palazzo dressed in white marble panels and an innovative type of glass, thermolux, that diffuses light further into the building than clear glass would. After a series of expansions by architects Philip Johnson, César Pelli, and Yoshio Taniguchi, the museum got two major makeovers in 2017 and 2019, when Diller Scofidio + Renfro expanded the lobby, weaved in a new circulation network, and built in a new wing to the west. 
53 WEST 53RD STREET
Along the way, a building that housed the American Folk Art Museum—a copper-bronze structure with a handsome angular facade by Tod Williams Billie Tsien Architects—was sacrificed to make way for MoMA's new glass wing, as well as a new condo tower by French architect Jean Nouvel. Dubbed "53 West 53," the supertall skyscraper rises above MoMA and incorporates three gallery floors into its plinth, along with a 65-foot lap pool and vertical gardens designed by French botanist Patrick Blanc. The building's tapered design is characterized by Nouvel's signature exposed structural system, which dictates a unique layout inside the residences. 
MUSEUM TOWER
Nouvel's skyscraper adds 145 living units to the block, which already featured Museum Tower, a slender condominium tower further down the street. Designed by architect César Pelli, the complex was built in 1985, as part of a major expansion of MoMA, and overlooks the museum's Sculpture Garden. 
Modern architecture isn't all there is to Block 01269. To the north, a grouping of two attached and identical Beaux-Arts townhouses was constructed in 1897 by Henry Hardenbergh, the architect behind the famed Plaza Hotel. Number 13 on 54th Street was purchased by John D. Rockefeller in 1906. Forty-nine years later, Number 15 was purchased by his son Nelson Rockefeller. 
Meanwhile, on the southeastern edge of the block, the French Gothic Revival Saint Thomas Church has been around since 1914. A designated New York Landmark, it was designed by Ralph Adams Cram, who also designed the Princeton University Chapel, and Bertram Grosvenor Goodhue, the architect behind the nearby St. Bartholomew's Church.
MICHELIN STARS DOWNSTAIRS
To live on this block is to live among history and great architectural prowess and within a stone's throw of a modern art collection boasting such icons as Picasso's Les Demoiselles d'Avignon, Warhol's Campbell's Soup Cans, and Dali's haunting The Persistence of Memory. And for every art and architecture aficionado in Manhattan, there is a foodie waiting to be served. With its collection of restaurants ranging from Italian to Brazilian, the block doesn't disappoint. Nestled in a set of townhouses that used to belong to John D. Rockefeller, Il Gattopardo at 54th Street brings refined Italian dining to the heart of Manhattan. On 53rd Street, The Bar at Baccarat Hotel serves specialty cocktails under crystal chandeliers (though it is temporarily closed). And when the city has tamed the pandemic, and The Modern at MoMA reopens, gourmets will be able to relish a two Michelin-starred meal just a hop, skip, and a jump from home.