111 West 57th Street
Midtown, New York
111 W 57th St, New York, NY 10019, USA
Perfectly centered on the south side of Central Park, 111 West 57th Street marries history with history-in-the-making, offering residents the opportunity to live inside the landmarked Steinway Hall or in the soaring tower constructed atop it. The skyscraper's height—1,428 feet—places it in the supertall category, but it's the height-to-width ratio that is truly groundbreaking, making it the thinnest tower in the world—with some of the most spectacular views in all of Manhattan. The ornate terra-cotta-and-bronze facade of the SHoP Architects-designed tower and the palatial interiors by celebrated design firm Studio Sofield nod to the prewar glamour of the historic base. Together, the elements compose a contemporary arrangement that both honors the history of architecture in New York and creates a new landmark.
Developed By JDS Development Group
Broker
Douglas Elliman Real Estate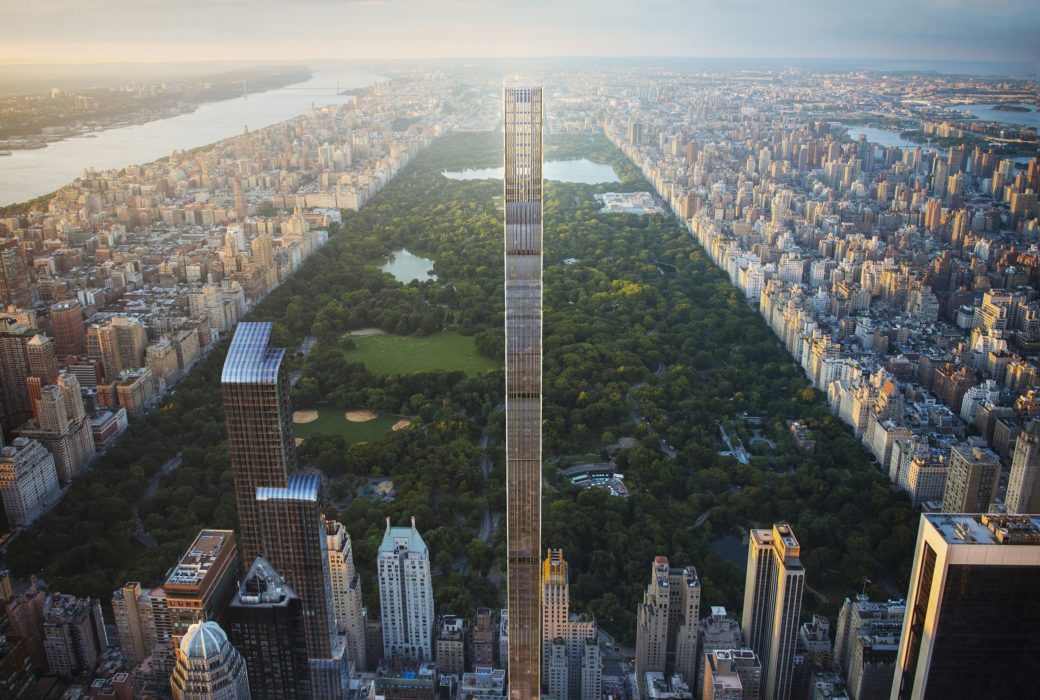 At the time of its construction, Steinway Hall's original design by architectural firm Warren & Wetmore made waves, and the building opened in 1925 to much fanfare by the arts and culture community. Today the landmarked building anchors the world's thinnest super-tall skyscraper, a feat of modern engineering designed by SHoP Architects. The tower feels at once cutting-edge and like a natural extension of the original building's Beaux-Arts architecture. Its graceful exterior of custom-cast terra-cotta, bronze filigree, and glass thins out and seemingly disappears as it reaches its apex.
Residence
Bed
Bath
Price
Int

SqFt

Ext

SqFt

Taxes
Common Charges
Floor Plan
Contact
Residence 16 North
2
2.5
$8,750,000
2702
958
$5,021
$5,266
View
Contact
Residence 17 South
4
5.5
$17,995,000
4768
0
$8,179
$8,578
View
Contact
Landmark Penthouse
3
4.5
$21,000,000
5269
3788
$10,765
$11,291
View
Contact
Residence 29
3
3.5
$16,500,000
4492
0
$7,966
$8,354
View
Contact
Residence 38
3
3.5
$22,750,000
4492
0
$8,301
$8,706
View
Contact
Residence 42
3
3.5
$28,500,000
4492
0
$8,375
$8,784
View
Contact
Residence 68
3
3.5
$30,000,000
3873
0
$7,991
$8,381
View
Contact
Penthouse 72
4
5.5
$66,000,000
7130
1367
$15,726
$16,494
View
Contact
Residence 55
3
3.5
$27,000,000
4183
0
$8,616
$8,215
View
Contact
Midtown is both the heart of the business district and a center for the arts. Most widely known for Times Square and as the home of global corporate headquarters, Midtown presents intoxicating variety. To the north are Central Park, Michelin-star restaurants, Fifth Avenue's world-class shopping, and cultural institutions like the Museum of Modern Art. The south is anchored by beautiful green spaces like Bryant Park and Madison Square Park. The east is a dynamic blend that includes Rockefeller Center and the United Nations Headquarters. Venture further west in Midtown, and entertainment is abundant at Madison Square Garden and in the Theater District, while Hell's Kitchen offers access to quaint eateries and the Hudson River Greenway.
Studio Sofield approached the interiors with history in mind, imbuing the tower's 62 luxury residences with a palatial, prewar feeling. Each of the condominiums, which range in size from two to four bedrooms, has a "Great Hall" that stretches the entire width of the building and has ceilings that soar 14 feet high. Custom details throughout include the Sofield-designed kitchens and master baths clad in veined white onyx, with antique-polished freestanding tubs by William Holland and bronze fixtures cast by P.E. Guerin. At the same time, the residences are designed to take advantage of the development's spectacular height and location on the edge of Central Park. Floor-to-ceiling window walls and bronze mullions allow natural light to flood in and frame picturesque views of the city skyline or Central Park.
Studio Sofield also designed the suite of amenities, which have an opulent feel, from the private porte-cochere entrance to the private 82-foot indoor lap pool under a double-height vaulted ceiling.
24hr Doorman
Concierge
Conference Room
Fitness Center
Lounge
Porte-Cochère / Driveway
Private Dining
Swimming Pool
Terrace
"It's practically calligraphic, it will glint on the skyline, thanks to a genuinely opulent exterior finished in terracotta and bronze." – Justin Davidson

New York Magazine