56 Leonard
Tribeca, New York
56 Leonard St, New York, NY 10013, USA
Developed by Alexico Group and designed by Pritzker Prize-winning architects Herzog & de Meuron, 56 Leonard is a new global landmark in Tribeca. This alluring, cantilevered addition to the new Downtown skyline has an original Anish Kapoor sculpture at its base—the first of his permanent public works in New York City and an unprecedented collaboration and synergy between artist and architecture. The 60-story tower is home to 145 condominium residences, from spacious lofts to five bedrooms, each featuring a private outdoor deck, floor-to-ceiling windows, and panoramic views of the city.
Developed By Alexico Group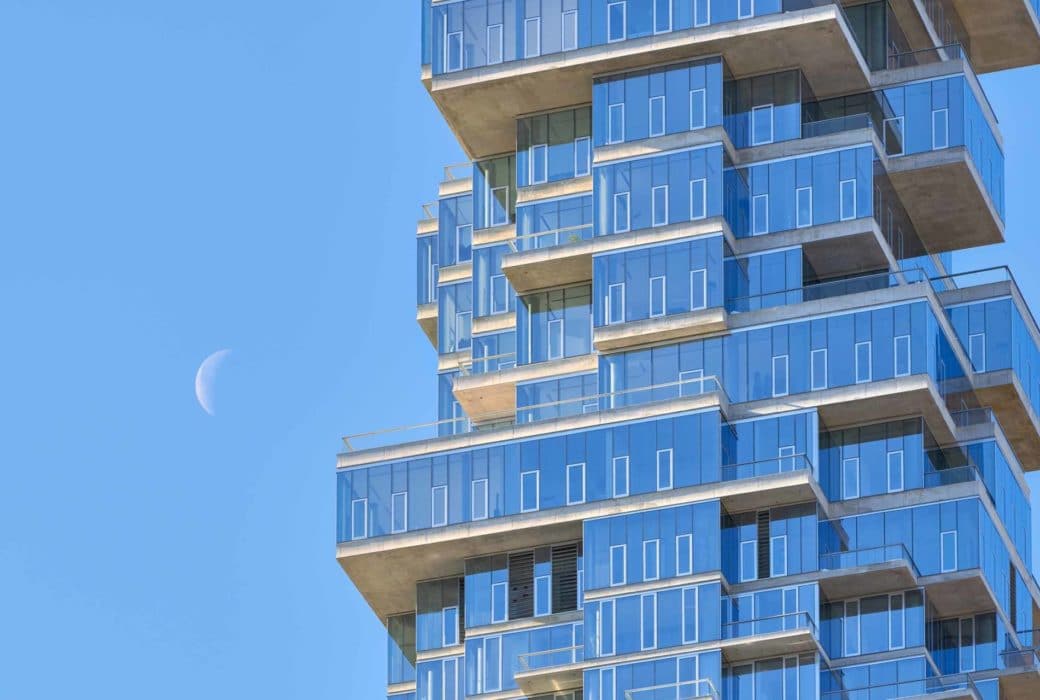 Alexico Group joined forces with Herzog & de Meuron to create a skyscraper that teems with artistic and architectural invention. From the building's glimmering glass exterior to the original Anish Kapoor sculpture integrated into the base of the structure, an eye for artistry is evident in every shape and material. Cantilevers build toward the clouds, creating the sense that the building's floor plans defy gravity. Comprising 60 stories of 145 unique modernist villas, 56 Leonard Street is a marriage of artistic and architectural zeal that sparks the admiration of busy passersby and sight-seeing visitors alike. Cement slabs bolster the modernist aesthetic and create a sense of structural grounding, blending harmoniously with the building's shimmering glass.
Known for cobblestone streets and waterfront views, Tribeca was once part of a parcel of land given by Queen Anne of England to Trinity Church. Today, the neighborhood, named for its location in the "Triangle Below Canal Street," is quiet and inviting, with a restaurant scene that includes local institutions like The Odeon and Bubby's, and ample outdoor space in the Hudson River Park and Washington Market Park. Off the beaten path, the petite Mmuseumm displays objects that tell the story of life today. Every summer, the Tribeca Film Festival draws filmmakers, actors, and artists to the neighborhood.
Featuring sleek and seamless cabinetry, innovative appliances, and thoughtful elements and flourishes that amplify panoramic views of the cityscape, each residence is flooded with natural light. Appalachian solid white oak flooring and cedar joinery blend with the open and modernist aesthetic of each residence. The building's communal floors are primarily clad in concrete, accompanied by contemporary light fixtures and eye-catching sculptures integrated into the building's framework, reinforcing the artistic energy and focused attention to detail that make 56 Leonard a coveted home in the city.
56 Leonard is equipped with 17,000 square feet of amenities, thoughtfully designed by Herzog & de Meuron. The 9th floor hosts an array of recreational amenities, from a library lounge with a custom-designed, polished stainless-steel fireplace to a children's playroom, a 25-seat indoor/outdoor theater with reclining seats and a terrace, and a private dining room with an adjacent catering kitchen. The 10th floor invites residents to enjoy amenities such as the sky estuary, with a 75-foot, two-lane lap pool with black terrazzo deck, steam room and sauna, fitness center and yoga studio, landscaped outdoor sundeck, and luxury hot tub cantilevered 25 feet over Leonard Street for spectacular views.