Sugar Wharf
Harbourfront, Toronto
55 Lake Shore Blvd E, Toronto, ON M5E 1A4, Canada
Imagine living in a place where you can walk to your favorite coffee spot and to your office and to the movie theater. Imagine now that you can choose instead to watch a movie in one of the (three!) theaters in your building, where you can also swim laps in the indoor pool, hang out (literally) in the indoor hammock lounge, or get in some quality WFH time in one of the coworking spaces. Finally, imagine that you can choose to stay in your own space, taking in the views of Lake Ontario from your balcony, catching up on emails in your office nook, or whipping up a cappuccino in the privacy of your own kitchen. This is living at Sugar Wharf, a new luxury condominium development on Toronto's revitalized waterfront. 
Developed By Menkes Developments Ltd.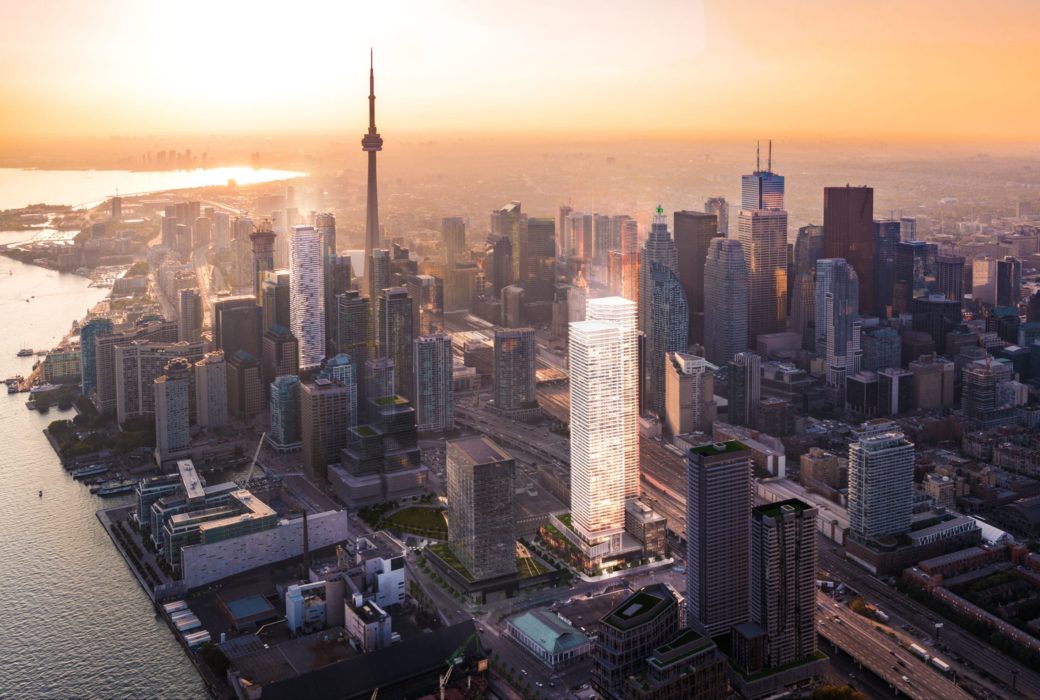 Toronto-based architectsAlliance sees itself as more than just an architecture firm. They are, in their own words, "designers, researchers and urbanists who care about the city, and take care to create spaces that give meaning and invention to the ways we live and work." This is clearly evident at Sugar Wharf, where the whole is greater than the sum of its parts. On their own, the two residential towers, rising 64 and 70 stories above Lake Ontario, impress with their sleek silhouettes and clever cladding, which adds a dynamic quality. Combined with the retail and office spaces, green space, and additional residential components (part of Phase II), Sugar Wharf is one of Toronto's most ambitious mixed-use developments. 
Toronto's waterfront is in the midst of a complete transformation that will redefine Downtown living. Mixed-use communities, featuring spaces to live, work, and play, mean everything you could possibly want or need is right here. Sugar Wharf alone includes 300,000 square feet of retail space, a 25-story office tower, a public park, and a new public school. Add to all that the easy access to Lake Ontario and public transit that connects you to the rest of Toronto's thriving cultural scene.
It might seem redundant to say that the residences are designed for living—aren't they all? But in the case of these one- to three-bedroom homes, every choice feels like it was made for how people want to live today. From the deep closet spaces to the home office nooks to the private balconies (all with phenomenal views), nothing has been overlooked. 
Its location—within a mixed-use community, on the waterfront, adjacent to Downtown—is definitely the primary draw. But Sugar Wharf doesn't rest on its laurels when it comes to amenities. In addition to the customary offerings you'd expect from a luxury condominium development, you'll find an indoor hammock lounge, three separate theaters, and a fitness center with a basketball court and spin studio. For the kids, there's a party room, a music room, an art studio, and even a Lego room (yes, really).