Amenities
From Grand Entrances to Elevated Parking, New Amenities Cater to Auto Enthusiasts
Mar 11, 2021 | By: LX Collection
Amid today's luxury condominium renaissance, new developments offer buyers amenities that cater to every interest, whether you're a wellness maven looking to live just steps from world-class spa facilities, a budding creative seeking to express your imagination in an in-house art studio, or a dedicated oenophile in search of personalized sommelier services and wine storage. 
Now, luxury residences in cities like New York and Miami even come with car-focused amenities that let automobile enthusiasts live their passion. From the revival of drive-up porte-cochere entrances to cutting-edge sky garages, here are just a few of the car-driven design considerations that will surely set auto aficionados' hearts racing.
Make a grand entrance
The latest must-have auto amenity for premium residences, the porte cochere, originated as a covered entryway that protected carriages from the elements as they pulled into castle courtyards. Buildings with these elegant enclosures allow cars to drive directly up to the lobby entrance, inviting residents to step seamlessly between their home and their vehicle. At Manhattan's tony Park Loggia, the stone-clad porte cochere with its spectacular pendant light fixtures is designed to elevate the moment of arrival. Residents can drive in at any hour and leave the parking—and the porting—to the Park Loggia's white-glove service staff.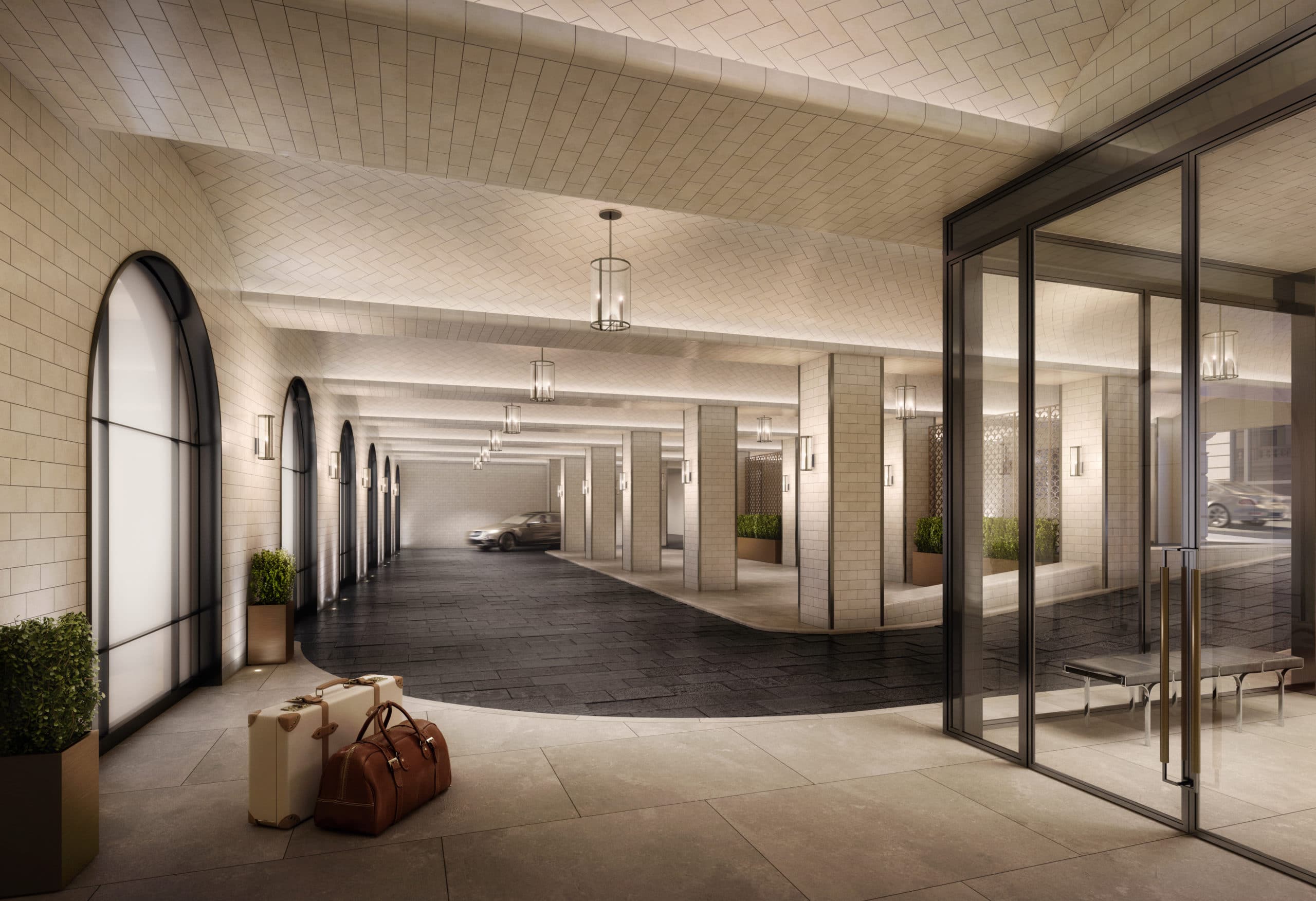 Subterranean sophistication
For those auto enthusiasts who wish to keep their luxury cars secure and their comings and goings discreet, motor courts and parking facilities below street level provide both privacy and peace of mind. 108 Leonard, a landmark luxury condominium building in New York City's Tribeca neighborhood, offers residents the convenience of its private, indoor motor reception area. This barrel-vaulted, stone-clad space makes daily trips and Hamptons getaways easy and elegant via valet parking service and a heated, glass-enclosed waiting area.
A choreographed approach
Those who've motored up the long driveway of a sprawling country estate are familiar with the sense of anticipation and grandeur this ritual imparts. In designing Miami's Jade Signature, Herzog and de Meuron bring this processional drama to a luxury condominium development in an urban setting. Turning off Collins Avenue, where the city's flashiest cars famously come to cruise, the Jade Signature is approached via its grand, spiraling driveway surrounded by lush landscaping. This extended drive serves to both prolong the act of arrival and ease the transition from exterior to interior space. At the impressive porte-cochere entrance, residents are greeted by valet attendants who park their vehicles in the structure below.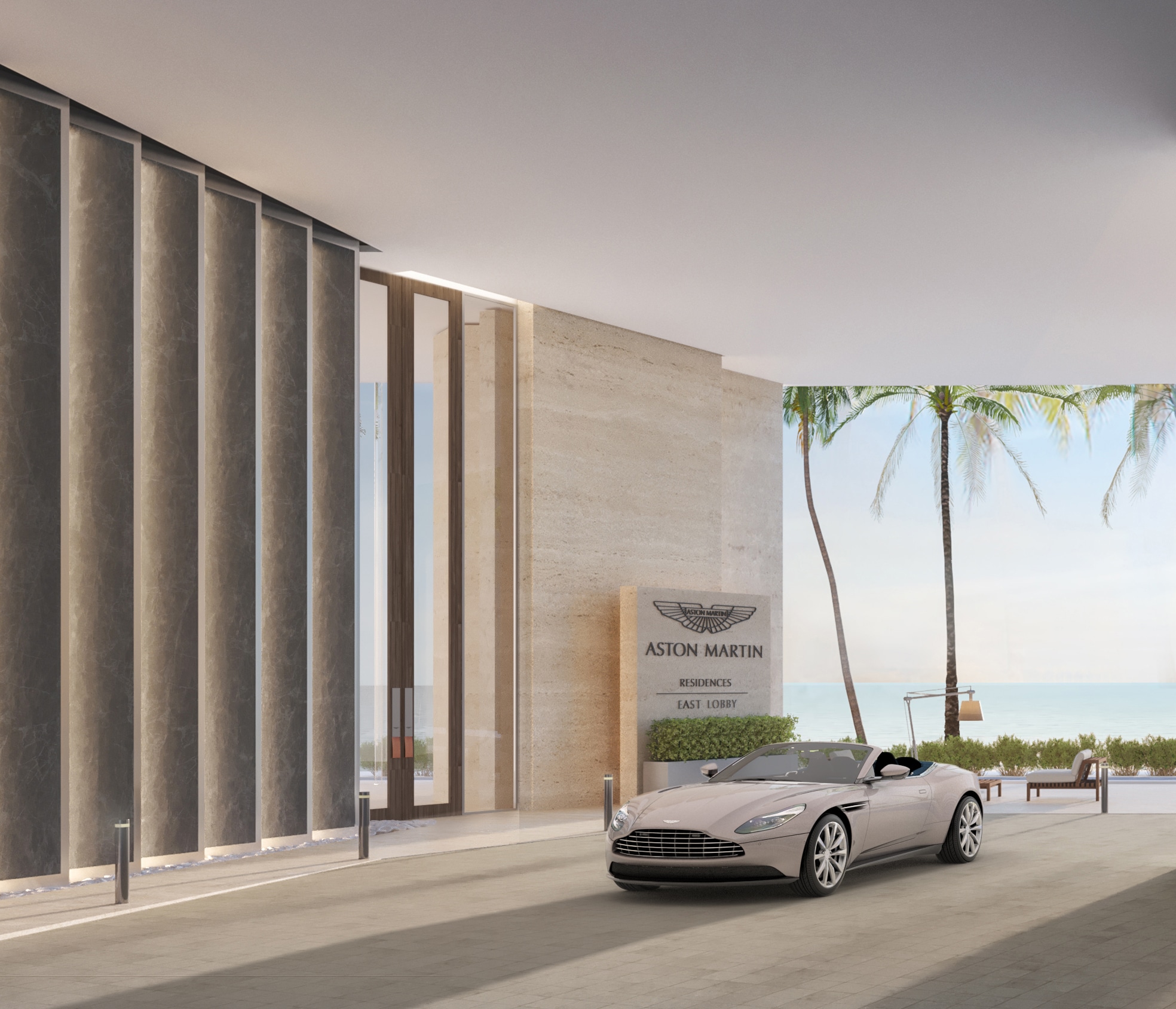 Driven by design
A new vogue for condominium developments inspired by car design marries automobile and architecture, to the delight of motorsport enthusiasts. Luxury auto marques are renowned for their sumptuous materials and artisan craftsmanship, and Miami's Aston Martin Residences upholds this love of beauty in a new condominium tower. The legendary elegance of these British cars is evoked in the color palettes and balanced proportions of the interiors (cars and residences are both inspired by the Fibonacci sequence), even down to details like the leather door pulls and the stitching in the upholstery.
Parking, elevated 
To many car connoisseurs, automobiles are an art form—the sleek lines and lustrous surfaces akin to a sculpture by Brancusi or Arp. Several new condominium residences recognize these collectors' passion with en suite parking that doubles as a gallery for displaying their cars. Take the Porsche Design Tower Miami, which was built around its three patented car elevators. Residents drive directly into the fully automated lift, which whisks them and their vehicle directly to their home above. Each luxury residence comes with at least two "sky garages" with nothing but a glass wall separating your Lamborghini from your living room. "We made the building about the car collector," said developer Gil Dezer. "There's an owner with a $22 million Ferrari that he only uses on the weekends."