Architecture
Four Boundary-Pushing Projects By Architect David Adjaye
Aug 17, 2021 | By: LX Collection
From the Smithsonian National Museum of African American History and Culture in Washington, D.C., to the National Cathedral of Ghana, David Adjaye wows the world with his symbolically rich feats of architecture. But the Ghanaian-British creator of museums, churches, and libraries also has a roster of residential buildings under his belt. As you'd expect, they're anything but mundane.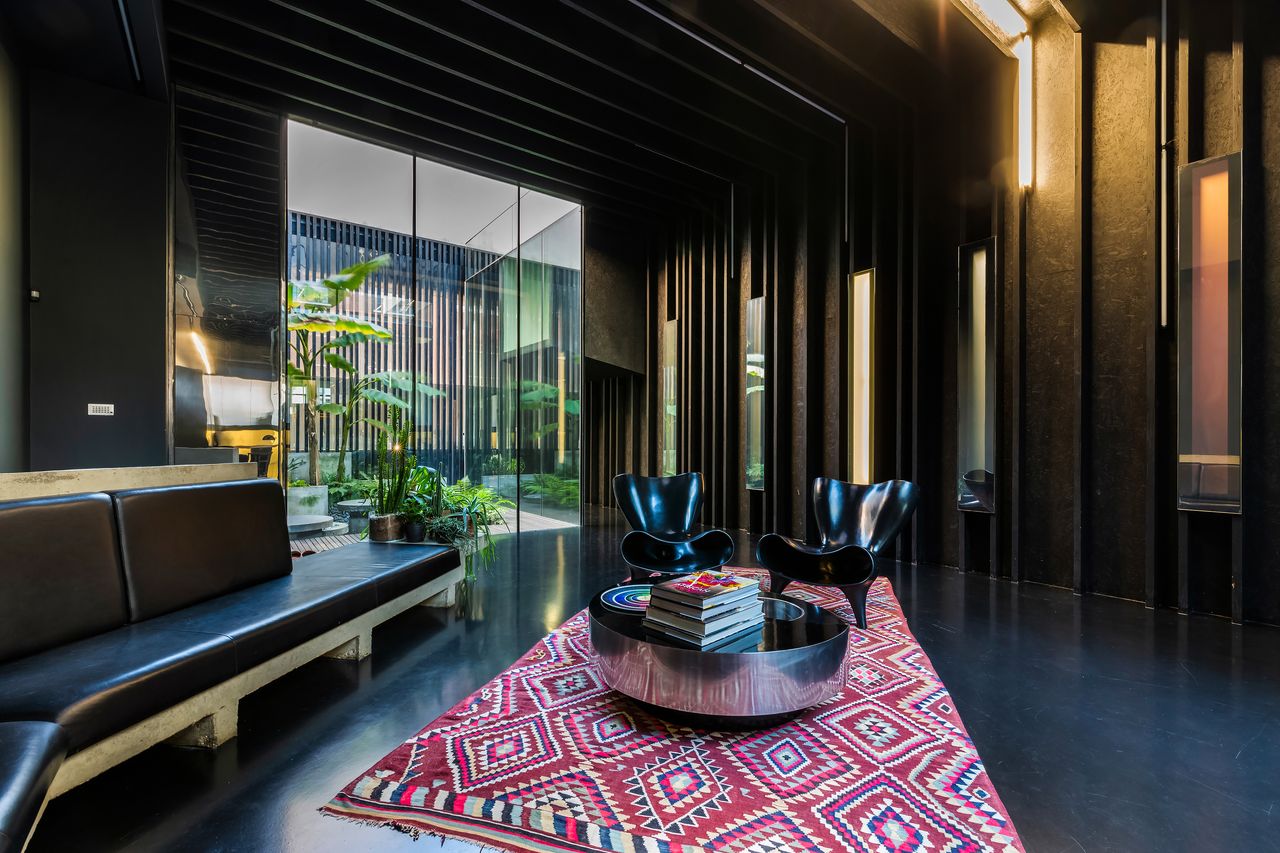 Lost House – King's Cross, London (2004)
Adjaye is a virtuoso at reimagining space, and Lost House—one of the architect's early residential offerings—saw him transform a London delivery yard into a sensuous single-story dwelling. Sheathed in black walls with a black resin floor, and adorned with fixed brutalist furniture, Lost House sounds rather intense. Yet that brooding atmosphere is softened by Adjaye's addition of three oversized light wells that permeate the living areas and the two bedrooms, and double as leafy water gardens and fish ponds. The 4,000-square-foot interior features an expansive double-height kitchen, living, and dining area; a sunken cinema; and even an upper-story swimming pool (rendered, of course, in black). Billed by The Modern House as "one of the most significant domestic projects of recent times," Lost House has been featured in various TV shows, and was listed in 2020 for $8.3 million.
Sugar Hill Mixed-Use Development – Harlem, New York City (2014)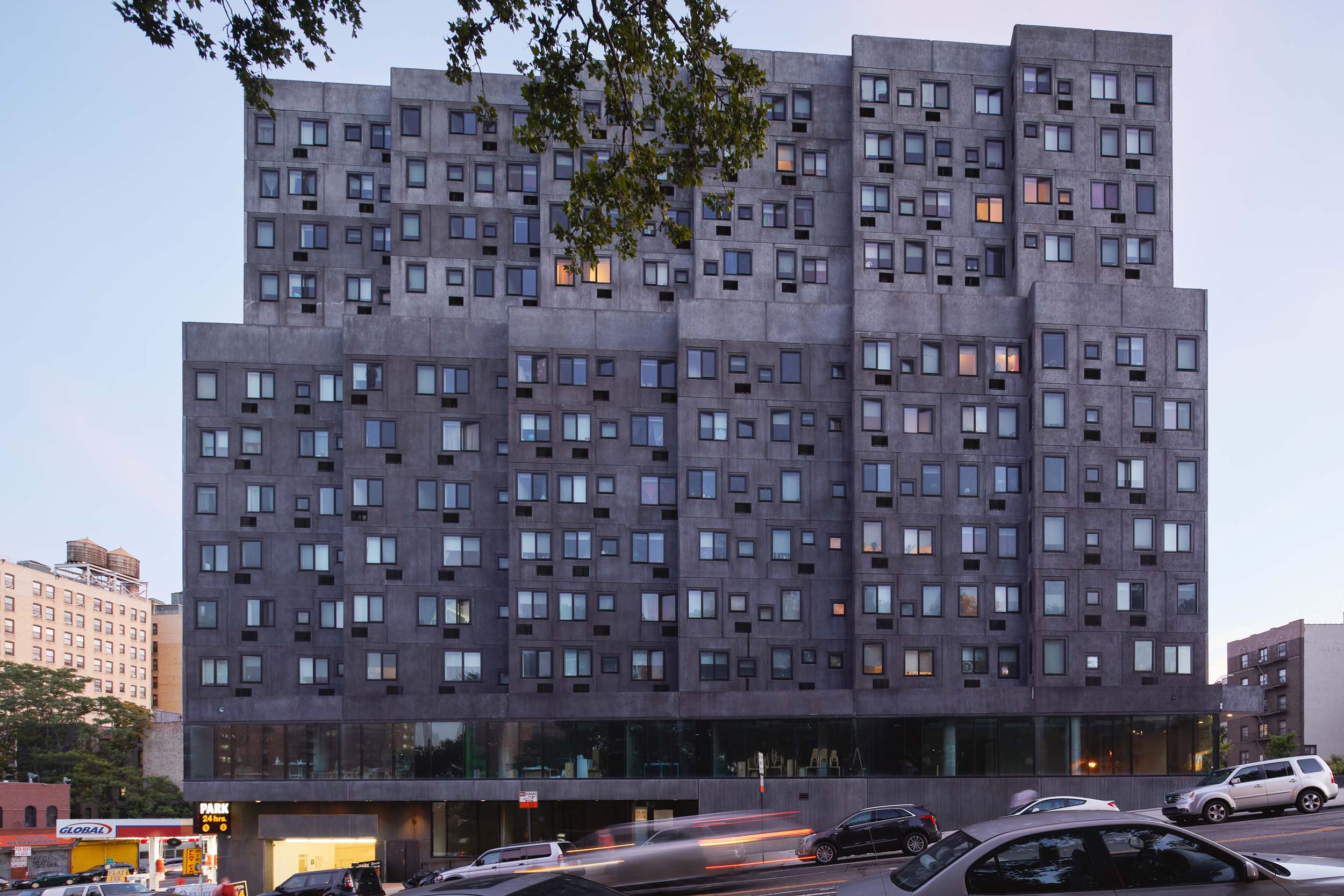 Riffing on the Sugar Hill neigborhood's Gothic revival row houses, Adjaye Associates' mixed-use development comprises 13 striking stories of cantilevered concrete. Adjaye is a lover of exterior ornamentation, and, in this case, rose-embossed graphite panels doff their cap to Harlem culture and the building's location in the Heritage Rose District. What really earns Sugar Hill its dues, though, is its social conscience; the development features affordable housing (including for the homeless), a children's museum, and an early childhood center. And while Adjaye often works with an exclusive type of residential client, Sugar Hill's conception involved meetings and workshops with locals, not to mention a very sensible budget. The result is a development that not just Adjaye, but the whole community, can be proud of.
Mole House – Hackney, London (2020)
Of all London's eccentrics, the tale of William Lyttle—aka the Mole Man—sticks firmly in the mind. For four decades, Lyttle dug a network of tunnels beneath his East London home, displacing over 3,500 cubic feet of earth and making his neighbors question the stability of their own foundations. Following Lyttle's passing in 2010, there was much speculation as to what to do with the uninhabitable property. Enter David Adjaye, who, with artist and new homeowner Sue Webster, part preserved and galvanized the dwelling's oddball past with further excavations, a basement extension, and multiple entrances. The distressed exterior of Mole House—made with over 15,000 reclaimed bricks—pays further homage to the tumbledown nature of the residence. Webster described it to Wallpaper as "almost a cross between a second world war bunker in Berlin … and a normal house." Adjaye also worked with Webster on another London residence, a former pub reinvented as Dirty House.
130 William – Lower Manhattan, New York City (2020)
The loftiest of David Adjaye's residential developments to date, 130 William comprises 66 stories of luxury condominiums and amenities, including a fitness center, cinema, and pet spa. "Let's not do another curtain-wall glass building, let's look at the incredible tradition of masonry architecture in Downtown and Midtown New York," said Adjaye ahead of this project, and he stuck to his word. Textured hand-cast concrete is studded with generously-proportioned arched windows, recalling the Manhattan lofts of yore and creating an instant icon on the skyline. The 10 topmost floors offer loggia penthouses—their gardens in the sky overlooking both the Hudson and East Rivers. Double-height ceilings at this level offer another touch of decadence afforded to few other condos in the area. Crowning 130 William is its 800-foot-high observation deck with lounge space, grilling stations, and private cabanas. It's Adjaye at his indulgent best.