Design
How Architects and Developers are Designing for Sustainability
Apr 5, 2021 | By: Nichole Talbot
Urban areas will be home to two-thirds of the global population by 2050. With the exception of 2020, rising urban density has caused a significant increase in high-rise construction over the last decade. With that growth comes the challenge of optimizing building location, architecture, materials, and production methods to lessen construction's environmental impact. 
One can make the argument that high-rise buildings, by virtue of their location, are more environmentally conscious and aligned with smart growth principles. Their construction in urban centers places them within walkable neighborhoods close to employment, commerce, mass transit, restaurants, and culture. Many of today's new urban projects are redevelopment sites or infill development sites and can involve environmental remediation that, once completed, improves land quality and creates healthier neighborhoods. And by utilizing existing infrastructure and utility access patterns, new buildings in cities help reduce suburban sprawl and contribute to the development of open space outside urban areas. 
Low-Emission and Energy-Efficient Design
Architects, developers, and interior designers continue to break new ground in their efforts to conceive of a building's life cycle holistically. Design and build philosophies increasingly aim to reduce the total embodied energy required for building construction and operations.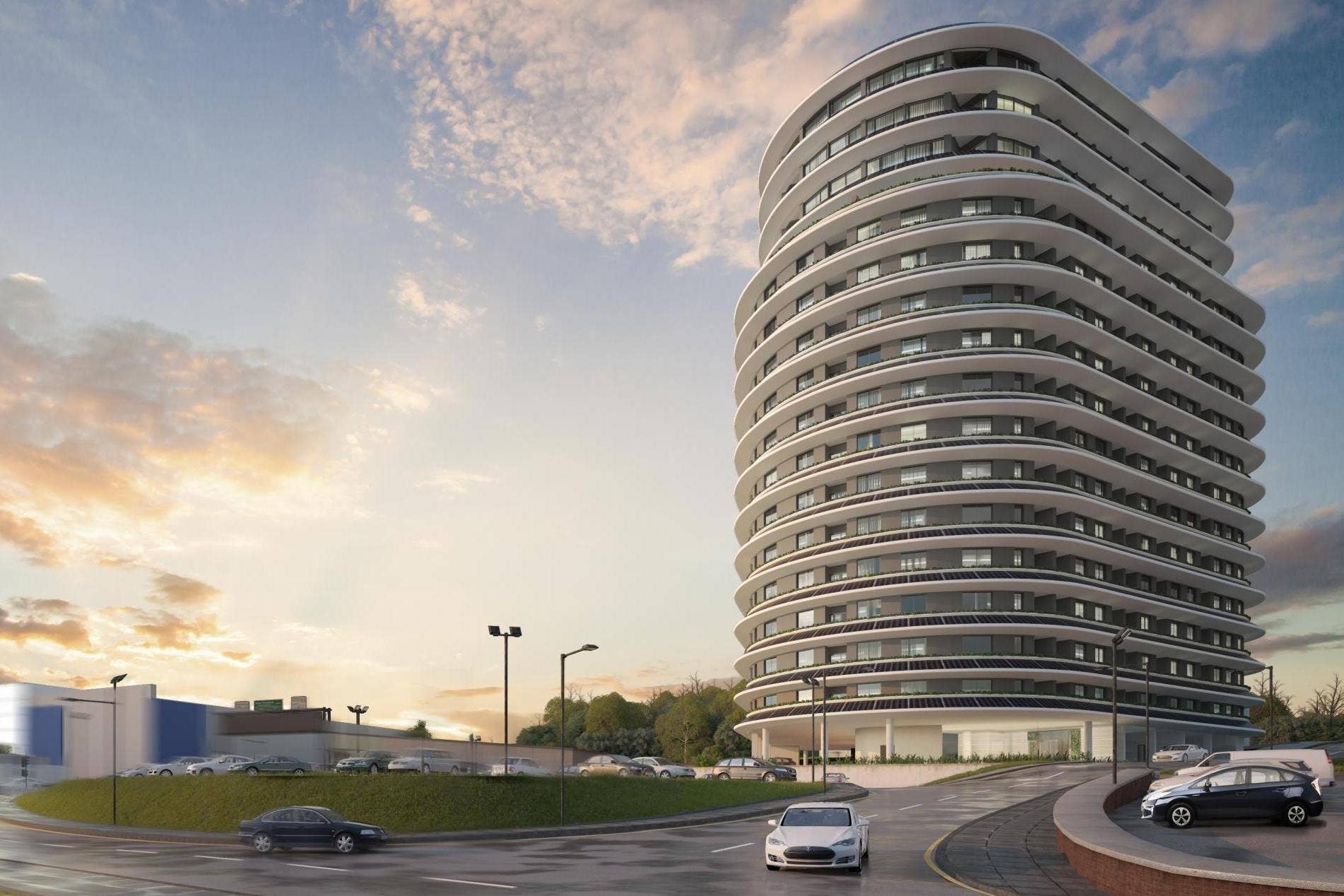 Currently under construction in Greater London's Hemel Hempstead neighborhood, The Beacon by Lumiere Developments describes itself as the globe's most sustainable luxury residential high-rise. Its modern exterior belies a collection of zero-emissions flats and the structure's ability to generate nearly 100 percent of the energy it consumes. A solar panel farm will be installed on the tower vertically and laterally, and two wind turbines will generate surplus energy for future use. 
On the other side of the pond, future-focused development firms partner with like-minded architectural teams to create distinctive residential towers that meet various standards set by the United States Green Building Council. A striking limestone and glass facade at Manhattan's 35 Hudson Yards dazzles in its harmonious blend of form and function. Conceived by renowned architect David Childs of SOM, the thin tower's undulating exterior mimics the meandering curves of the adjacent Hudson River, and the structure's many energy-saving features have earned the prestigious LEED Gold certification.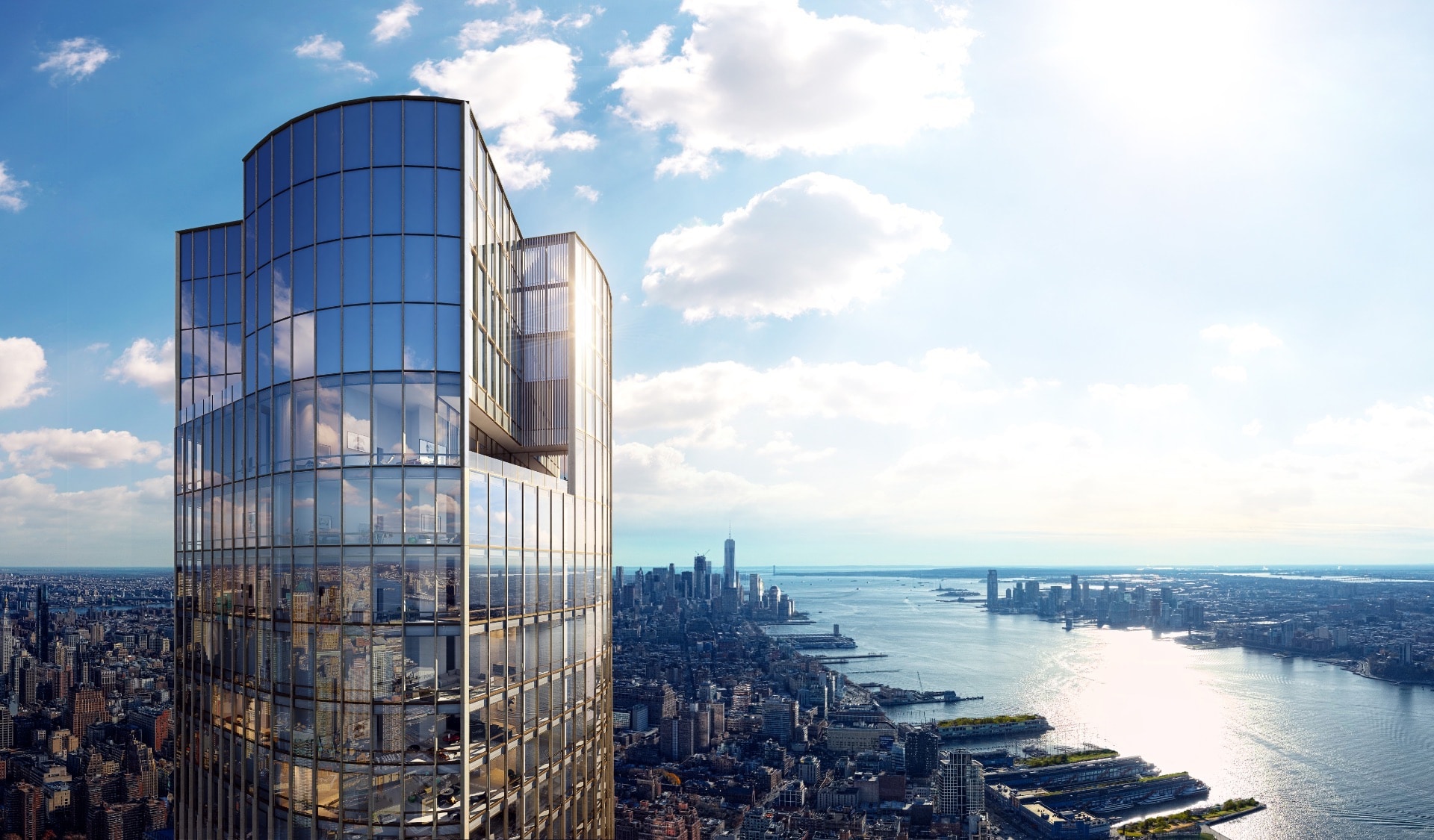 The ability to balance active and passive design strategies with distinctive architecture will continue to dominate the conversation during projects' conceptual phases. Double-skin facades, insulated concrete construction, and triple-glazed windows are just a few considerations that act as a building's insulation to improve thermal performance and reduce noise pollution. 
A Nod to Mod(ular) and Waste Reduction
Construction waste is responsible for 50 percent of the world's solid waste generation, and it's anticipated cities will contribute 2.2 billion tons annually by 2025. But many developers are now moving toward waste-efficient design to reduce the environmental impact of construction.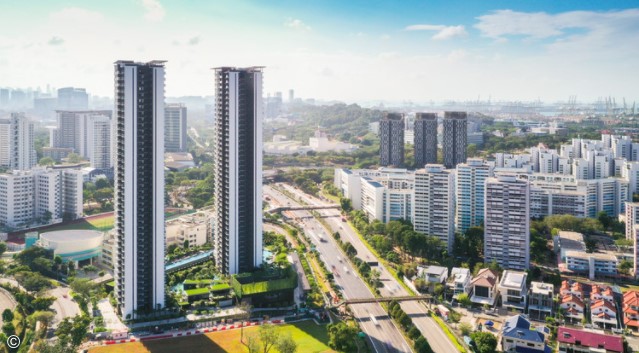 Clement Canopy by UOL Group and architectural firm ADDP in Singapore stands as the world's tallest modular high-rise structure. Completed in 2019, the two 40-story luxury mixed-use towers are constructed of freestanding concrete modules manufactured off-site with complete finishes for walls, floors, and ceilings. 
According to the Modular Building Institute, a shift to more off-site modular construction can reduce job-site waste by 90 percent. And because production takes place using dry materials in a closed facility, modular panels improve the finished building's interior air quality with less trapped moisture during construction. 
Healthier Eco-Conscious Environments
What's better for the planet coincides with what's good for the mind, body, and soul. Renewable and organic materials like reclaimed and FSC-certified wood, bamboo, marble, quartz, and ethically sourced gemstone are soothing and harmonious, and they offer a lovely interplay of a raw and refined aesthetic while lessening a building's environmental burden. A striking concierge desk made from raw-edged walnut at The Avery in San Francisco pairs with matching wall paneling, earthy limestone flooring, and bronze accents to create a transitional space from the outdoors to the indoor lobby that feels unforced and natural.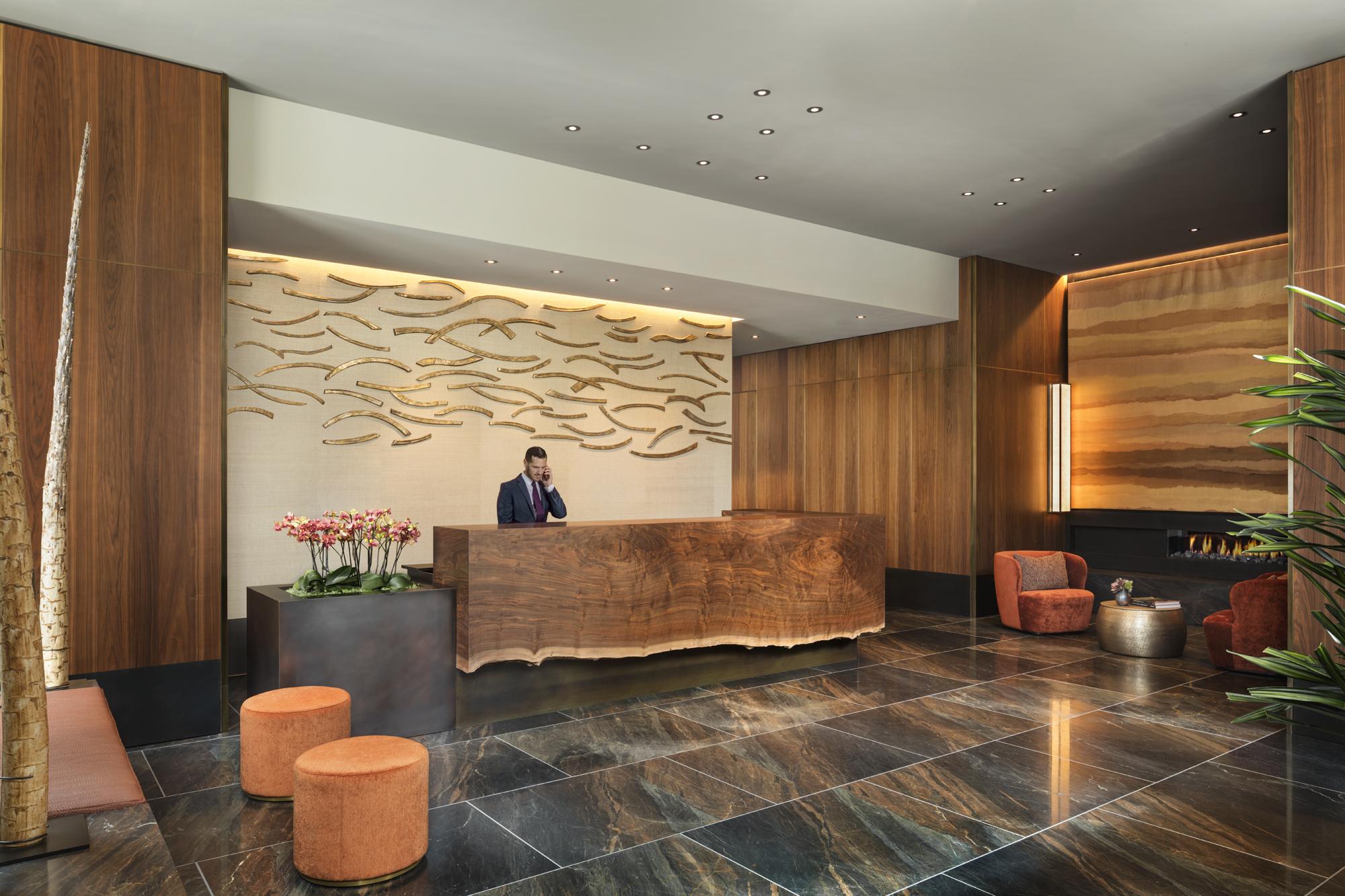 Window size, style, and placement can maximize natural light and reduce energy consumption. Philosophies and principles that blur the boundary between indoors and the natural world—like biophilic design that helps establish meaningful connections to the outdoors—enhance urban lifestyles. Access to green space, gardens, and greenery inhibits greenhouse gas emissions and improves city dwellers' quality of life. To create sustainable architecture and interiors is to design for health, well-being, and more resilient urban landscapes that adapt to future needs.