Adagio
Yorkville, Toronto
771 Yonge St, Toronto, ON M4W 2G4, Canada
From the developer that spurred the transformation of once-indie Yorkville into one of Toronto's most prestigious neighborhoods comes this elegant condominium development. The tower itself, designed by Giannone Petricone Associates, is sleek and sophisticated, a glass structure grounded by a century-old brick building that's been updated and repurposed to help integrate Adagio Condos into the existing streetscape. The result is a thoroughly modern retreat with gorgeous residences and amenities from the distinguished interior designers at Figure3—and the city's best shopping, dining, and entertainment just steps away.
Developed By Menkes Developments Ltd.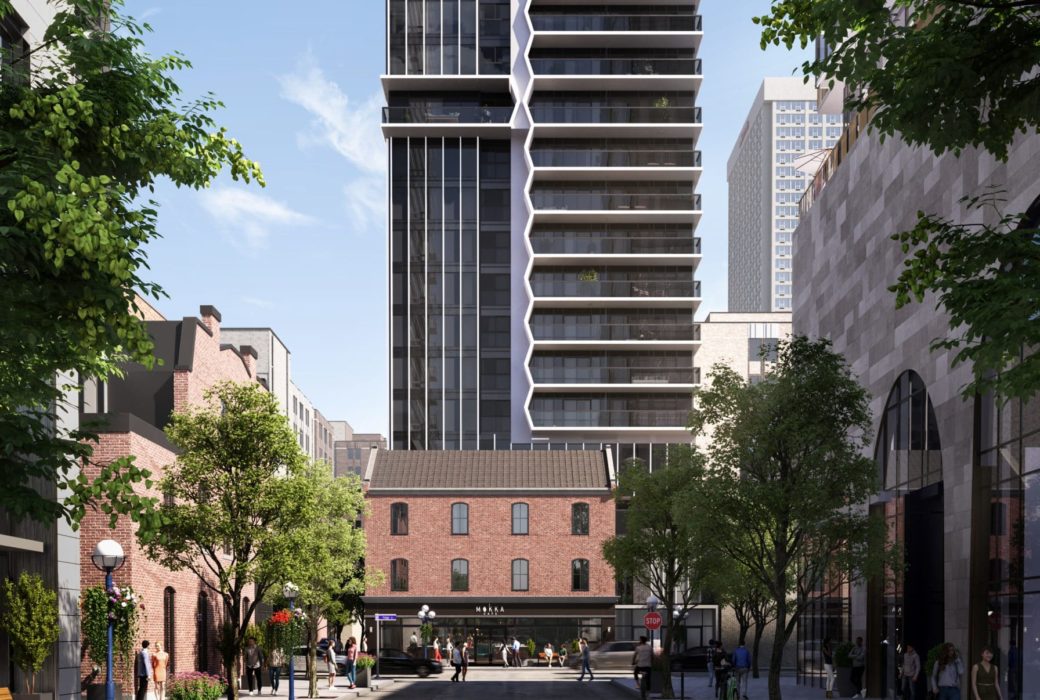 Giannone Petricone Associates designed the 29-story glass tower with a masonry base. "So, you will have these cool, ground-related historic elements," explains Jared Menkes. "You'll have this unique feeling that you are walking along a side street, but you are at Yonge and Bloor." And then, from this brick base, rises a dynamic tower that's both statuesque and spirited, geometric and organic. It's old-meets-new encapsulated in a single architectural statement.
Toronto's Yorkville neighborhood was once known as a hippie haven, frequented by musicians such as Joni Mitchell and Gordon Lightfoot. Then, the arrival of the Four Seasons in 2012 ushered in a new era of polished boutiques and posh hotels frequented by Hollywood starlets. Now, the area is evolving yet again: the newest iteration is younger and cooler but still decidedly upscale. Think low-rise condominiums that complement heritage Victorian houses, hip eateries and wine bars alongside fine dining restaurants, and homegrown design studios and galleries coexisting with high-end international shops. 
Interior design firm Figure3 was inspired by Adagio's past. Once home to one of Canada's first ballet schools, the luxury condominium tower is theatrical but elegant, whimsical but restrained. This is most pronounced in the intimate-yet-glamorous lobby, which sets a mood with a fireplace, drapery, and indirect lighting. The 202 residences themselves are more understated but no less luxurious, thanks to top-of-the-line appliances and sophisticated finishes.
Curated for residents who want to be in the center of the action, the amenities at Adagio include a bar and lounge with a speakeasy-like feel, a coworking space, pet spa, and fitness center (with a ballet barre studio, of course). And then, there's the location at the intersection of Canada's oldest street and one of Toronto's most fashion-forward streets. Everything you could possibly want or need is at your doorstep.