Missoni Baia
Edgewater, Miami
777 NE 26th Terrace, Miami, FL 33137, USA
The first residential project for Italian fashion powerhouse Missoni, this glass tower directly on Biscayne Bay brings together an all-star team of architects and designers to create a way of living that reflects the brand's embrace of color and print. This doesn't mean over-the-top maximalism: the building, designed by New York-based Asymptote Architecture, embraces minimalism with its sleek glass tower; the interiors by Paris Forino have a refined, understated palette; and the Aman-designed spa is a study in restraint. Instead, the overall vibe is one of joyful luxury, with pops of pattern and surprising elements cultivating a sense of versatility, warmth, and freedom. This is especially true within the amenity spaces, like the white-marble lobby, offset by brightly hued seating and metallic ottomans, and the pool terrace, where Missoni-designed lounge chairs overlook panoramic views of Biscayne Bay.
Broker
Fortune Development Sales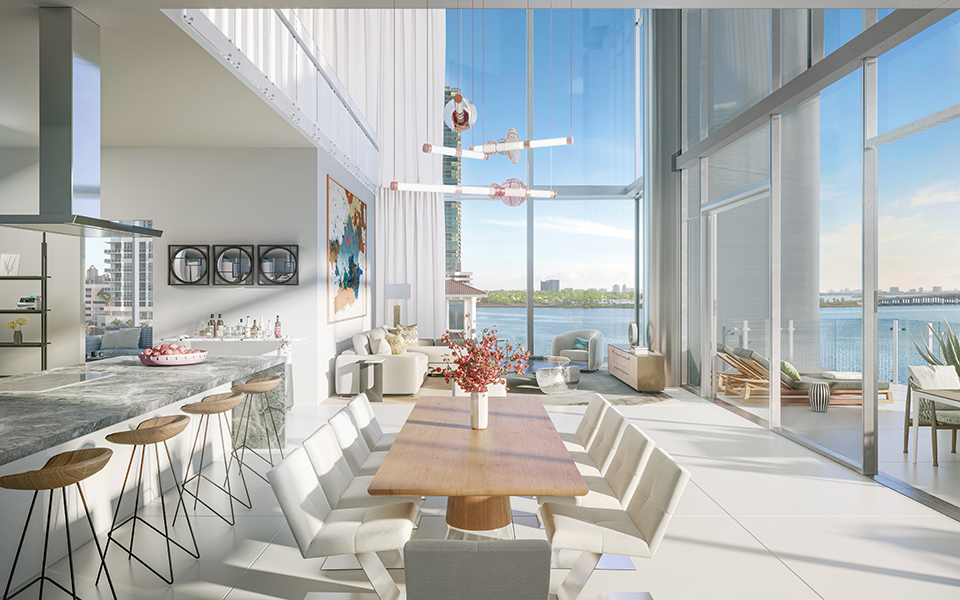 New York-based Asymptote Architecture is known for its avant-garde designs, many of which incorporate virtuality into real-life projects. For Missoni Baia, however, the architects looked to the past rather than the future, drawing inspiration from the minimalist works of artists like Donald Judd and Sol LeWitt. The goal was to build something timeless rather than trendy, something that would stand out against the Miami skyline for its simplicity. The result is a 57-story, 650-foot-tall glass tower that reflects the ever-changing light of Miami. "It's not 'in your face,' but there is something unique and powerful about it," says Asymptote cofounder Hani Rashid. "When you enter the building, it feels like you're stepping inside a sculpture."
Unit Types
1-3 Bedroom Residences
Luxury Units
Penthouse, Townhouse
Price Range
$680,000 - $2,191,000
Edgewater is one of Miami's oldest neighborhoods; it's also newly up-and-coming. Bounded by the Performing Arts District to the south, the Miami Design District to the north, Midtown and Wynwood to the west, and Biscayne Bay to the east, it seems inevitable that this area would be prime for new development. But part of Edgewater's charm is that it maintains a true neighborhood vibe, with walkable streets, plenty of parks, and local cafes and restaurants like Sabor a Peru, Mamma Leone Bakery, and Rincon Escondido Tapas. Its bayfront location means direct access to the boardwalk, which runs all the way to Downtown Miami.
The 249 residences of Missoni Baia are intended to be glass villas in the sky with views of Biscayne Bay, Miami Beach, Downtown Miami, and the Atlantic Ocean. Interiors by New York-based designer Paris Forino emphasize these waterfront views. The homes, ranging from one bedroom to five bedrooms, are finished in a subdued palette of whites and greys that is clean, calming, and elegant in its reserve.
Missoni Baia's hotel-like amenities, on the other hand, are anything but reserved. There are five swimming pools, including a bayfront pool, an Olympic-size lap pool, and a kids' pool, as well as a tennis court, fitness center, media room, children's playroom, and pet spa. The on-site spa, one of the largest residents-only spas in Miami, has indoor and outdoor treatment rooms, steam showers, and saunas.
Children's Playroom
Concierge
Fitness Center
Lounge
On-Site Parking
Outdoor Space
Pet Spa
Screening Room
Tennis Court
Valet Parking
Yoga Studio