Architecture
The Coveted Corner Unit Gets a Curvy Makeover
Jun 22, 2021 | By: LX Collection
Thanks to abundant windows and fewer shared walls (translation: less noise from neighbors), the corner unit has long been coveted among city dwellers. But lately, the trend has taken a different shape in new condominium developments: one where the corners have become soft, rounded edges. Here are five exciting projects currently making waves—or, rather, curves.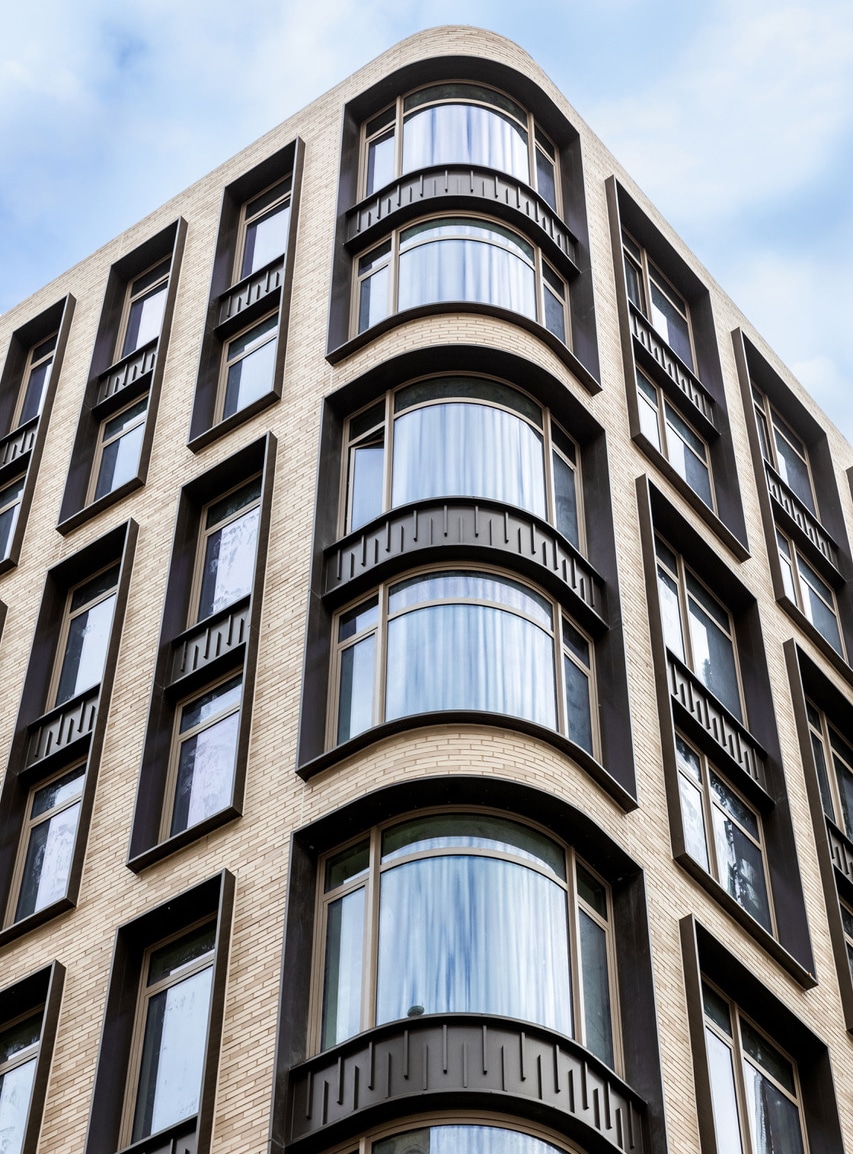 40 Bleecker, New York City
40 Bleecker, in New York City's NoHo neighborhood, is interior designer Ryan Korban's first new-development project. But the striking exterior, designed by Rawlings Architects, is just as much of a showstopper. The Danish brick facade, which has curved windows, is a nod to the neighborhood's storied history of artisanship.
"The rounded corner creates a unique vantage point from within the residence, allowing for unobstructed views of 40 Bleecker's iconic setting while also maximizing natural light throughout the open-concept layout," said Raymond Chalmè, the CEO and principal of Broad Street Development. 
Most residences in 40 Bleecker have sold, including Penthouse D, a duplex that had been listed for $18 million. 
Four Seasons Hotel & Private Residences One Dalton Street, Boston
Designed by Pei Cobb Freed & Partners in partnership with local architecture firm Cambridge Seven Associates, the Four Seasons Hotel & Private Residences One Dalton Street, Boston was intended to look like a softened triangle. The shape is a blend of function and form, allowing residents sweeping views of the Back Bay and minimizing shared hallways. The development is also the tallest residential building in New England.
"Unlike any skyscraper ever built in Boston, One Dalton elevates the architectural reputation and standard of luxury living in this city to new heights," said Richard L. Friedman, the president and CEO of Carpenter & Company, One Dalton's lead developer.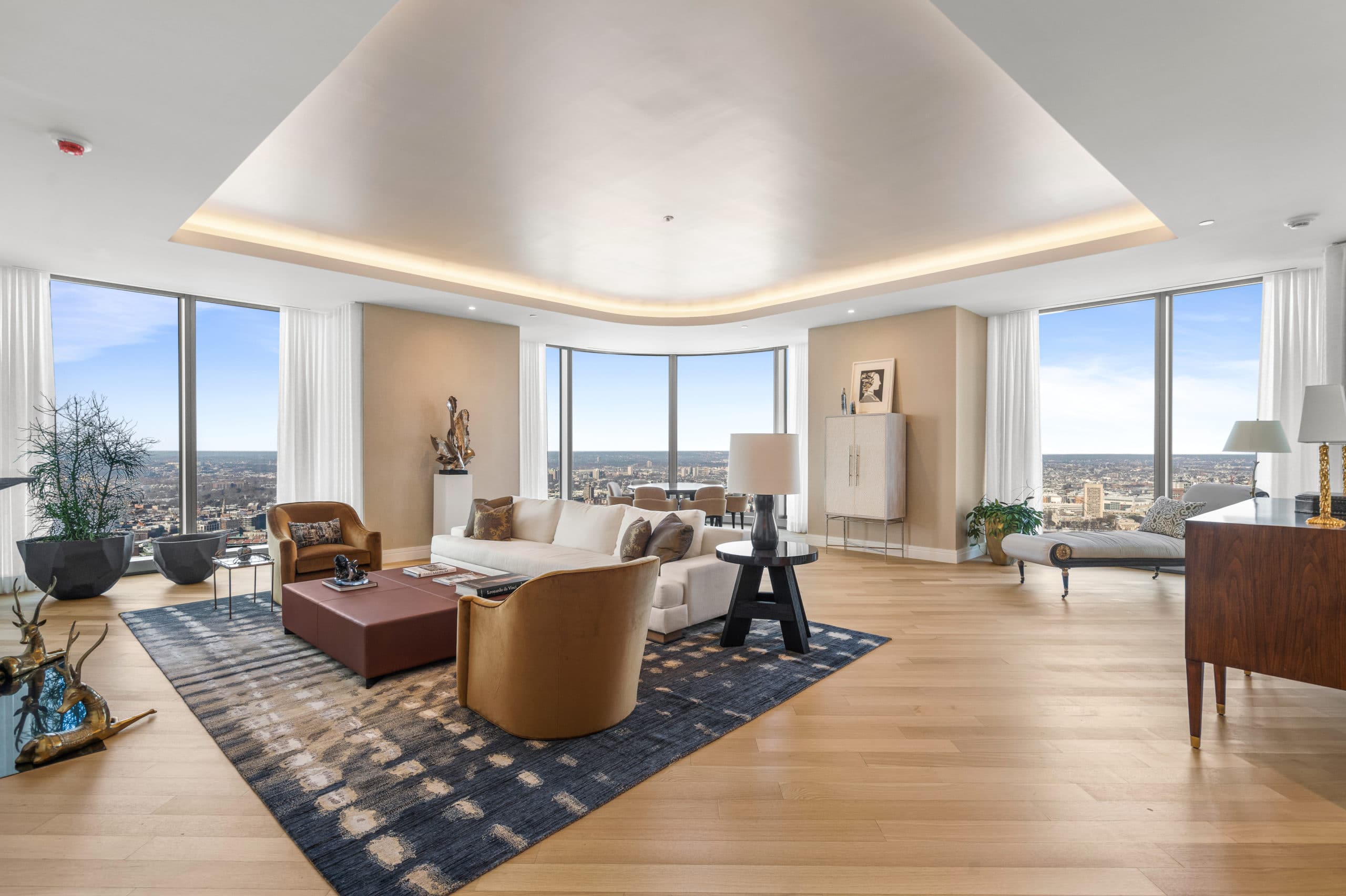 212 West 72nd Street, New York City
After debuting as a high-end rental building in 2010, "The Corner," one of the first rounded residential projects in New York City, was converted into 212 West 72nd Street, a luxury condominium development. While the unmistakable exterior facade has remained intact, the interior redesign, by the firm CetraRuddy, highlights the building's undulating shape with floor-to-ceiling curved glass in select apartments and a refreshed lobby with arched walkways. Prices start at $1.25 million; one four-bedroom residence, 16E, is listed for $8.3 million. 
Lantern House, New York City
Lantern House, the English architect Thomas Heatherwick's first residential project in North America, gets its name from its bulbous windows that are reminiscent of lanterns. Corner units on the southeast, southwest, and northeast sides have great rooms with oversized curved windows, offering sweeping views of the Hudson River or city skyline. Heatherwick was inspired by the curved windows of Victorian architecture throughout his native England. 
"Inspired by the history and views of the neighborhood, Heatherwick Studio designed Lantern House from the inside out, creating a one-of-a-kind collection of residences along the High Line," said Jordan Sasson, the vice president at Related Companies.
Aston Martin Residences, Miami
The first residential development by the British carmaker Aston Martin, in partnership with G&G Business Developments, has a sail-like exterior designed by Revuelta Architecture and Bodas Miani Anger (BMA). The project, which is under construction, will boast corner units with curved, open-concept great rooms offering views of Biscayne Bay or the Miami skyline. Floors 52 to 55 boast a suite of "Sky Amenities," including a pool and spa, all with that one-of-a-kind curved shape.