Sponsored |
Lifestyle
An Aesthete's Guide to the Upper East Side
Jul 16, 2021 | By: LX Collection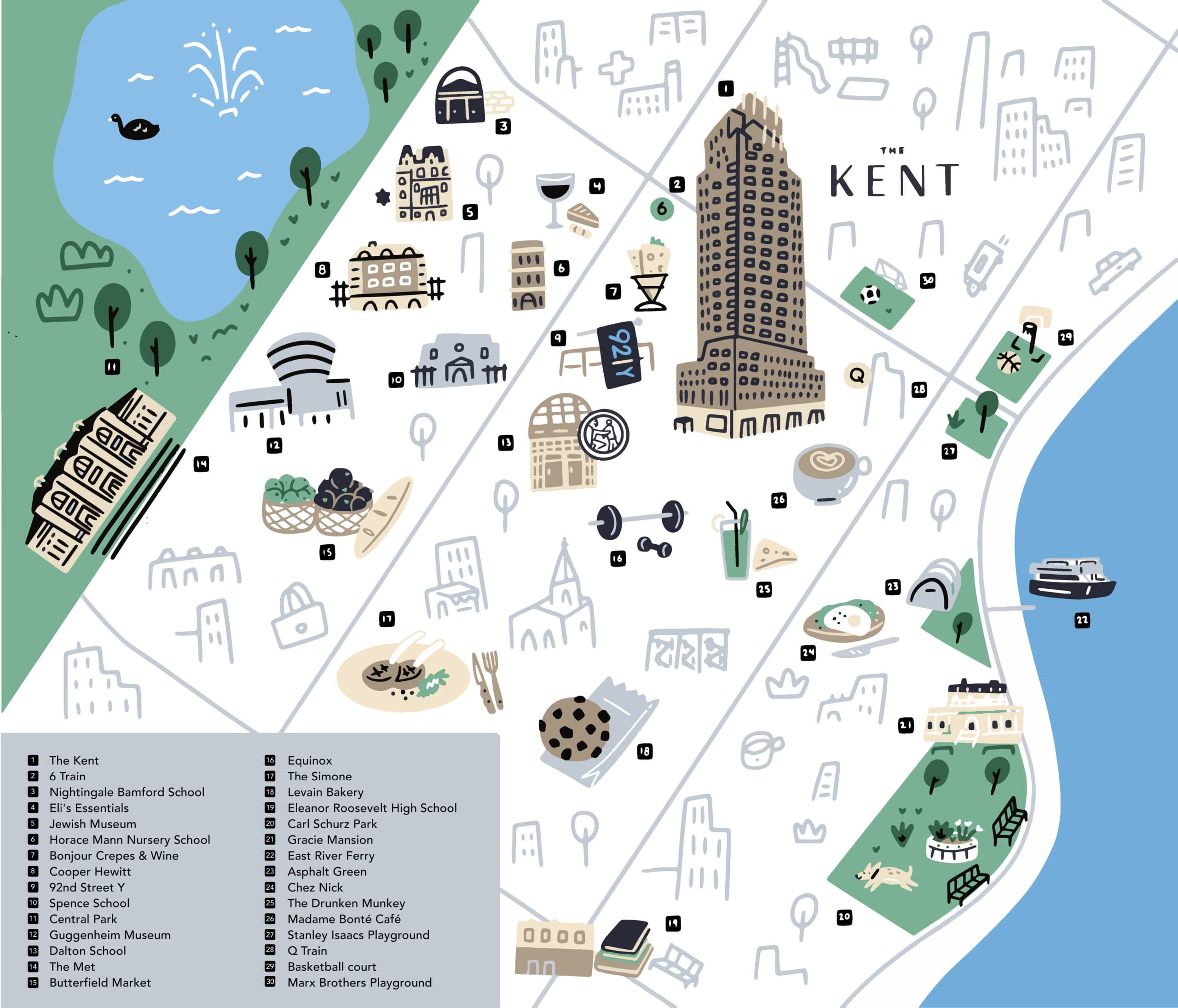 One of the most storied neighborhoods in New York City, the Upper East Side is marked by grand architecture as well as world-class organizations and destinations. You'll find stately and historic co-ops, sleek new luxury condos, exclusive boutiques, top-notch restaurants, and much more. Treasured cultural institutions such as the Met and the Guggenheim, plus some of the city's most exclusive private schools, all call the neighborhood home. 
1. The Kent
This luxury condominium development combines the classic pre-war lifestyle of the Upper East Side with contemporary features and modern amenities. All of the three- to five-bedroom residences have access to an indoor pool, a sauna, a fitness center, and a playground. The upper floors overlook the city skyline, Central Park, and the East River.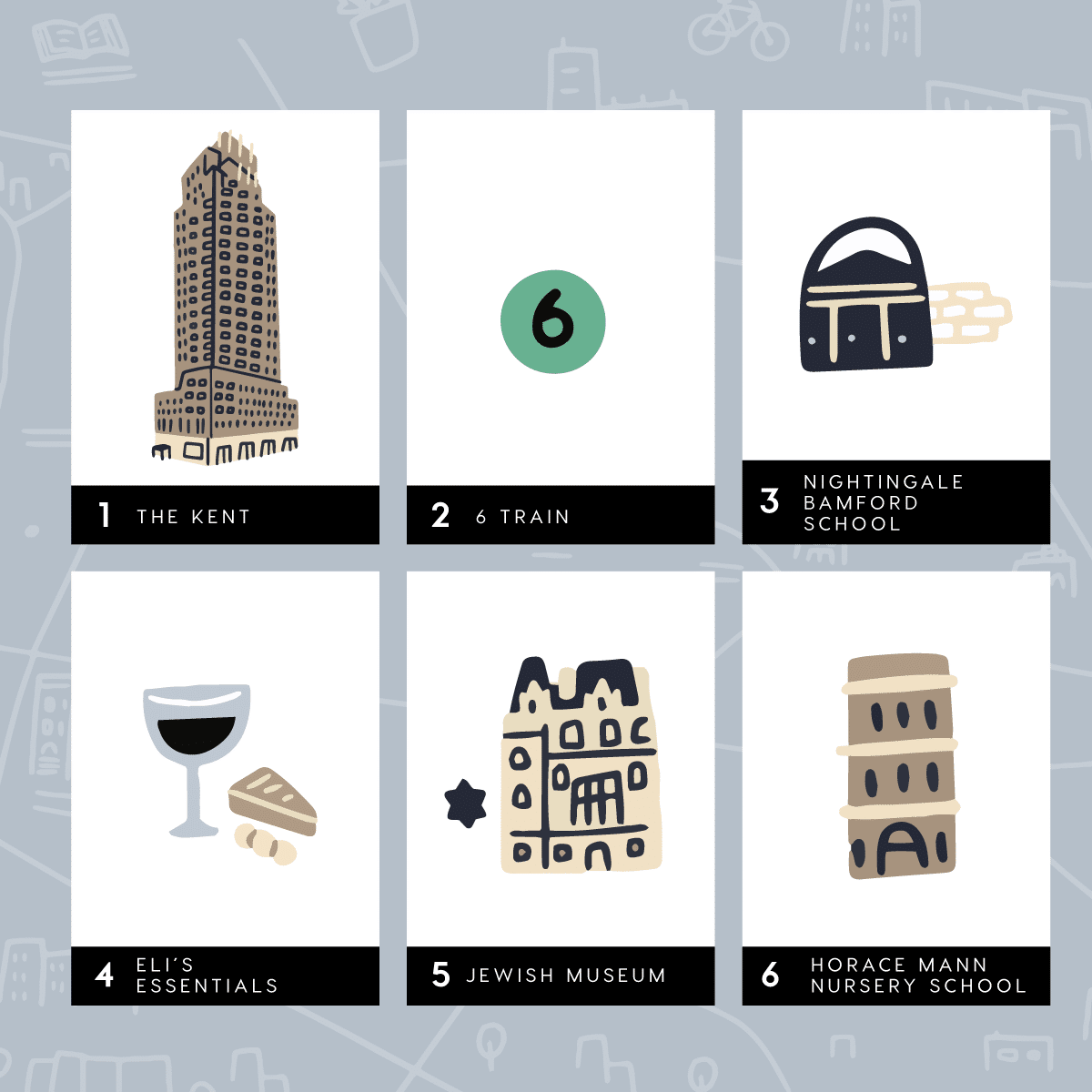 2. 6 Train
One of the major East Side subway lines, the No. 6 train runs between the Bronx and Lower Manhattan. The line has remained relatively unchanged since the 1920s, with convenient stops throughout the Upper East Side, some of which connect to the No. 4 and 5 express trains.
3. Nightingale-Bamford School
Founded in 1920, this independent preparatory school is well known for its rigorous educational standards. It has been ranked among the best all-girls private schools in the country. 
4. Eli's Essentials
"Only the Essentials" is the motto at these Upper East Side corner stores, which offer grab-and-go coffee, snacks, and meals. The location at 1270 Madison Avenue includes a charming wine bar.
5. The Jewish Museum
Founded in 1904, this institution showcases Jewish art and culture from ancient to contemporary times, alongside a diverse slate of rotating exhibitions and programs. It is one of the oldest Jewish museums in the world.
6. Horace Mann Nursery School
Located in a landmark building and part of the prestigious Horace Mann School in the Bronx, this nursery program hosts around 150 toddlers, pre-kindergarteners, and kindergarteners a year.
7. Bonjour Crêpes & Wine
This casual dining spot serves a lot more than its name suggests: The kitchen also offers waffles, pancakes, French toast, cheese and charcuterie plates, salads, coffee, and smoothies.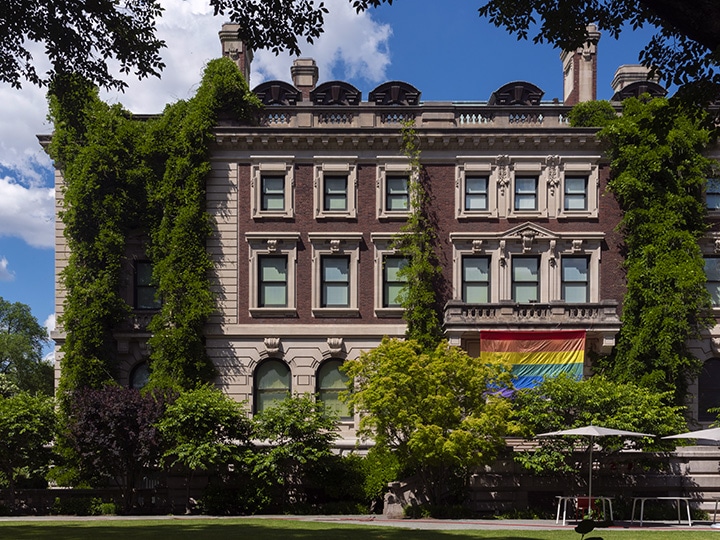 8. Cooper Hewitt, Smithsonian Design Museum
The country's only museum dedicated to historic and contemporary design, the Cooper Hewitt features a collection of more than 210,000 design objects spanning 30 centuries. Located in the Andrew Carnegie Mansion, the museum also boasts a beautiful public garden.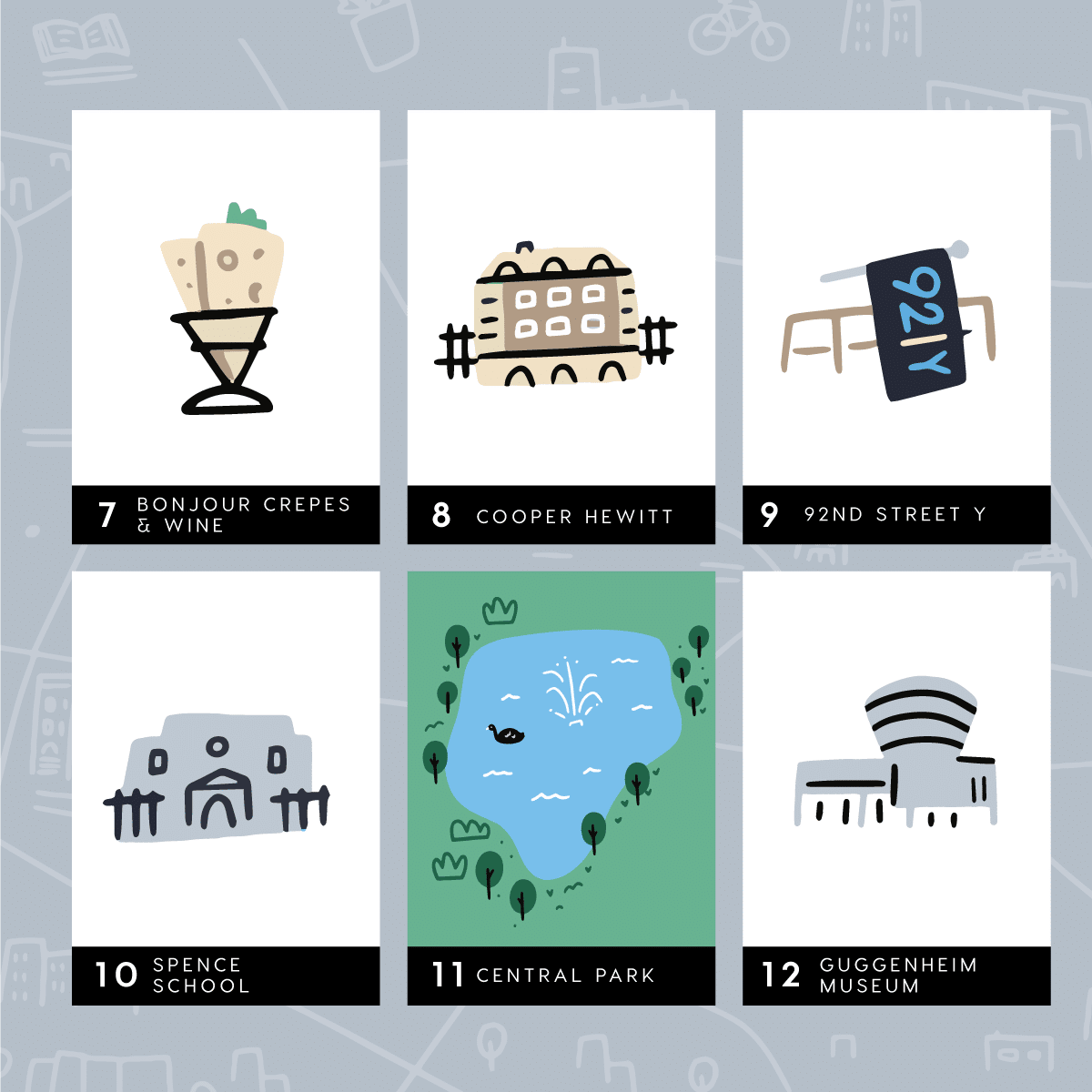 9. 92nd Street Y
This beloved cultural and community center offers all-ages programs and classes in the arts, health and fitness, continuing education, and more. The 92nd Street Y also regularly hosts events and talks featuring celebrities and notable cultural figures.
10. Spence School
Spence is an all-girls private school that offers a rigorous liberal arts study for kindergarteners to 12th graders. Its motto: "Non scholae sed vitae discimus," which is Latin for "Not for school, but for life we learn."
11. Central Park
A veritable urban oasis, Central Park has two ice skating rinks, a zoo, a theater, playgrounds, athletic fields, and sprawling lawns that are favorites among locals on sunny days. 
12. The Solomon R. Guggenheim Museum
One of the most famous buildings in the world, this Frank Lloyd Wright-designed landmark houses some of the world's finest contemporary paintings and sculptures, including a staggering collection from the 20th-century European masters.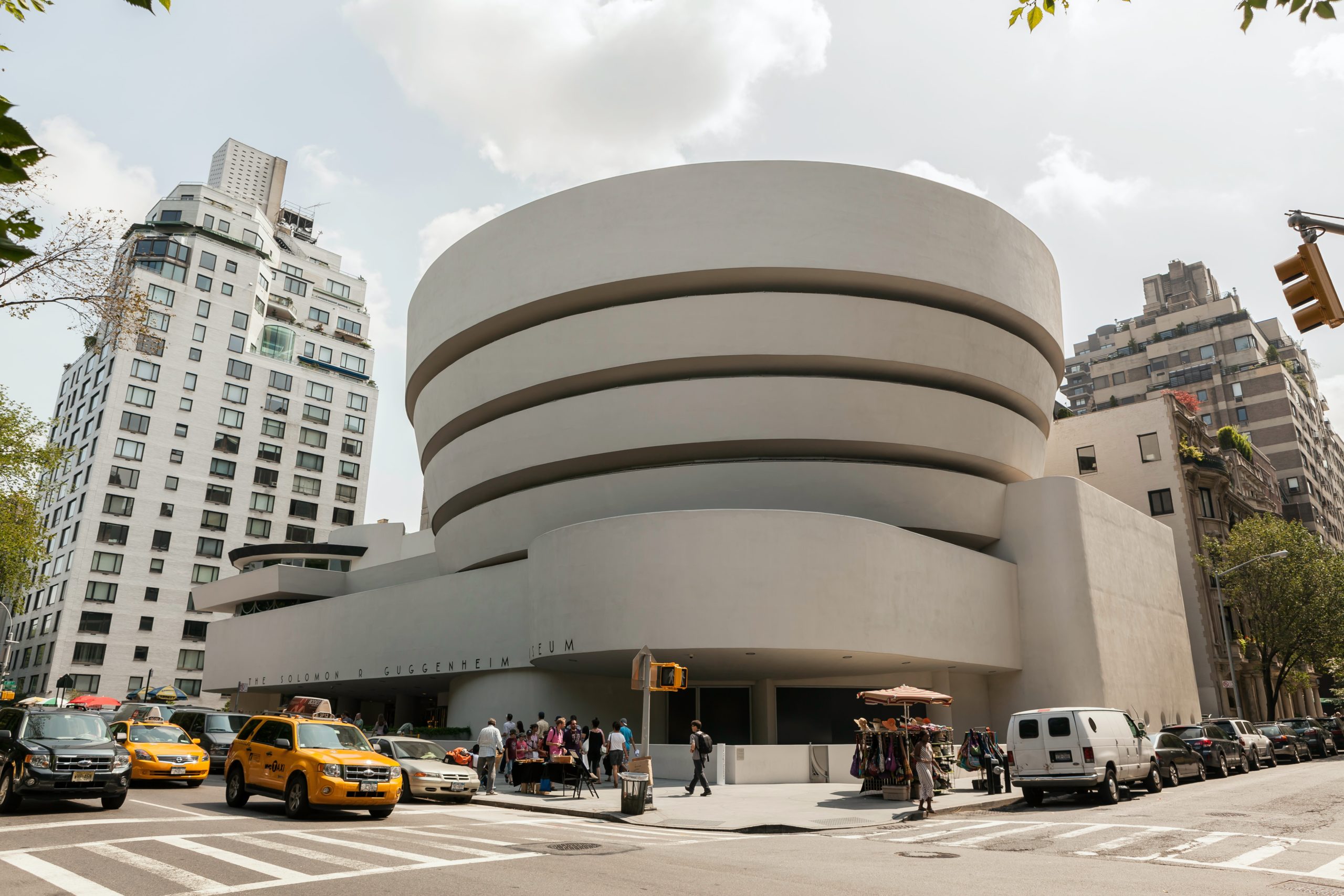 13. Dalton School
Founded in 1919, this storied private prep school has a roster of distinguished alumni, including CNN anchor Anderson Cooper and U.S. Secretary of State Antony Blinken. Its educational philosophy, called the "Dalton Plan," has been adopted by schools around the world.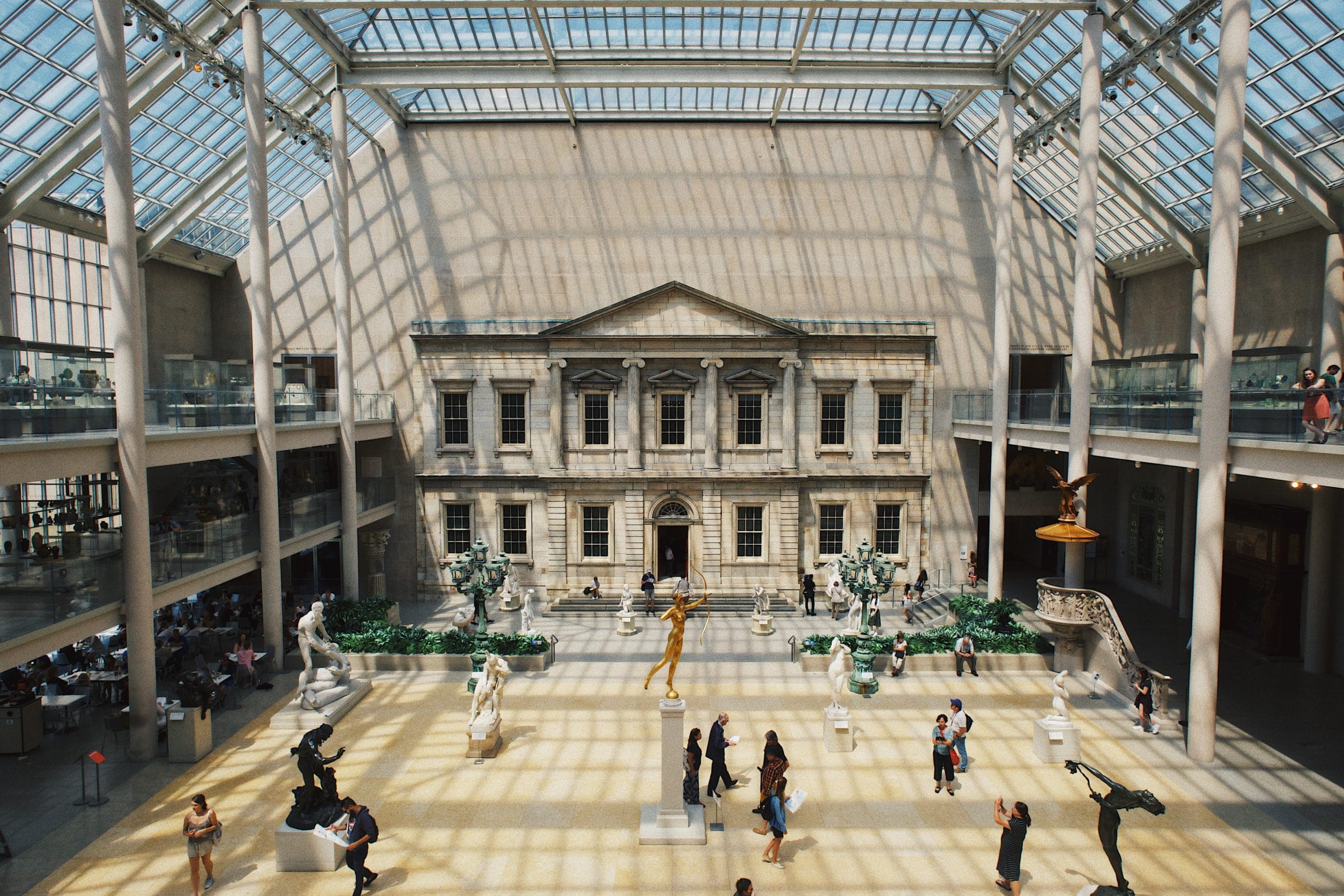 14. The Metropolitan Museum of Art
Home to one of the largest, finest art collections in the world, the Met houses more than 2 million works, including classical antiquities, sculptures from the European masters, and an incredible array of pieces by American and modern artists.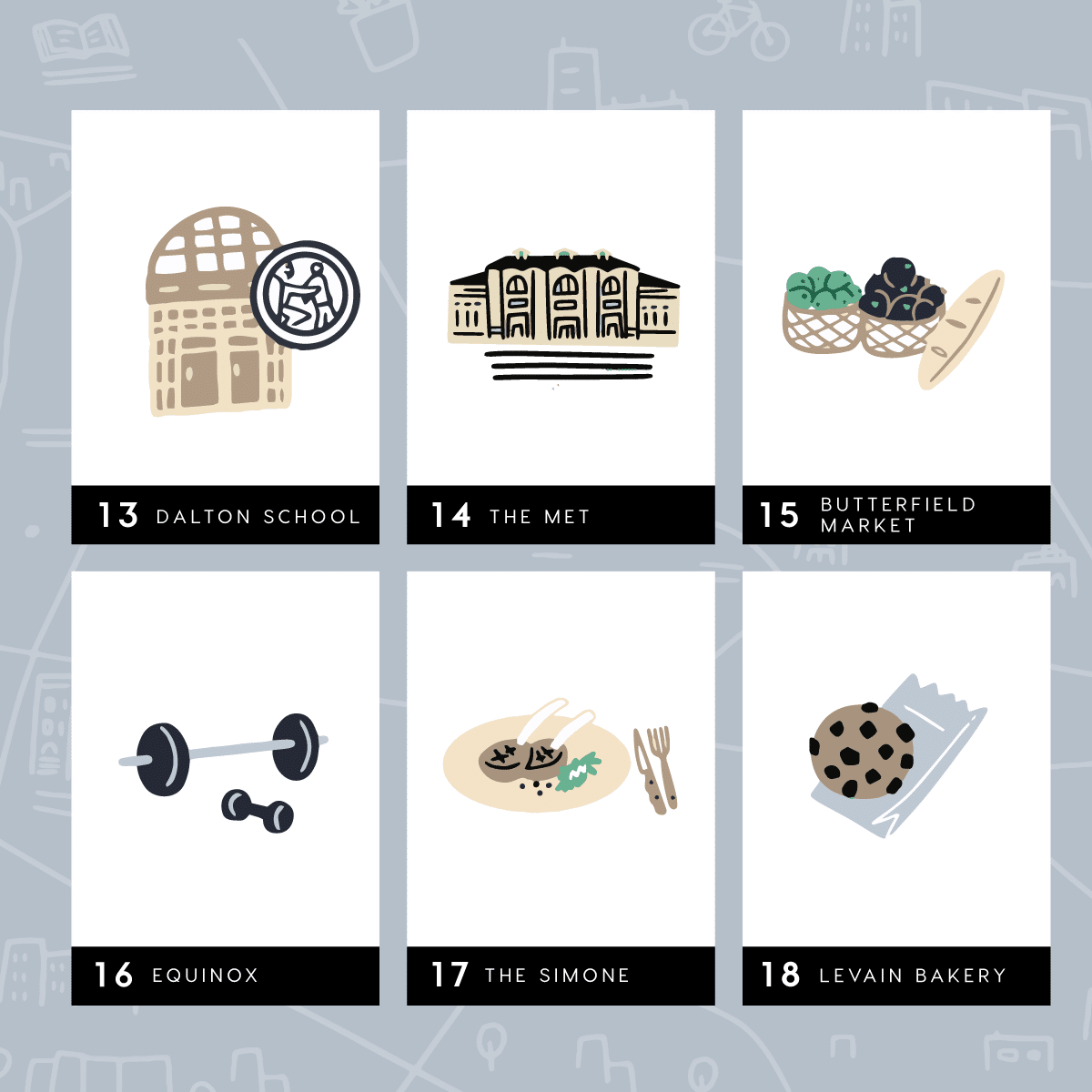 15. Butterfield Market
This upscale grocer opened its first shop in 1915 and has expanded across the neighborhood over the decades. Butterfield now has two markets, complete with catering and cafes, on the Upper East Side.
16. Equinox
Part gym, part gathering place, part lifestyle brand, Equinox has several locations throughout the Upper East Side, complete with yoga studios, full-service spas, and cutting-edge group classes.
17. The Simone
This high-end restaurant serves classic French staples and wine without feeling too fussy. It's also a New York Times Critic's Pick for its personable atmosphere and memorable seafood.
18. Levain Bakery
Although Levain originated on the Upper West Side, "New York City's most famous cookies" are just as good across town. Popular offerings include the chocolate-chip-walnut variety and the ice-cream sandwiches.
19. Eleanor Roosevelt High School 
In a city where many schools have themes and specialties, Eleanor Roosevelt stands out for its straightforward curriculum and emphasis on college prep. In 2021, it was ranked the 81st-best public high school in the nation by U.S. News & World Report.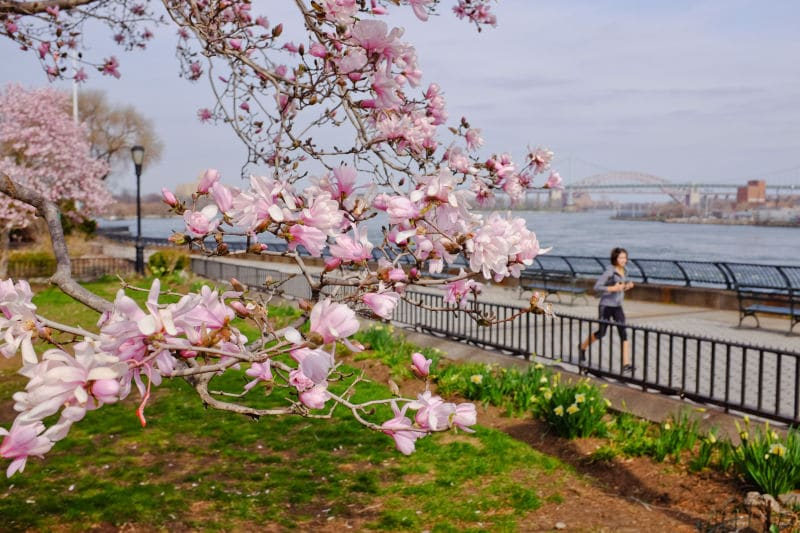 20. Carl Schurz Park
This picturesque park, partially hidden along the East River, is one of the city's best-kept secrets. Beloved by dog owners, it has two dog runs and a spacious promenade with water views.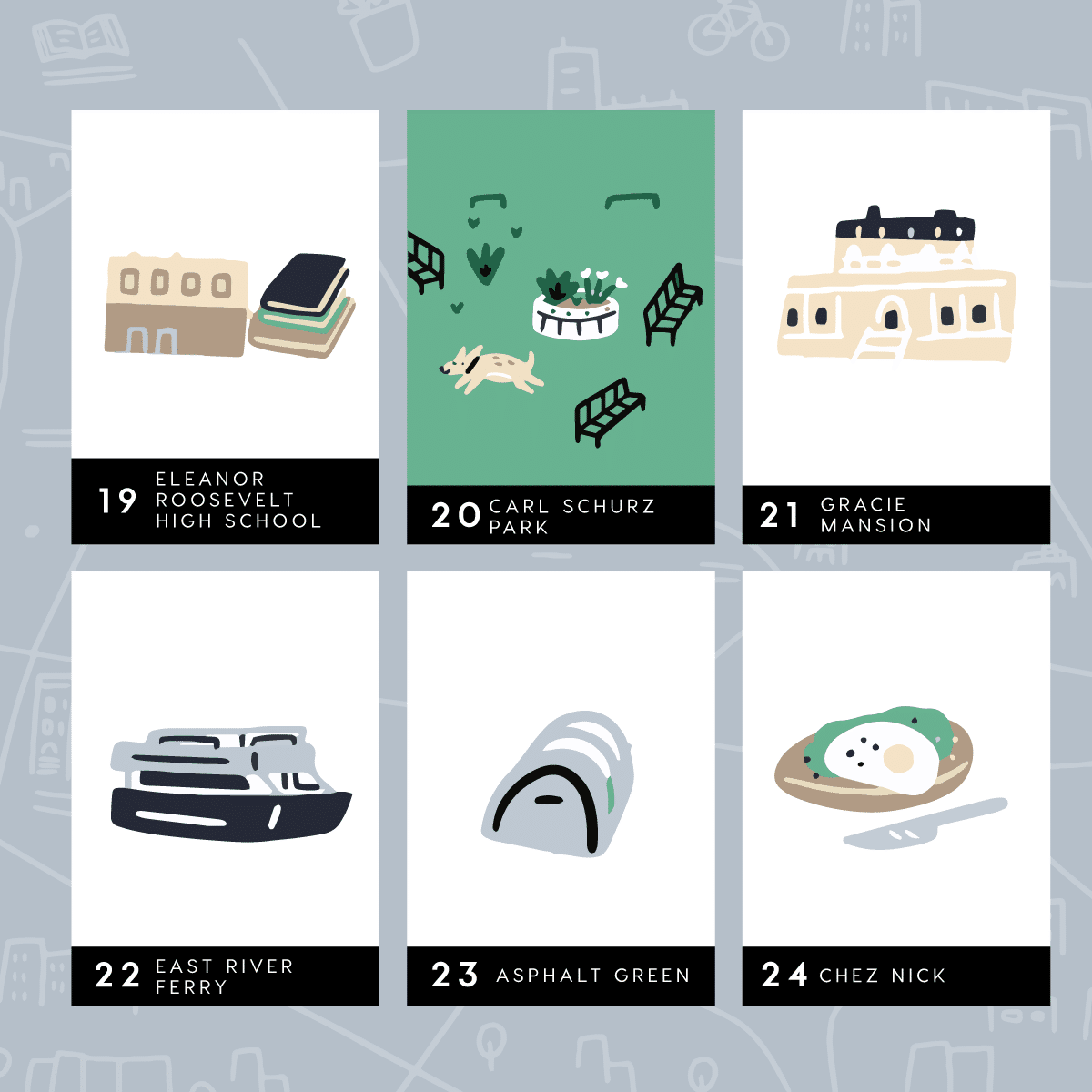 21. Gracie Mansion
Home to NYC's mayor since 1942, this historic mansion is located within Carl Schurz Park. Known as "The People's House," Gracie Mansion offers cultural and educational programs and art and history exhibits.
22. East River Ferry
One of the best ways to see New York is by its waterways; the East River Ferry runs from the Upper East Side down to Lower Manhattan, and then onto the beaches of the Rockaways. There's a convenient stop at East 90th Street and FDR Drive.
23. Asphalt Green
In 1972, the founders of Asphalt Green, George E. Murphy and his wife Annette, led an effort to preserve the abandoned Municipal Asphalt Plant at York Avenue and 90th Street. Today, the organization is a nonprofit providing high-quality sports, swimming, and fitness instruction and programs to children and adults.
24. Chez Nick
A casual American bistro with rotating seasonal menus, this neighborhood mainstay has small wooden tables and big windows—the perfect place to dig into pappardelle with duck ragu.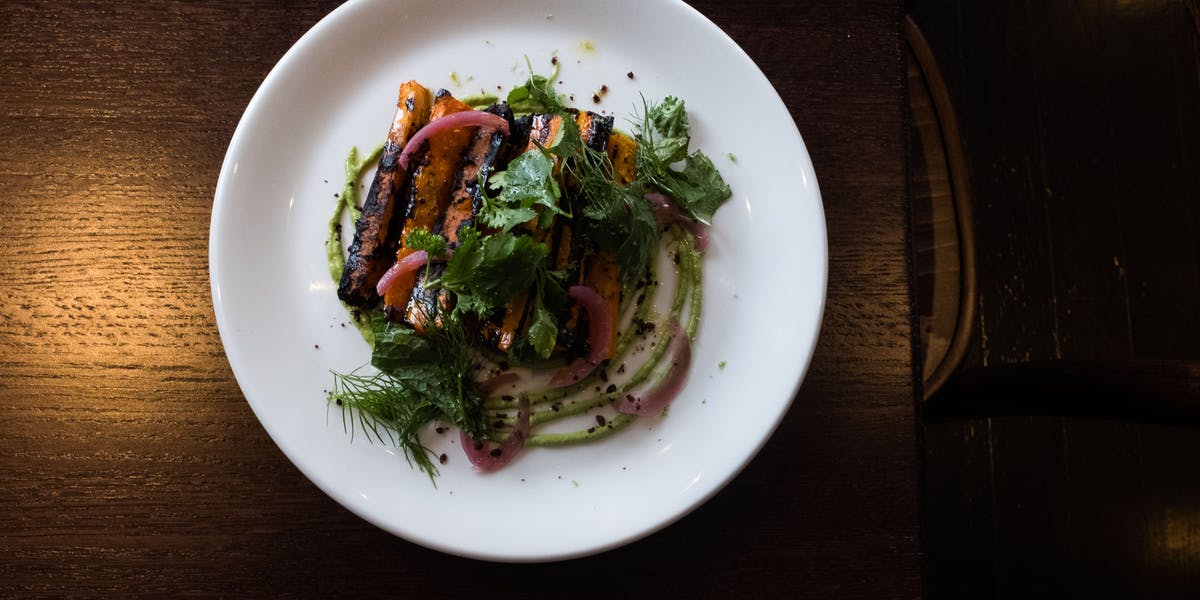 25. The Drunken Munkey
This 92nd Street restaurant offers a throwback to colonial India, with dishes that borrow from British, French, Dutch, and Portuguese cuisines, and a selection of craft cocktails made with fresh juices, tinctures, and infusions.
26. Madame Bonté Café
This charming, sibling-owned cafe nestled on the Upper East Side is beloved for its fresh sandwiches and house-made pastries.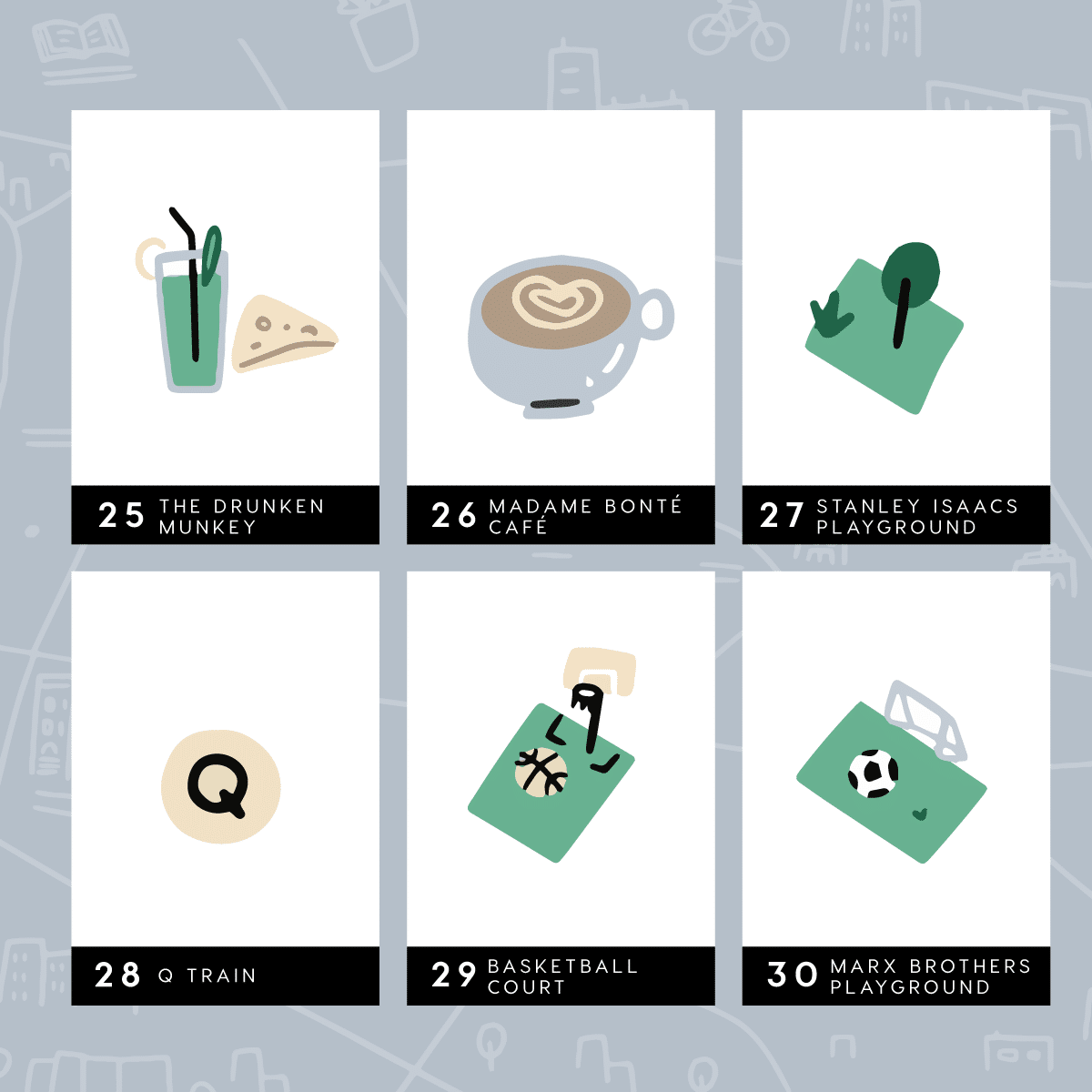 27. Stanley M. Isaacs Neighborhood Center 
This multiservice nonprofit organization serves children, low-income families, out-of-school youth, and aging New Yorkers. Its programs encompass Meals on Wheels, youth employment training, and after-school learning.
28. Q Train
To great fanfare, the Q subway line was recently extended north to 96th Street, and its three new stations boast impressive architecture and artwork. The line cuts down the eastern side of Manhattan to Midtown and Chinatown. Beyond that, riders can take a picturesque trip into Brooklyn by way of the Manhattan Bridge.
29. Stanley Isaacs Playground Basketball Courts
The two full-sized basketball courts inside the Stanley Isaacs Playground are available for open play. They can also be reserved for organized leagues and special events.
30. Marx Brothers Playground
This park opened in 1947 on land formerly occupied by the "car barn" of the Second Avenue Railway, a fortress-like structure that once commanded the block. It was transformed into grassy playing fields and named after the Marx Brothers, who once lived in the neighborhood.