Lifestyle
When the Common Space Comes With Curated Art
Feb 10, 2021 | By: LX Collection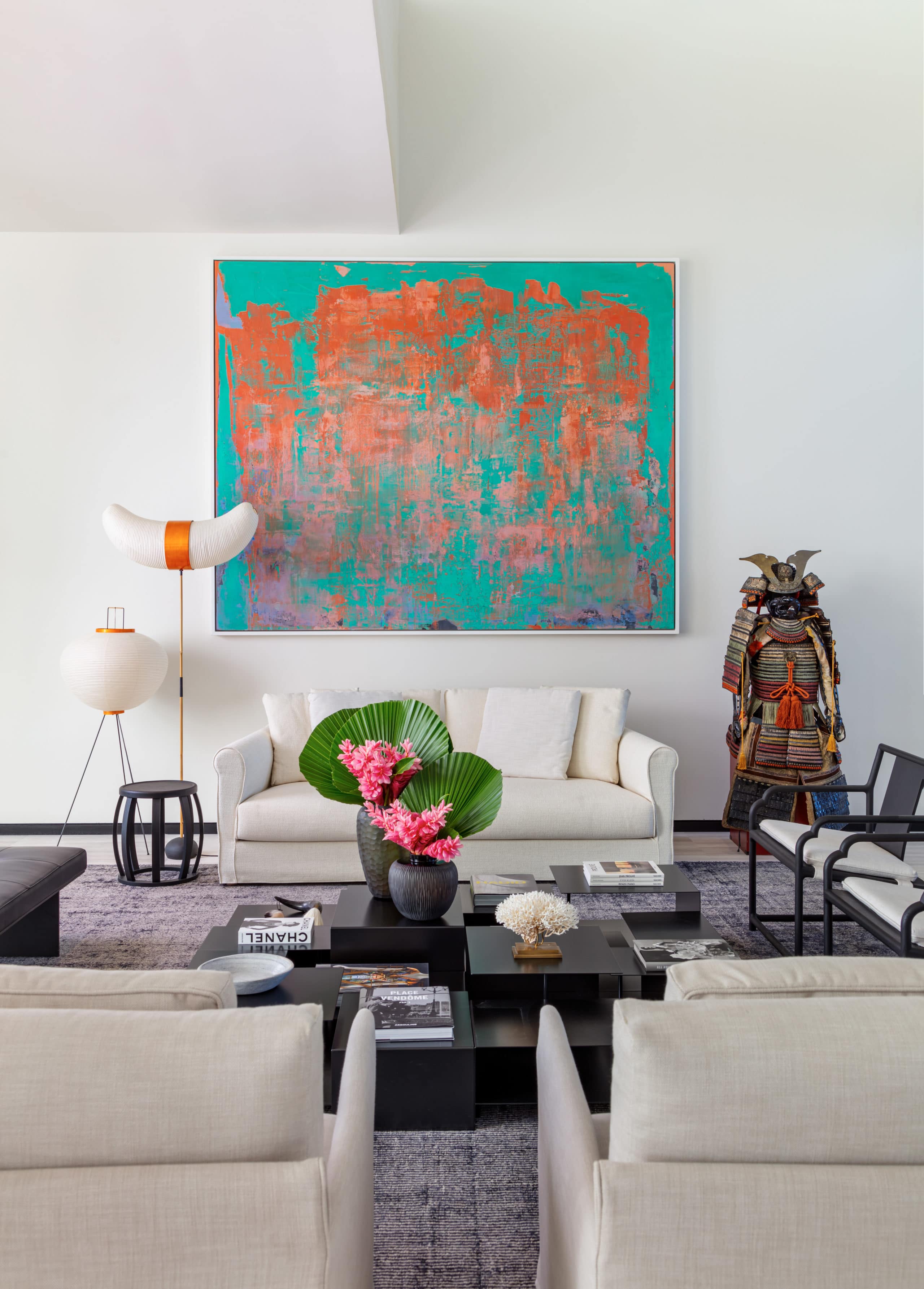 It isn't only sumptuous materials, venerable designers, and interactive amenities that create allure at residential buildings. More than ever, curated art collections with pieces by museum-worthy names are being offered as a lifestyle complement to discerning residents. 
As is true with art in the home, art in the common and amenity spaces of residential buildings transmits an aura, sets the mood, and gives residents something to marvel at. It elevates the otherwise ordinary experience of passing through a lobby or relaxing in a residents' lounge. Ernesto Cohan, Director of Sales at Oceana Bal Harbour, says the art collection at the South Florida condominium goes beyond marketing. "Art is there for us to be intellectual, provocative…it's a form of creativity for human expression and a way of enriching the human experience," Cohan tells LX Collection. 
Art now joins a growing list of desired amenities meant to provoke the senses, like wine cellars and experiential programming. These six buildings pull out all the stops in their shared spaces by featuring artists who just might become—if they're not already—household names.
The lobby, shared hallways, and amenity spaces of The Ritz-Carlton Residences, Miami Beach, are dotted with works from the Cynthia Reeves Art Gallery in North Adams, Massachusetts. The contemporary art gallery, which represents both emerging and established artists—including abstract expressionist painter Lianghong Feng, who is counted among the most influential contemporary painters in China—curates a selection of rotating works for the property. Abstract contemporary works and multidisciplinary installations priced up to $110,000 each are currently on display. Residents are able to purchase the works through the property's concierge for display within their homes.
Oceana Bal Harbour developer and art collector Eduardo Costantini tells LX Collection his philosophy in both real estate and art "is to have the best…. In collecting works of art, I choose only some pieces—the most important—by a given artist in hopes that those surrounded by the works experience more personal contact with art in their daily lives." Costantini's philosophy is on display at Oceana Bal Harbour, where famed Italian designer Piero Lissoni crafted the property's minimalist interiors, knowing they would also be home to a multimillion-dollar art collection. 
The property's two lobbies house works by internationally acclaimed artists, including Scottish abstract painter Callum Innes, who has been shortlisted for the Turner Prize; Canadian-Taiwanese sculptor An Te Liu, whose work is in the collection of the San Francisco Museum of Modern Art; and conceptual artist Taryn Simon, who has exhibited at the Venice Biennale and whose work has appeared in major institutions. Oceana Bal Harbour is also home to two Jeff Koons sculptures: Pluto and Proserpina, which debuted at Koons's June 2014 retrospective at New York's Whitney Museum, and Seated Ballerina. In a unique arrangement, residents of the property co-own a percentage of each of the works of art, managed by the homeowner's association.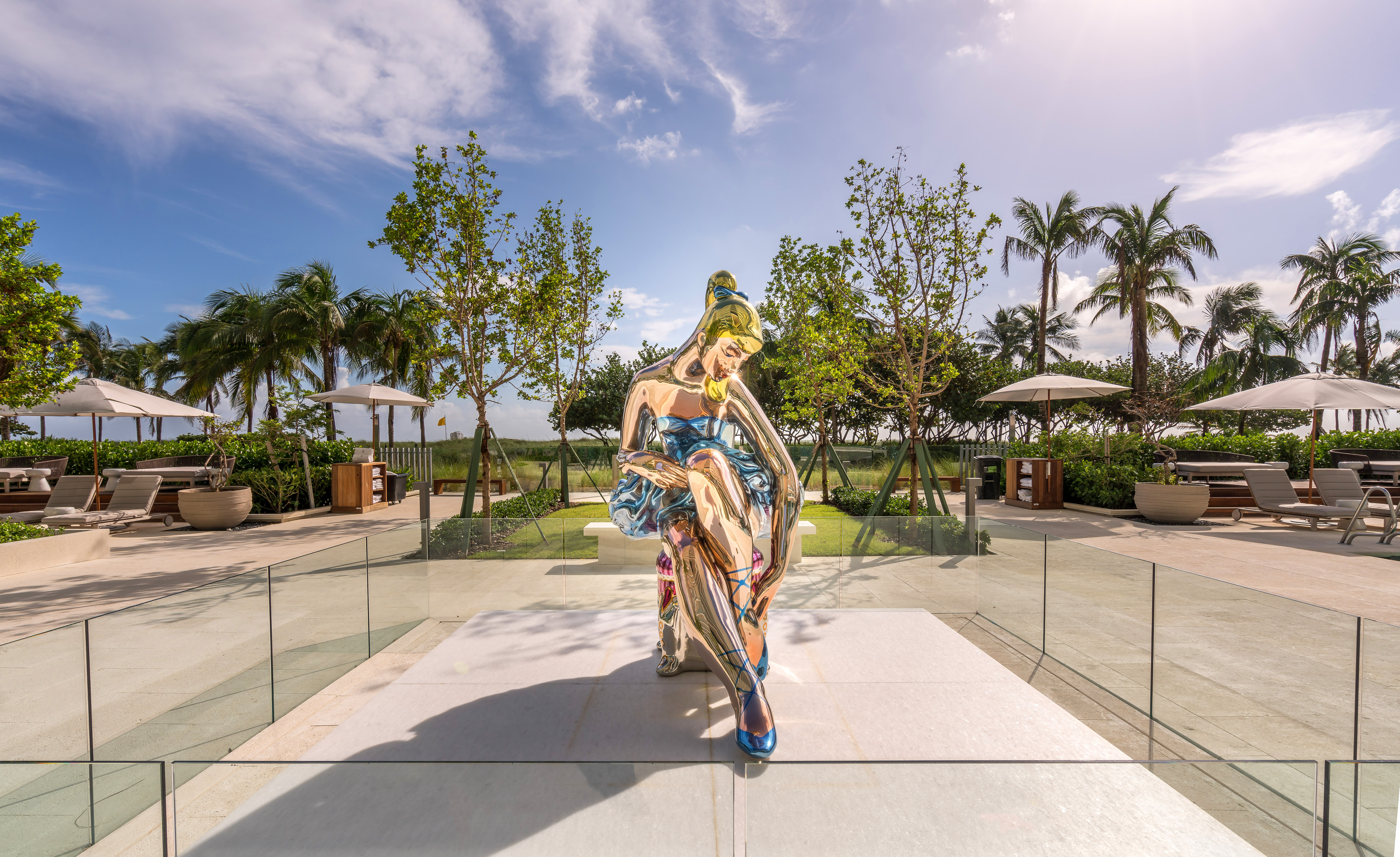 This 12-story beachside condominium takes its name from its distinguished Roman travertine facade by Italian architect Antonio Citterio, as well as the collection of artworks within the building. Arte's front entrance is flanked by an "ART" sculpture by Robert Indiana (most well-known for his "LOVE" sculptures), while Polychromatic Chronology 2016 by vaunted Danish-Icelandic artist Olafur Eliasson anchors the lobby lounge. 
With three new Museum of Modern Art gallery levels integrated into the building, 53 West 53 is quite literally based on art. The 1,050-foot visually striking building is designed by Pritzker Prize-winning architect Jean Nouvel and features 145 residences that each come with a deeded, benefactor-level membership to the prestigious adjoining institution. That membership includes benefits such as intimate talks and curated virtual tours. The building may also host private events in the museum's iconic and beloved Sculpture Garden.
The "Mick Jagger of art auctions," Simon de Pury has curated a collection of artworks for the residents of The Towers of the Waldorf Astoria, the 375 new residences located within the landmark New York hotel. The collection features works by dynamic emerging artists from around the world, including contemporary Korean artist Minjung Kim, whose current show at New York's Hill Art Foundation was selected by the New York Times as a gallery show to see, and Philippe Decrauzat, whose optical art is in the collection of New York's Museum of Modern Art. The works will be spread across the 50,000 square feet of amenity spaces and communal areas and will be co-owned by the residents of The Towers.
Situated midway between Fort Lauderdale and Miami, 2000 Ocean introduced a new standard for luxury living to the area through its architecture by Enrique Norten of TEN Arquitectos and its full roster of on-demand amenities. Among those amenities is its outdoor podium sculpture garden, featuring a commissioned work by renowned outdoor sculpturist David Harber. In addition to including a residents' lounge that can be booked for private events, the podium level also gives way to a fully curated beachfront art gallery and design library that will host lectures and cultural events curated by art historian and 2000 Ocean curator Megan Kincaid.