53 West 53
Midtown, New York
53 W 53rd St, New York, NY 10019, USA
Anchored by the Museum of Modern Art, designed by Pritzker Prize-winning architect Jean Nouvel, and rising 1,050 feet in the heart of Midtown Manhattan, this sleek skyscraper is a significant architectural addition to New York's skyline. The design allows for generous living spaces and unparalleled views of Central Park, while elegant interiors by Thierry Despont prioritize luxurious materials, like hand-stained oak, Carrara marble, and Verona limestone. With extensive amenities and hotel-like services beyond the usual offerings, including a regulation-size squash court, private wine cellar, state-of-the-art theater, and benefactor-level MoMA membership, 53 West 53rd Street is the complete package.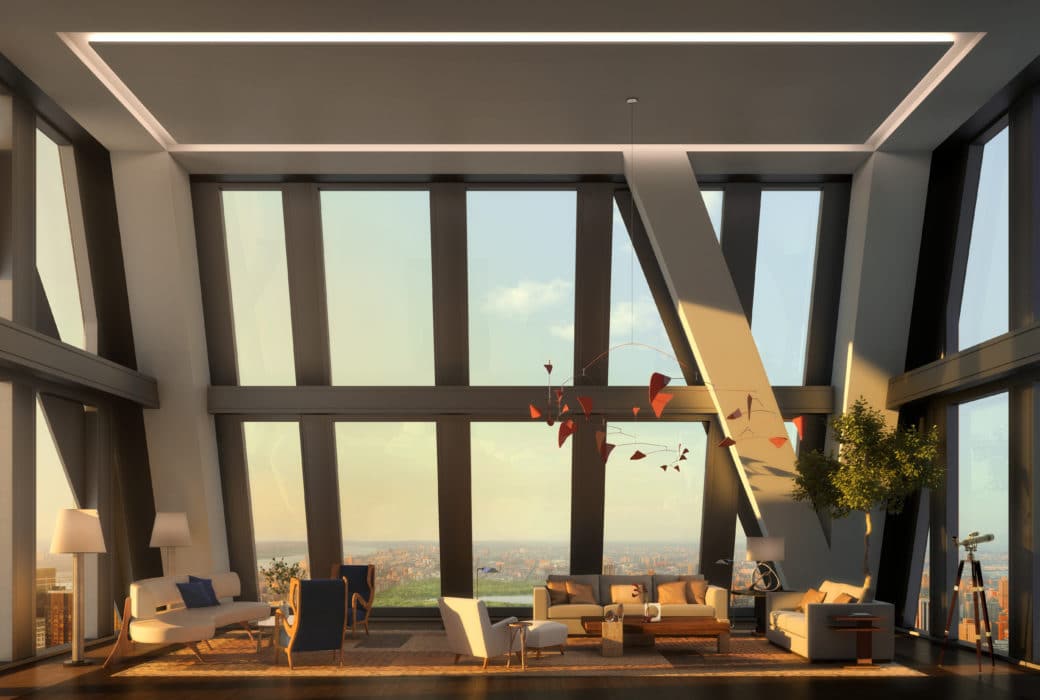 Designed by Jean Nouvel, one of the most celebrated and prolific architects today, 53 West 53rd Street manages to be both theatrical and thoughtful. The supertall skyscraper has an exposed exoskeleton—or "diagrid"—that makes it hard to miss. The 1,050-foot building has a tapered silhouette that's a nod to earlier skyscrapers and their mandatory setbacks. The effect is a soaring structure with a sense of geometry that feels avant-garde and an overall profile that's respectful of its surroundings. 
Residence
Bed
Bath
Price
Int

SqFt

Ext

SqFt

Taxes
Common Charges
Floor Plan
Contact
65
4
4.5
$46,255,680
6448
$6,736
$16,205
View
Contact
PH76
4
3.5
$63,815,000
7973
$8,687
$20,898
View
Contact
19B
2
2.5
$5,950,000
2359
$2,065
$4,969
View
Contact
38B
2
2.5
$6,550,000
2033
$1,943
$4,675
View
Contact
25A
2
2.5
$8,875,000
3110
$2,802
$56,740
View
Contact
36A
2
2.5
$9,740,000
3020
$2,861
$6,883
View
Contact
40C
3
3.5
$7,795,000
2396
$2,310
$5,559
View
Contact
34A
3
3.5
$9,675,000
3112
$2,922
$7,030
View
Contact
17D
2
2.5
$9,425,000
2770
1480
$2,722
$6,550
View
Contact
50B
3
3.5
$11,125,000
3427
$3,348
$8,055
View
Contact
48A
4
4.5
$16,480,000
3809
$3,689
$8,875
View
Contact
55A
3
3.5
$19,725,000
3846
$3,839
$9,235
View
Contact
16F
1
1.5
$3,280,000
1425
$1,229
$2,958
View
Contact
Midtown is both the heart of the business district and a center for the arts. Most widely known for Times Square and as the home of global corporate headquarters, Midtown presents intoxicating variety. To the north are Central Park, Michelin-star restaurants, Fifth Avenue's world-class shopping, and cultural institutions like the Museum of Modern Art. The south is anchored by beautiful green spaces like Bryant Park and Madison Square Park. The east is a dynamic blend that includes Rockefeller Center and the United Nations Headquarters. Venture further west in Midtown, and entertainment is abundant at Madison Square Garden and in the Theater District, while Hell's Kitchen offers access to quaint eateries and the Hudson River Greenway.
Thierry Despont earns his reputation as one of the most talented interior architects with this tower's warm, luxurious spaces that easily coexist with the angular, contemporary exterior. This is particularly true in the sprawling 12,000-square-foot lobby, which echoes Nouvel's design with its gridded floors of American oak and Noir St. Laurent marble and coffered ceilings but is softened by oak wood paneling and curved furnishings. The 145 homes range in size from one-bedroom residences to a duplex penthouse, and no two are exactly alike. "I approached the design of 53 West 53 as if each residence was a private home commission," said Mr. Despont. All have a timeless elegance (think crown moldings and traditional tongue-and-groove floors), triple-glazed windows that afford views and minimize noise, and top-of-the-line fixtures and appliances.
A double-height lounge with spectacular Central Park views and a 65-foot swimming pool framed by vertical gardens designed by Patrick Blanc vie for the title of most impressive amenity. The list is extensive, with a variety of hotel-like offerings, and each space is executed perfectly, from the sleek wellness center to the handsome wine-tasting room. The tower's location, directly above the Museum of Modern Art, inspired another perk for residents: a perpetual benefactor-level MoMA membership.
24hr Doorman
Bike Storage
Children's Playroom
Cold Storage
Concierge
Fitness Center
Golf Simulator
Hotel Services
Lounge
Sauna
Screening Room
Squash Court
Swimming Pool
Yoga Studio