Amenities
Nine New Developments That Celebrate Play Time
Dec 21, 2020 | By: LX Collection
Of all the amenities luxury buildings offer, children's spaces often end up at the bottom of the priority list for both buyers and developers. After all, it's easy to overlook a windowless playroom when it's connected to a state-of-the art fitness center and spa with skyline views. 
But more and more, high-end condo buildings are approaching kids' rooms with the same care and attention to detail that they bring to every other amenity. To attract families, you need to offer something for everyone, and parents appreciate having a safe and creative escape for their children outside of their home now more than ever.
Here's a look at nine buildings that are changing the game when it comes to play time.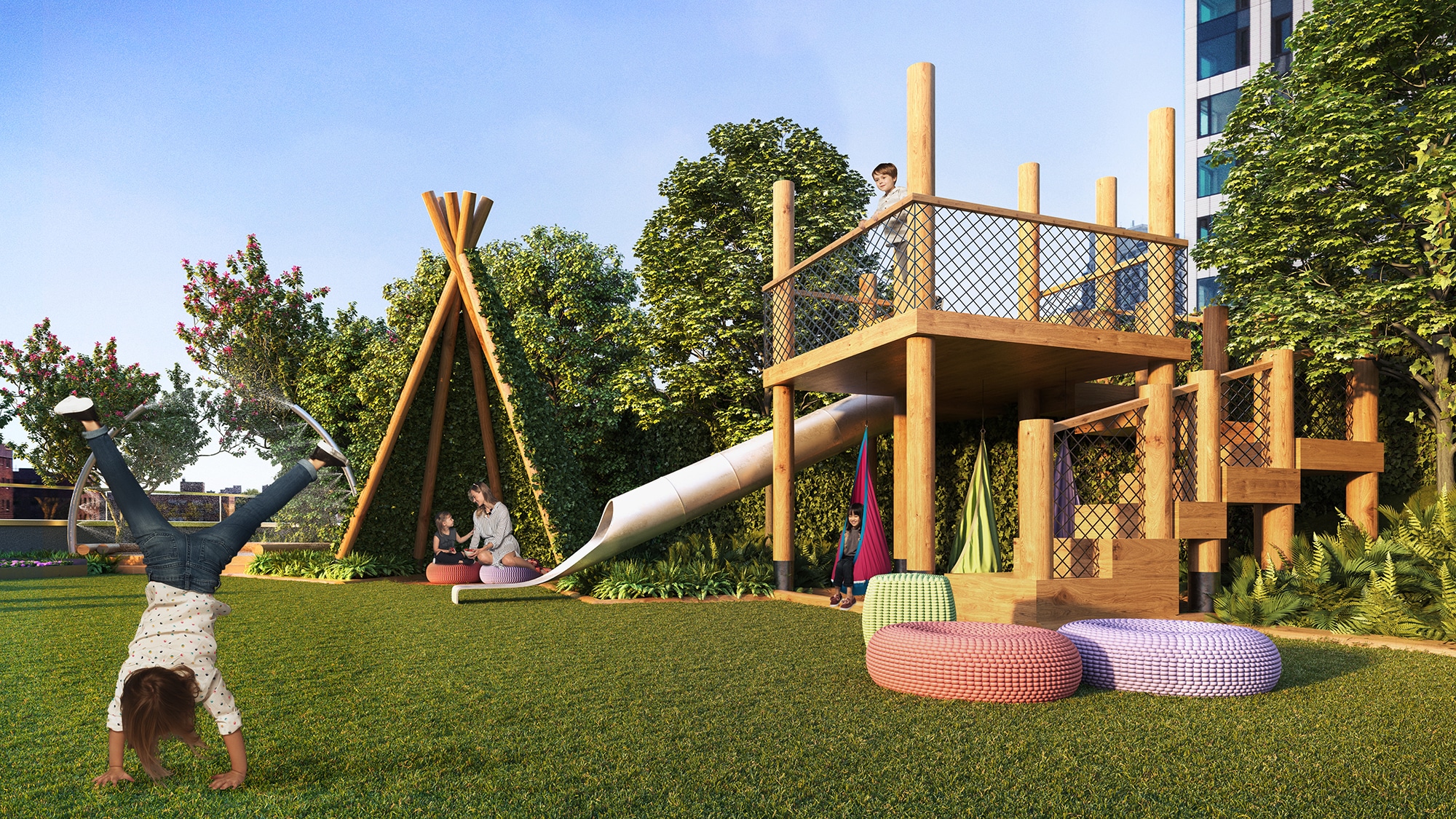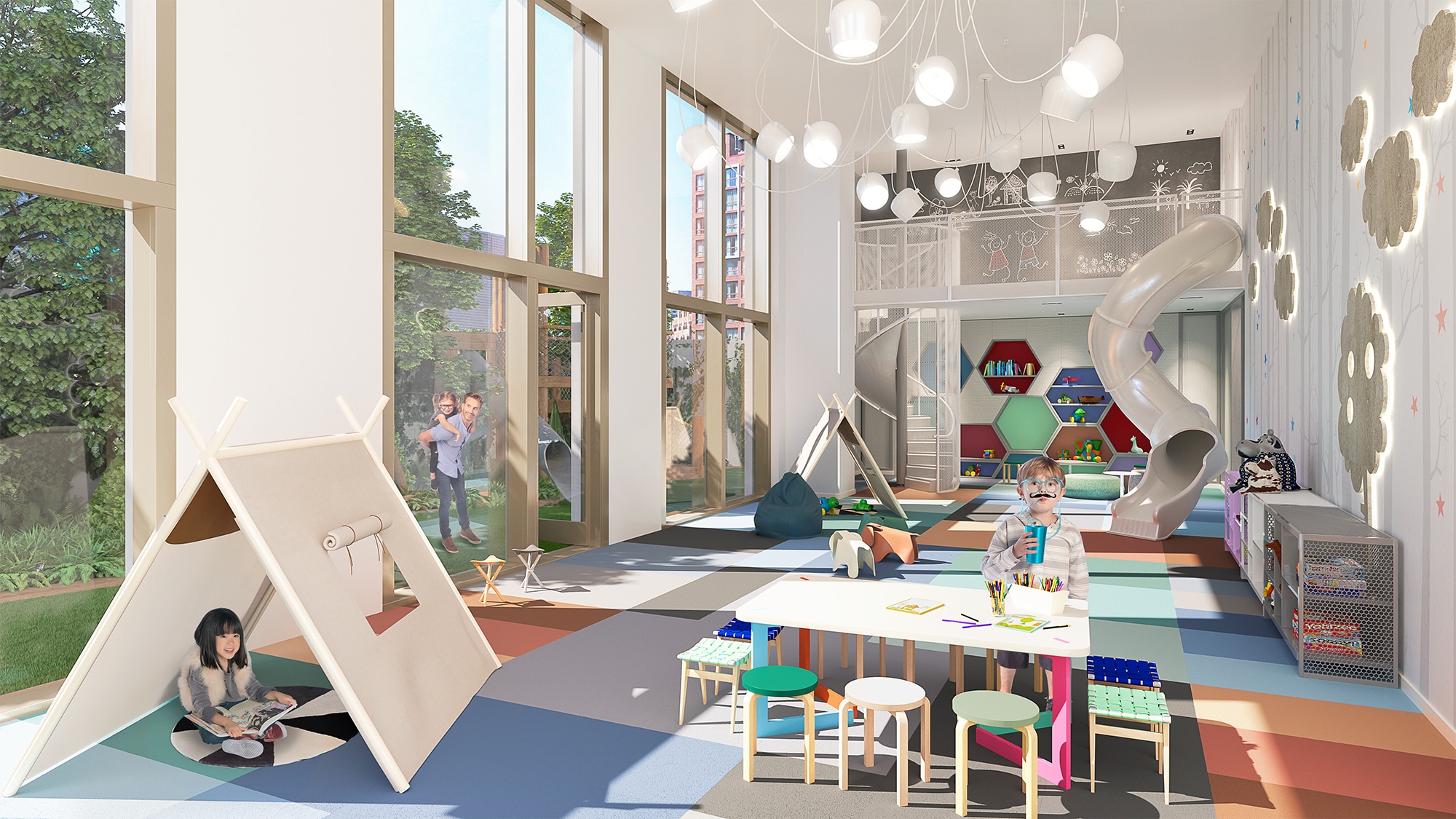 Brooklyn Point – Brooklyn, New York
On the ninth floor of Brooklyn's tallest building, kids have free reign over a two-story playroom with its own dedicated terrace designed by Mathews Nielsen Landscape Architects. Inside, they'll find forts, slides, reading nooks, and an art table, all illuminated by natural lighting flowing through double-height floor-to-ceiling windows that look out over the Forest Adventure playground, with a jungle gym, topiary teepee, splash pad, and a wide lawn to run around. The building also has a game room and rock-climbing wall, both sure to appeal to teens.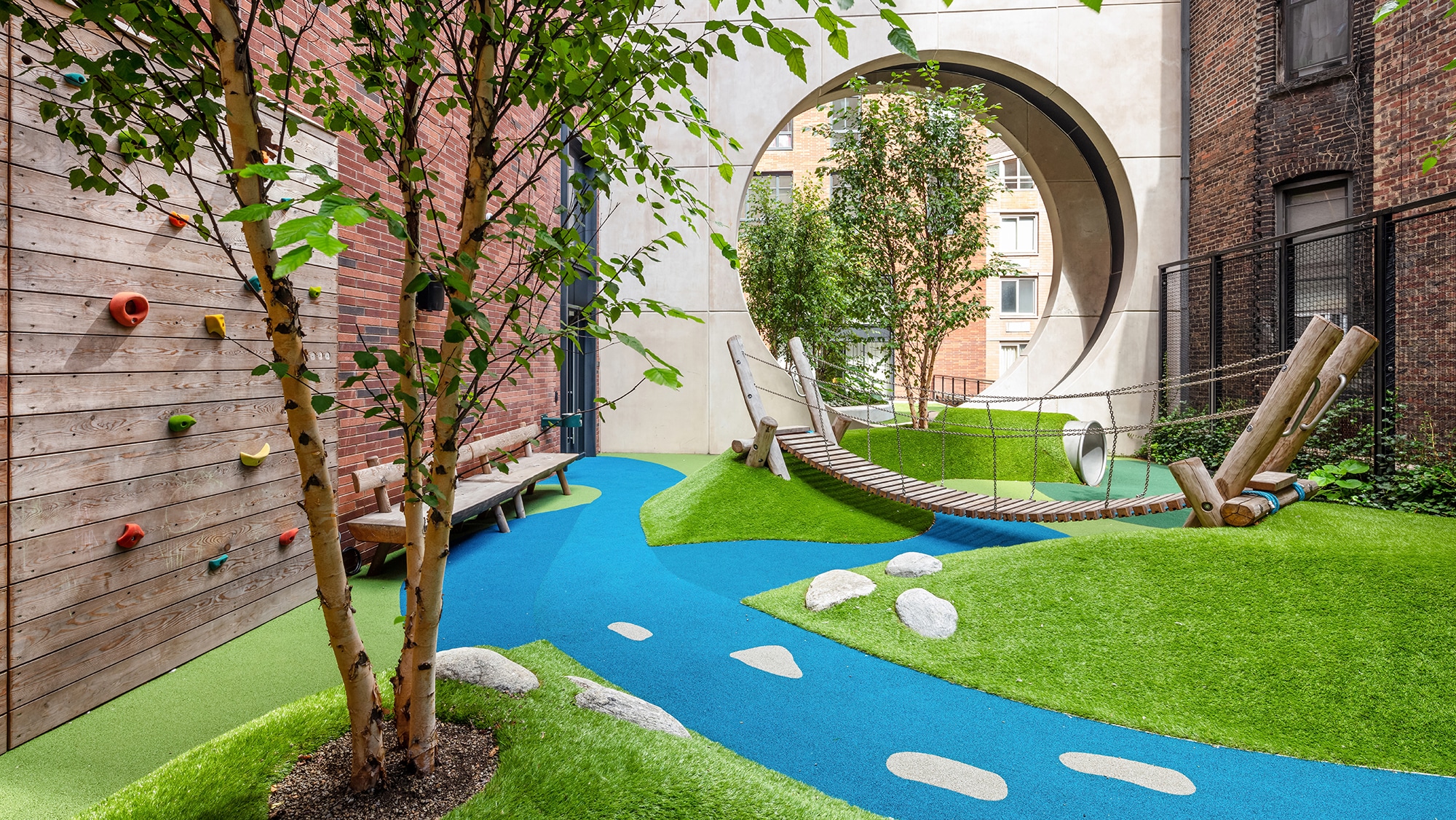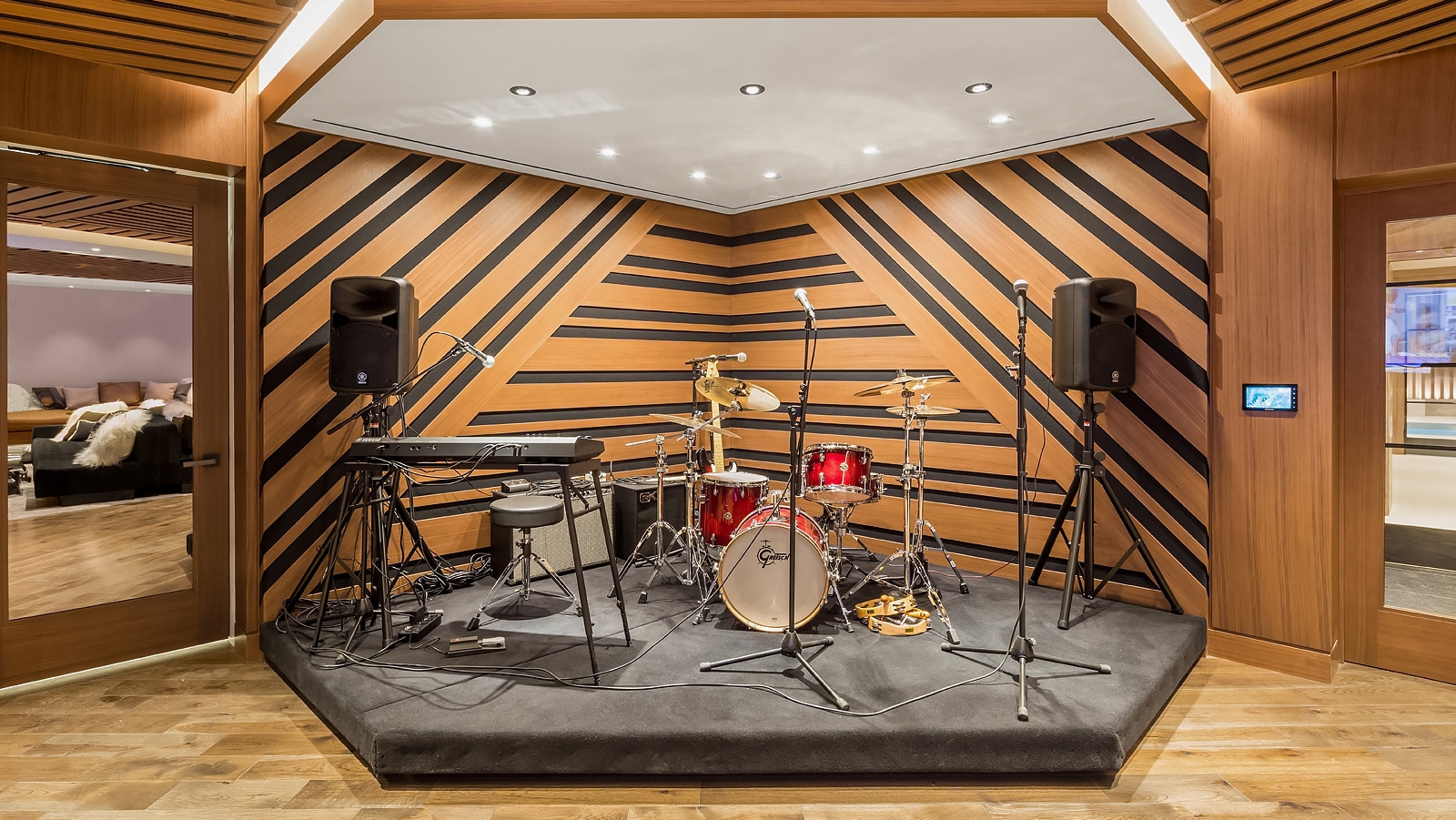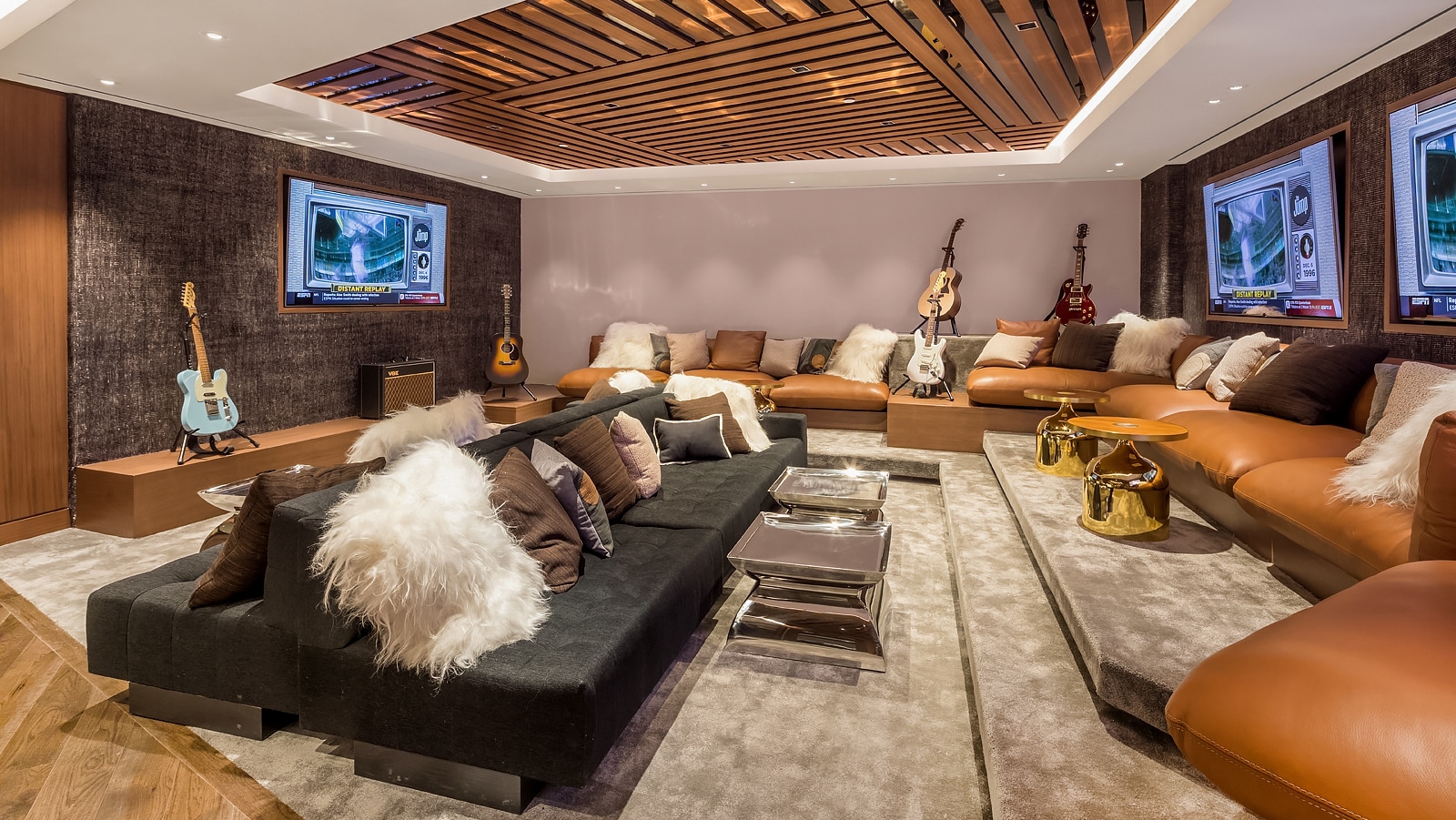 The Kent – New York, New York
Camp Kent, as the children's zone is known at this Upper East Side building, transports little ones to a woodsy world with a treehouse, tent, faux campfire, and plush rocks to climb—and that's just inside. Follow the creek carpet to the great outdoors, where you'll find rolling hills, a swinging bridge and slide, and a rock-climbing wall. For slightly older kids, there's also a Sound Lounge designed by Lenny Kravitz, with a piano, gaming consoles, and a performance space equipped with a drum set and keyboard.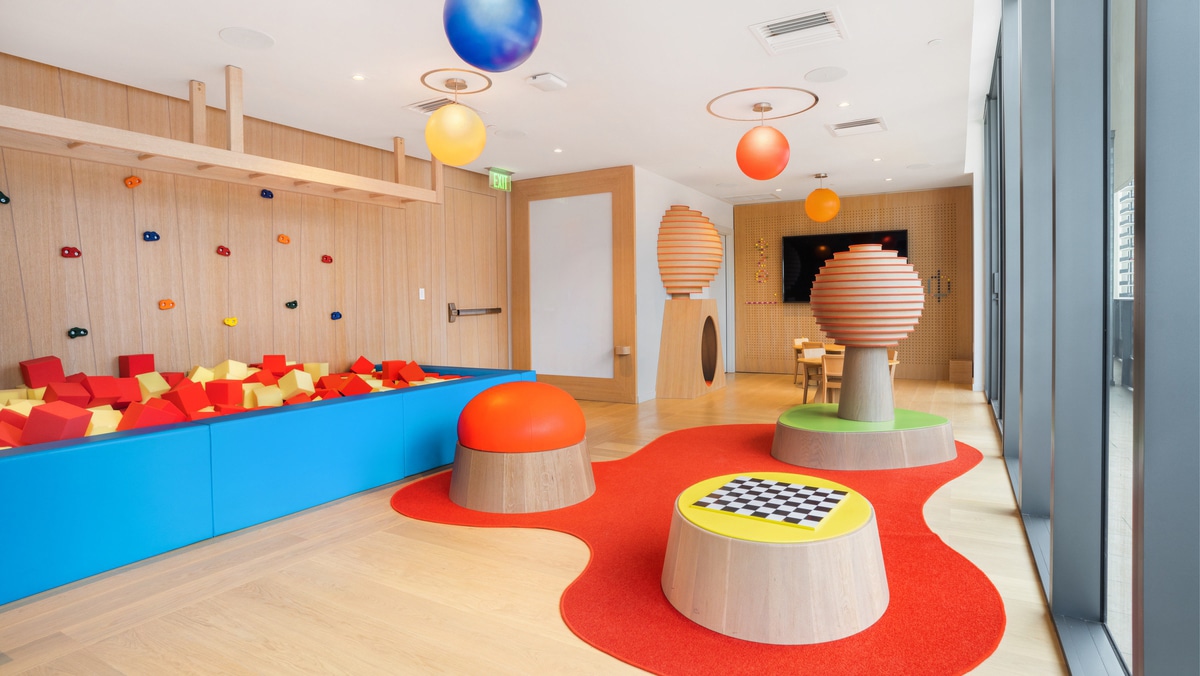 Brickell Flatiron – Miami, Florida
Miami's tallest residential building doesn't skimp on the amenities, even for the kids. The Flatiron Club, on the seventh and eighth floors of the 64-story tower, offers a playroom equipped with a foam block pit below monkey bars and a rock wall, so kids can climb and crash into a plush pile. And right outside, they have their own pint-sized swimming pool, so they can splash freely without pesky adults tsk-tsking.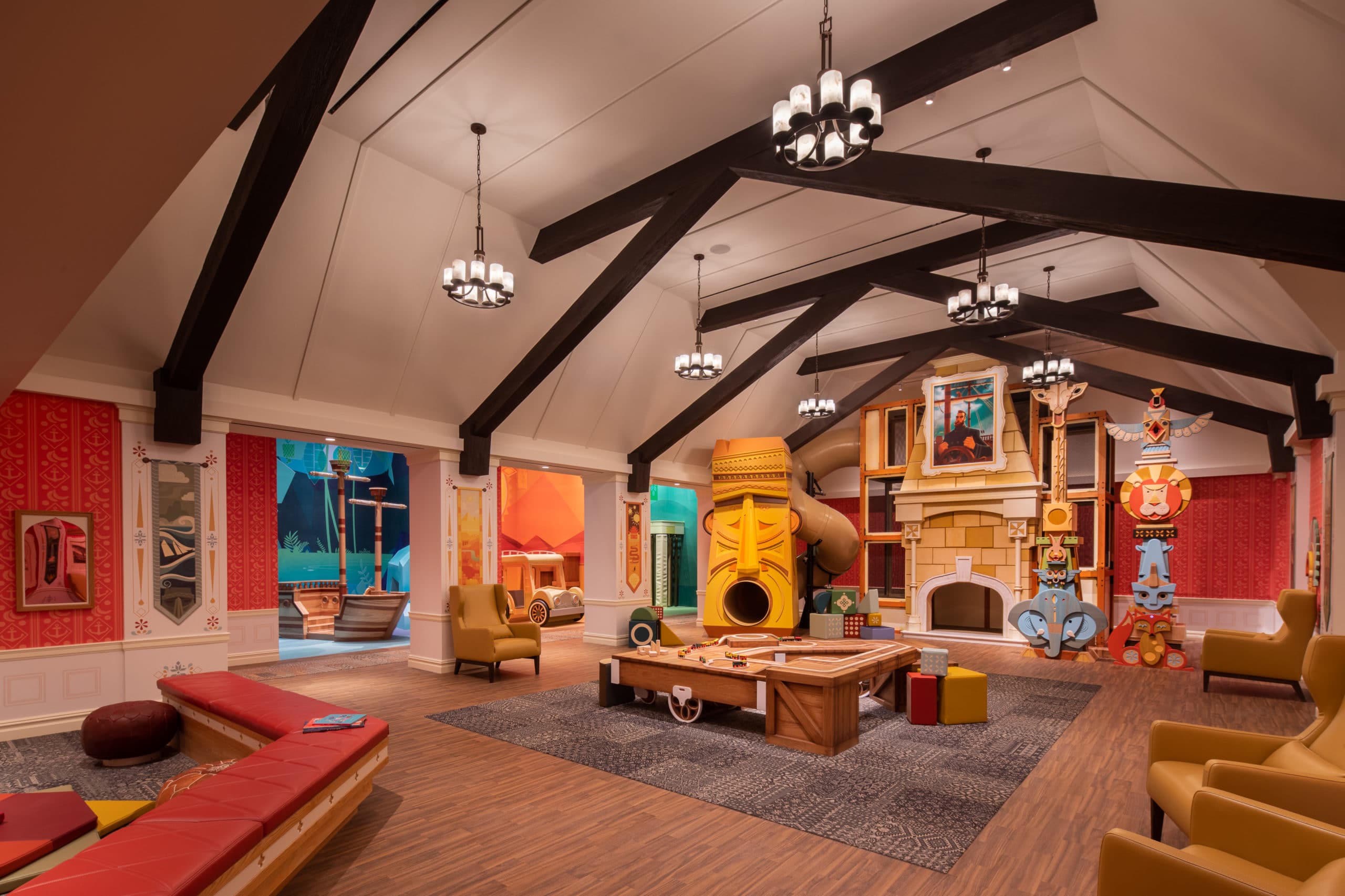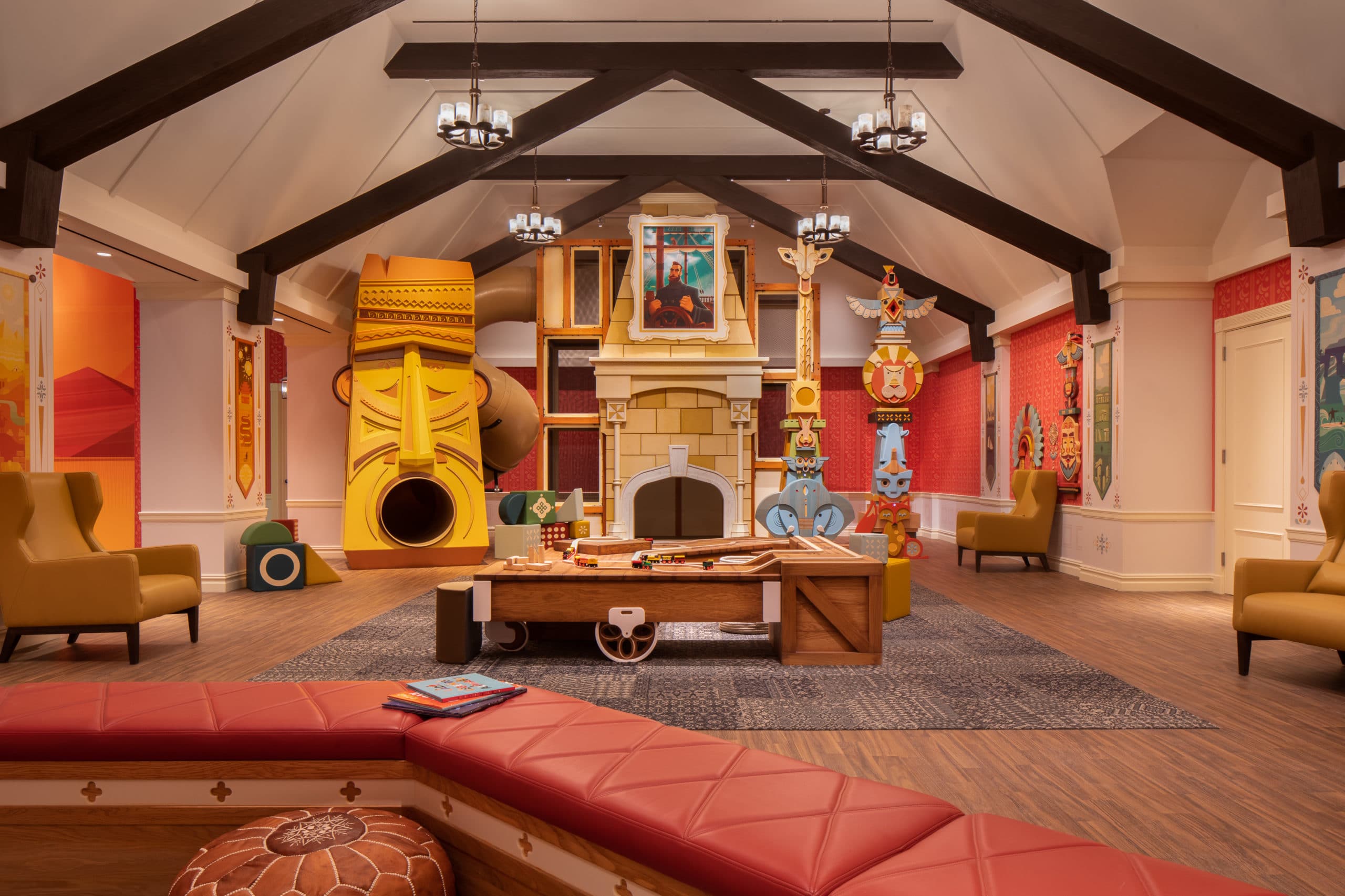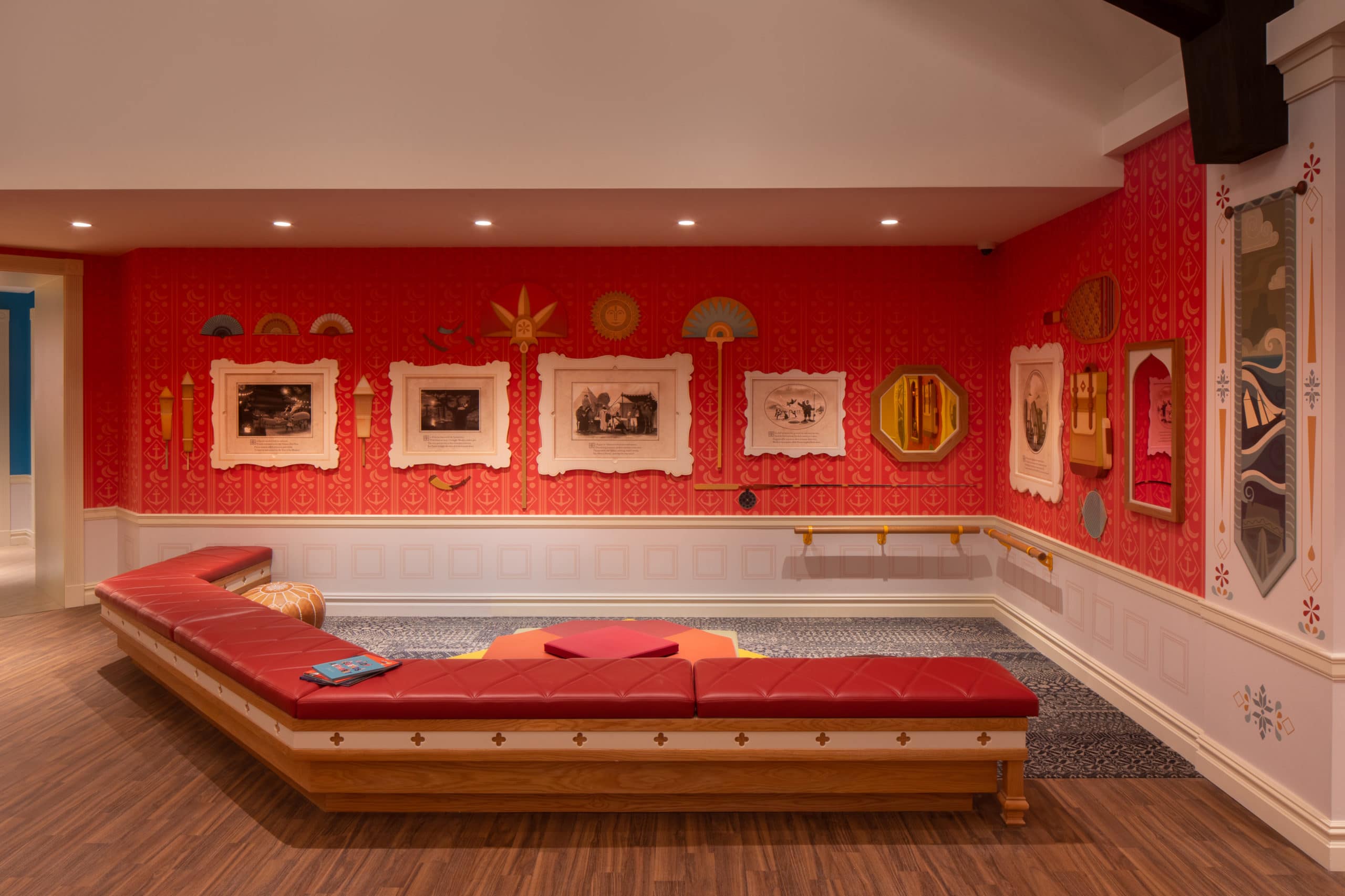 Waterline Square – New York, New York
The 100,000-square-foot Waterline Club has just about every amenity a family could want. Teens will love the indoor sports courts and fields—there are spaces for basketball, soccer, tennis, squash, rock climbing, and a half-pipe skate park—and there's also a music room, art studio, and gardening room with plant-care stations for the more creatively inclined. Little ones will delight in a 4,600-square-foot space designed by Roto, a firm known for its work on museums and science centers, that includes a party room and toddler playspace. And that's not all: kids also have their own dedicated pool.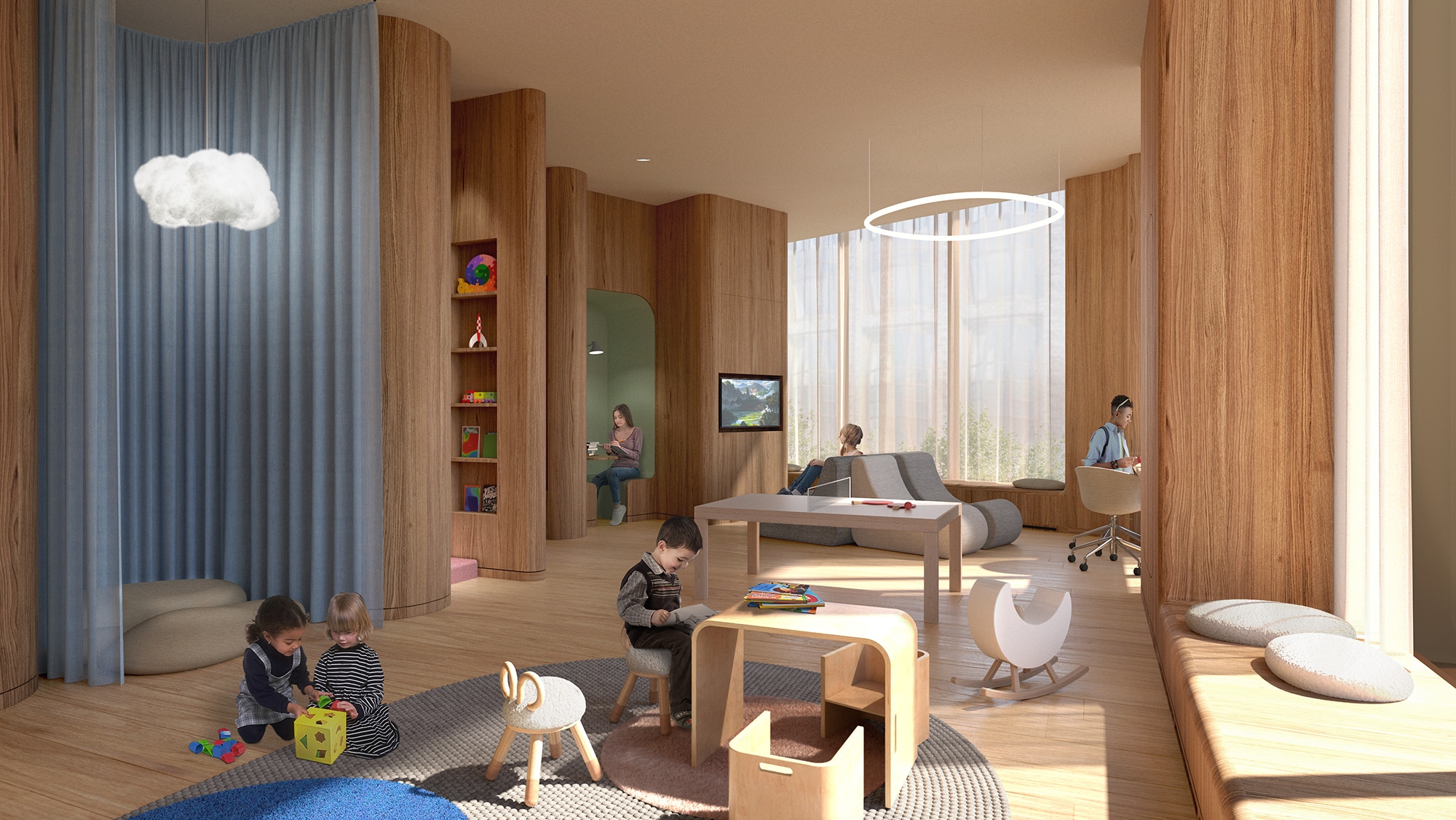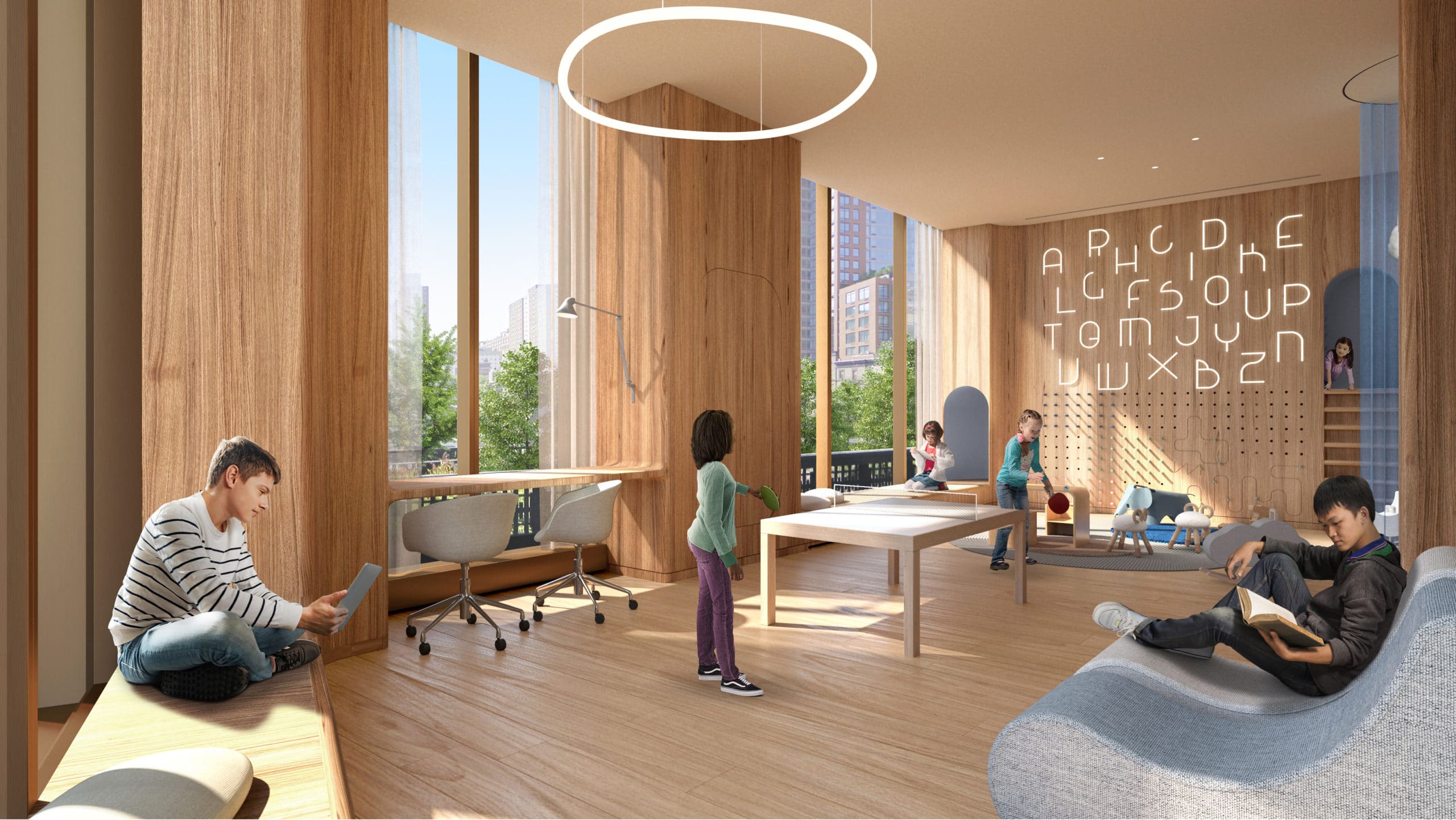 The XI – New York, New York
Parents weary of remote schooling will appreciate that starchitect Bjarke Ingels not only designed playspaces (complete with a climbing fort built into the wall) for kids in his newest project in Manhattan but also studying areas for both teens and younger children. The rooms include both private and semi-private spaces for reading, music lessons, and tutoring.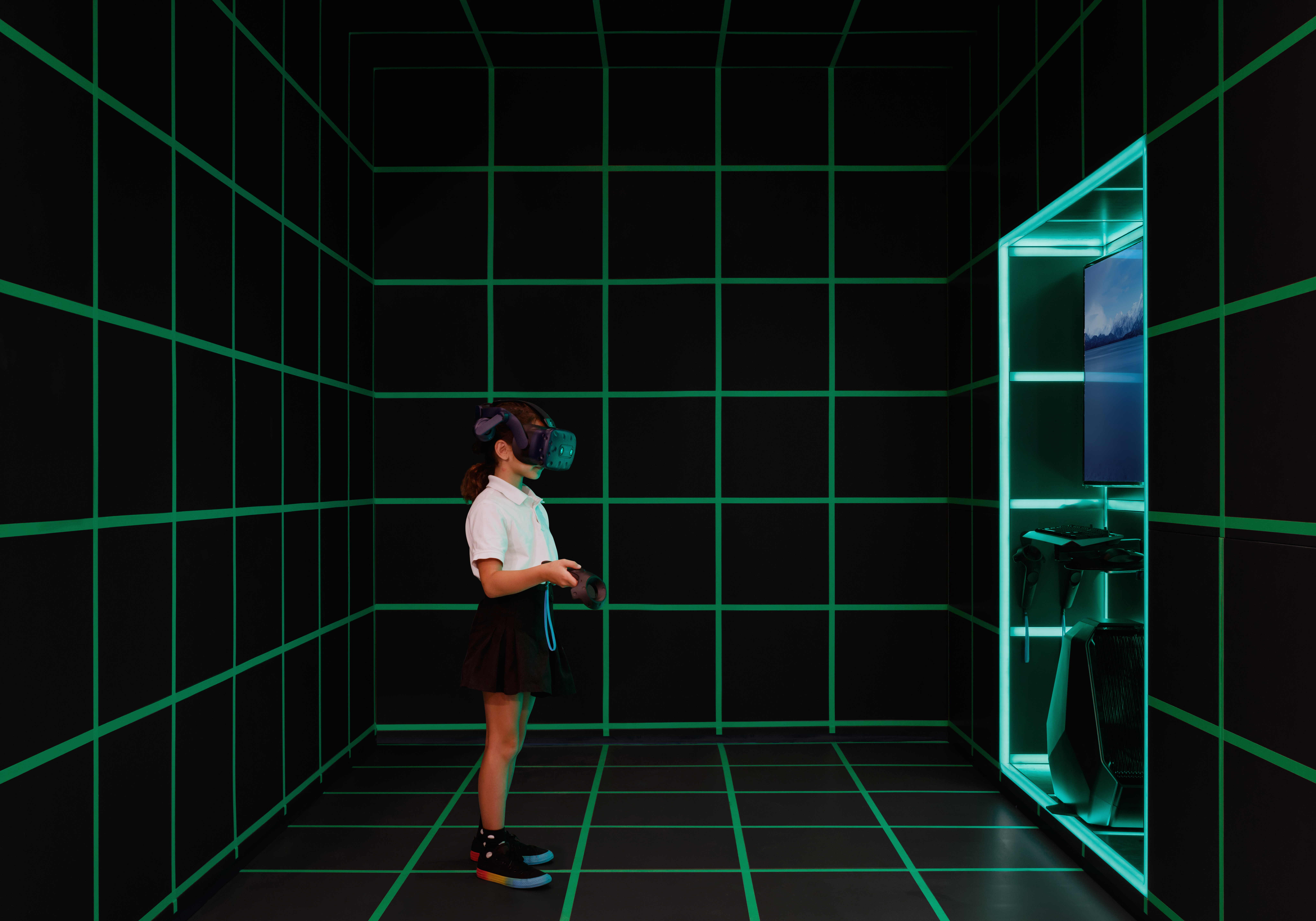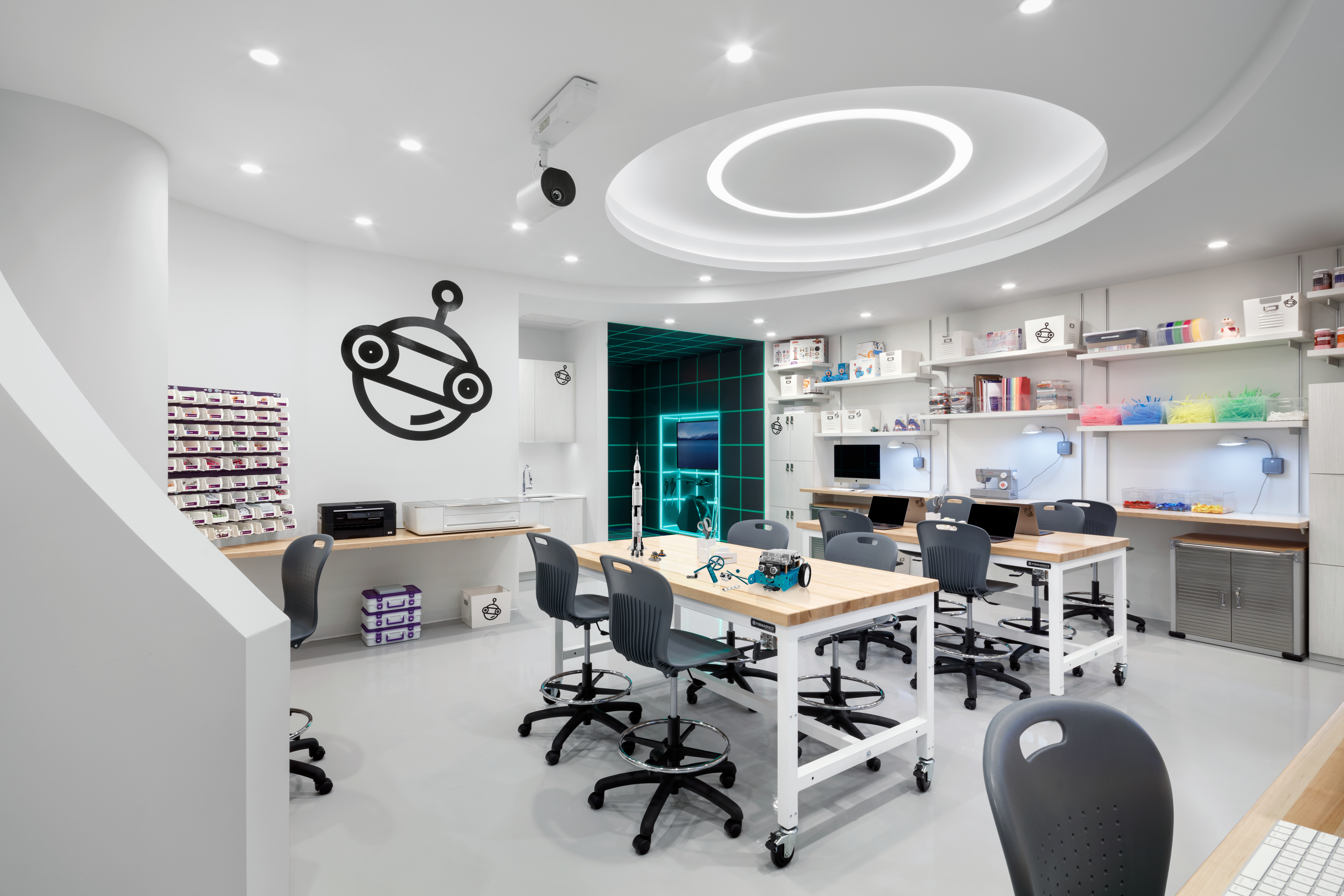 520 West 28th by Zaha Hadid – New York, NY
Children have access to cutting-edge tools for design and making at Sandbox Powered by Related, the first residential makerspace ever built in a condominium. The space itself is flexible and futuristic all the way to its robot wallpaper, as befits a hub for young creators: tables are adjustable-height and movable, and before the pandemic, workshops were regularly on offer.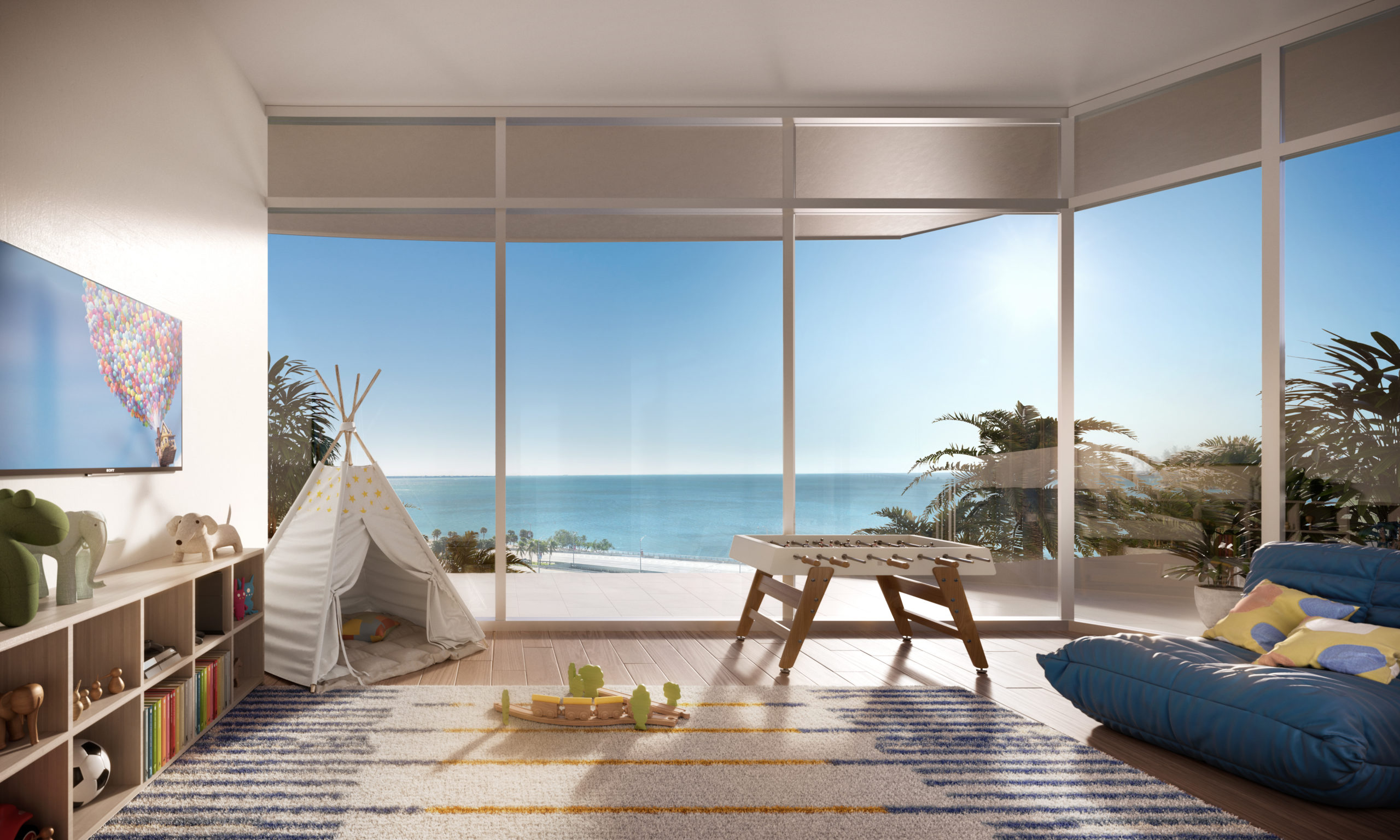 Una Residences – Miami, Florida
With walls of windows overlooking the sparkling Biscayne Bay, consider this to be the kids' room with the best view. Inside, there's a foosball table and reading teepee, but what sets Una apart are its multiple outdoor spaces for kids. There's a splash pool, a family pool, and a playground.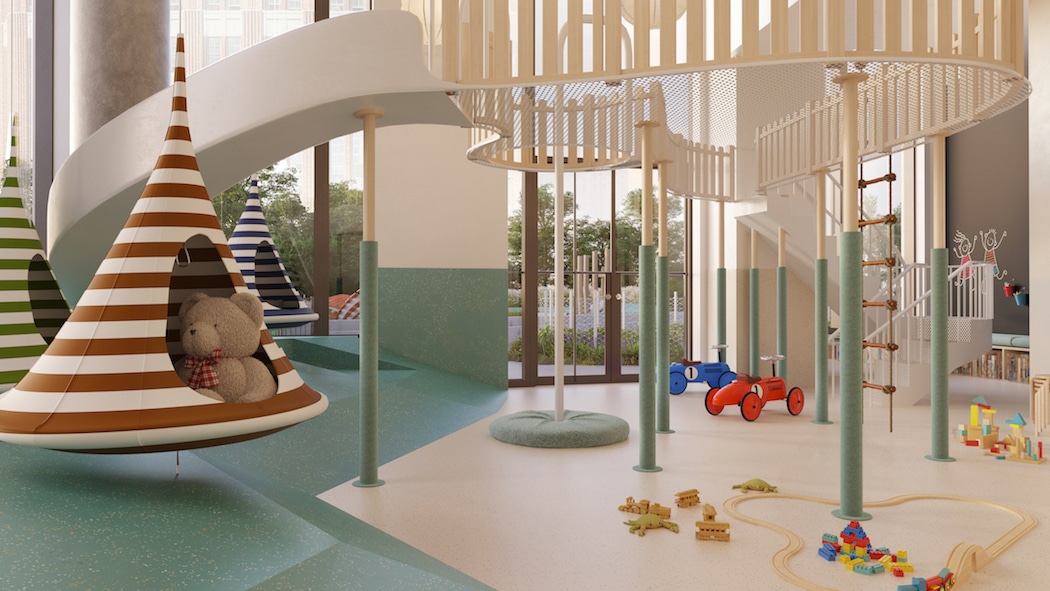 11 Hoyt – Brooklyn, New York
The playroom in this Downtown Brooklyn building is a whimsical world of hanging pods, elevated walkways, slides, and rope ladders, all beckoning kids to run free and explore. Connected to the space just outside is a whole other world of wonder, where kids can climb on an oversized butterfly. To spot real monarchs, visit the building's private park, where a native flower garden attracts the migrating insects.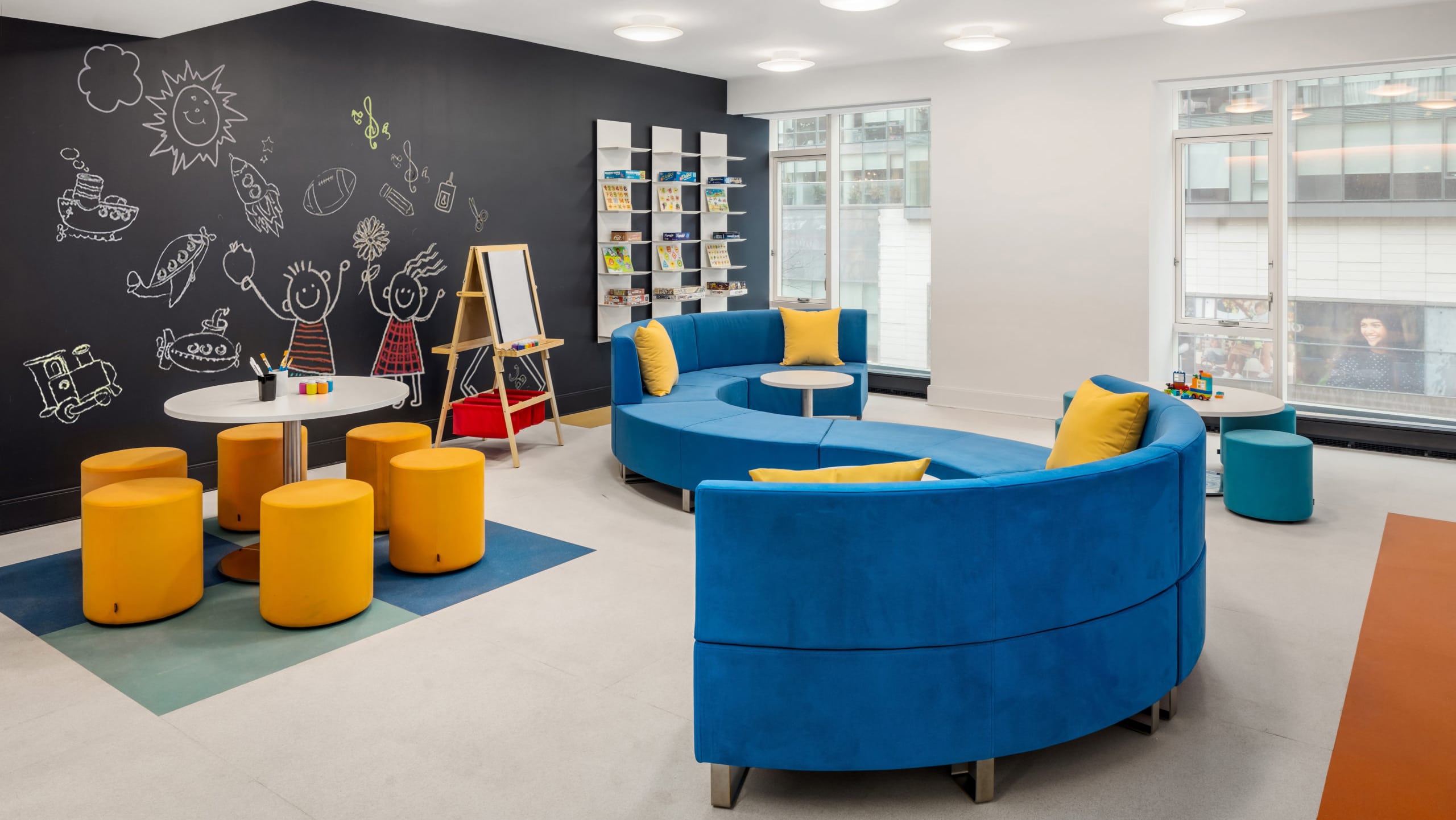 The Hayworth – New York, New York
When designing the kids' spaces for The Hayworth, developer Ceruzzi Properties tapped into resources around the neighborhood. Early childhood experts at 92 Street Y advised on the Imagination Space, a room for creative pursuits, while The Corner Bookstore curated a collection of children's literature for The Hayworth Library.