Una Residences
Brickell, Miami
1421 S Miami Ave, Miami, FL 33131, USA
The first new condominium development on Miami's Brickell waterfront in nearly two decades, Una Residences is a soaring new symbol of luxury living. The building towers above its neighbors—no surprise since the architecture team behind its design, Adrian Smith + Gordon Gill, is known for its supertall skyscrapers. But what sets Una apart isn't just its height. It also has a shimmery, wavelike design, inspired by Italy's Riva yachts, and an enviable location on Biscayne Bay. The cantilevered construction, curvilinear, double-height porte-cochere, and windowed lobby maximize views from every direction, while lush gardens by landscape architect Enzo Enea are a counterpoint to water, water, everywhere. Its location, on an oak-shaded stretch of waterfront known as the "Park Avenue" of Miami, gives it a residential feel, with convenient proximity to buzzy restaurants, fashionable retailers, and cultural landmarks like Vizcaya Museum & Gardens.
Broker
Fortune Development Sales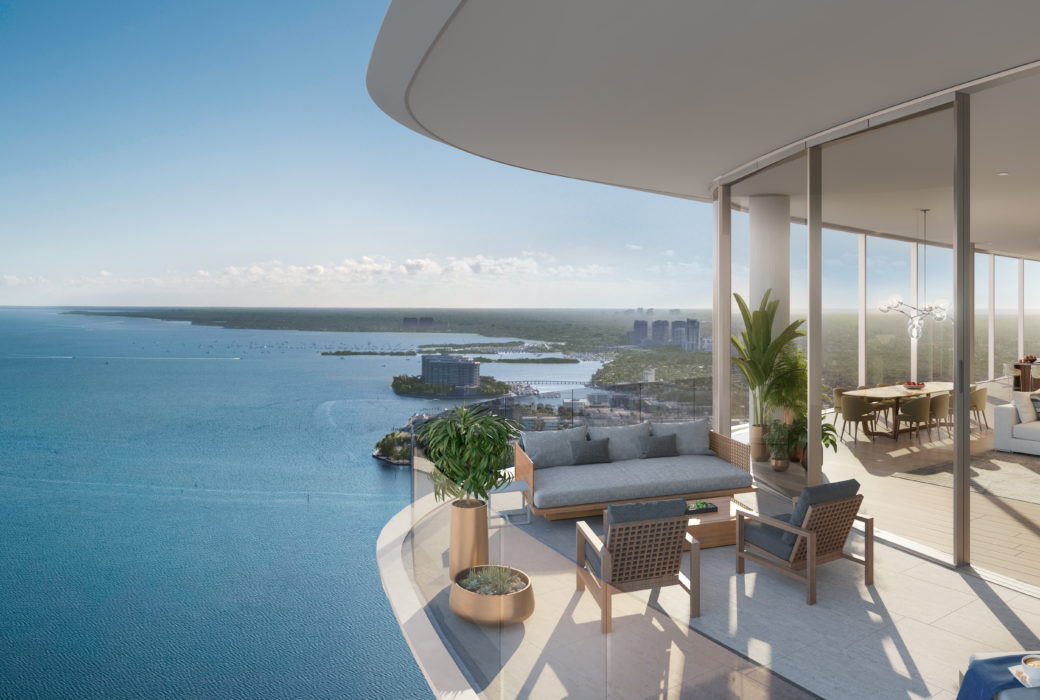 Featured Residence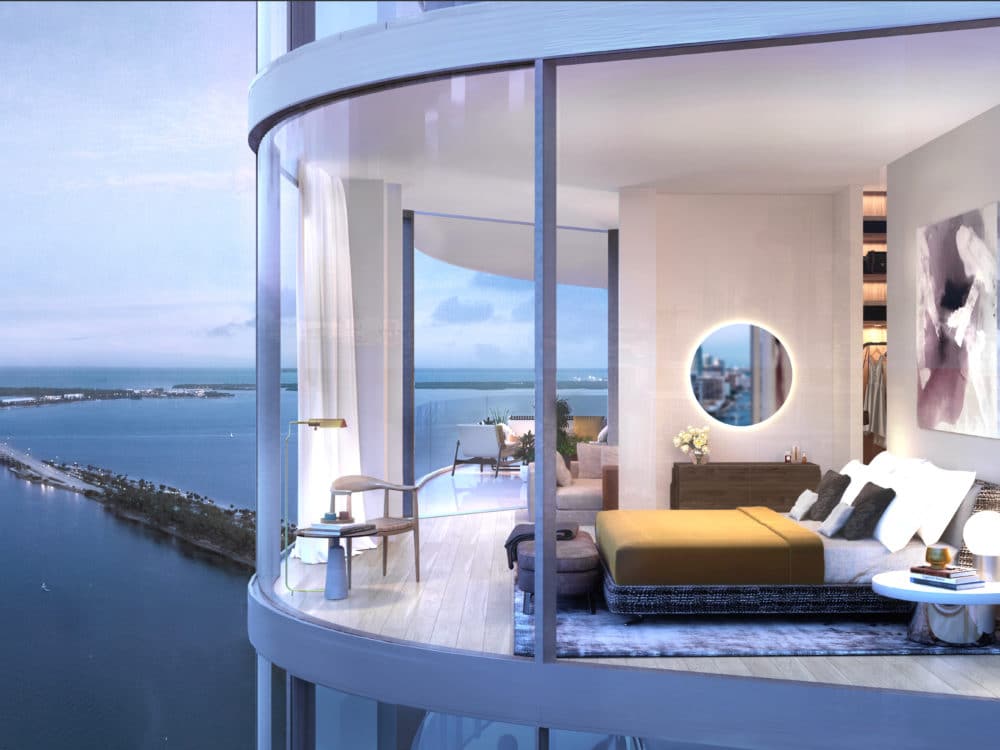 Architects Adrian Smith and Gordon Gill of the Chicago-based firm Adrian Smith + Gordon Gill have a penchant for height, and, at 613 feet, Una is the tallest in the area. This fact is augmented by the space around the tower, with a long approach leading to the arced porte-cochere. Its wave-inspired, cantilevered silhouette gives it a sculptural effect that is apparent from afar and up close. "When you look up at Una, it has a shimmering quality," said the architects. "It is very dynamic—it has a sense of movement and fluidity."
In the last decade, Brickell has evolved from a financial district and business hub to become one of Miami's buzziest neighborhoods. The area has a vibrant restaurant and bar scene, world-class shopping, and some of the city's top spas, salons, and gyms—all within walking distance. Bordered by Downtown Miami, Coconut Grove, and Little Havana, Brickell also offers easy access to cultural attractions like Museum Park, Vizcaya Museum & Gardens and Wynwood's artistic flair. And, of course, South Beach is just across the causeway.
Technically in Brickell, Una Residences feels pleasantly removed from the bustling urban core in a private, residential part of the neighborhood. The tower sits directly on Biscayne Bay and has access to walking paths, bike routes, and a number of parks, including Alice Wainwright Park and Vizcaya Museum & Gardens. Neighboring Coconut Grove offers an array of fine dining and charming cafes, while the beaches and parks of Key Biscayne are directly across the causeway.
Adrian Smith and Gordon Gill are also behind the interiors for Una's 135 residences, all of which have private elevators, an Italian sport boat-inspired vibe, and 10-foot-deep terraces with views of Downtown Miami to the north, neighboring Coconut Grove to the west and south, and the Bay of Biscayne to the east. These vistas, and the indoor-outdoor feeling they inspire, are the central design element that runs through every unit, from the smallest, a 1,098-square-foot two-bedroom, two-bathroom home with 404 square feet of outdoor space, to the sprawling five-bedroom apartments, which have massive great rooms with floor-to-ceiling windows and sliding glass doors that open onto the three terraces.
For a luxury condo building in Miami, a pool is de rigueur. Una Residences takes it to the next level with five pools, including a lap pool, a family pool, and the bayfront pool, ideally situated for sunsets, not to mention a kid's splash pad (i.e., wading pool) and a whirlpool. Additional standout amenities include a marina with private boat slips, a world-class spa, and a fitness center, as well as access to Grand Bay Club, a private beach club on Key Biscayne.
Children's Playroom
Concierge
Fitness Center
Game Room
Lounge
On-Site Parking
Outdoor Space
Pet Spa
Screening Room
Spa
Swimming Pool
Tennis Court
Terrace
Valet Parking
Yoga Studio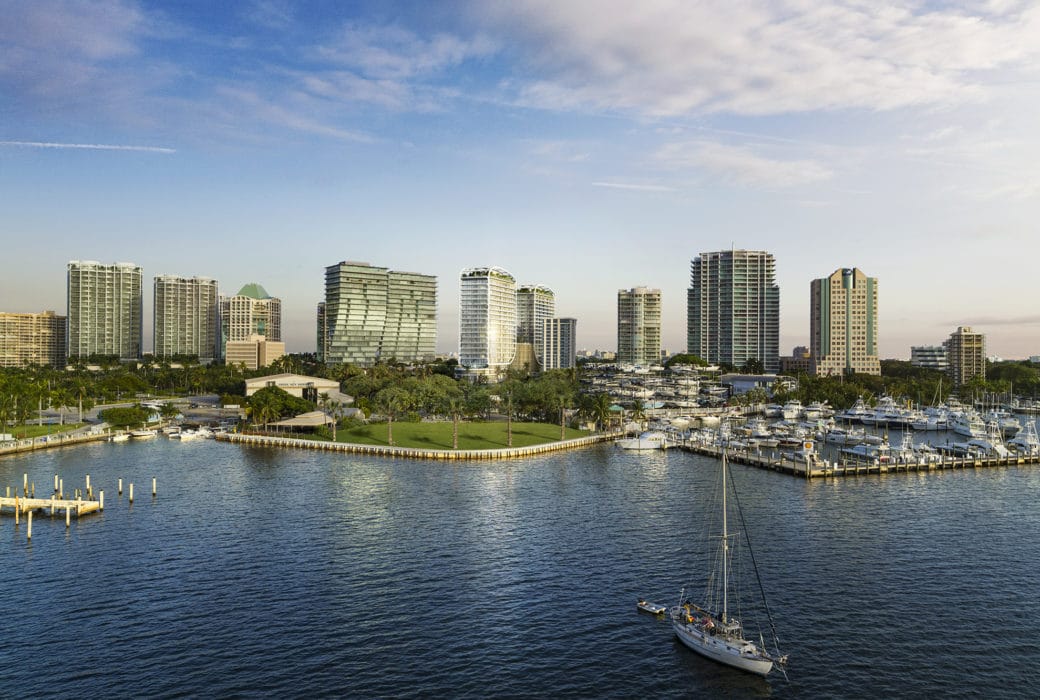 Architecture
Eight Miami Residential Towers That Are Ahead of the Curve
Our brains respond most to curvy architecture, with rounded shapes kindling our emotions and appealing to our aesthetic sensibilities. In Miami, where the undulating ocean waves and ever-present boats are also curvaceous, sinuous buildings are a popular choice.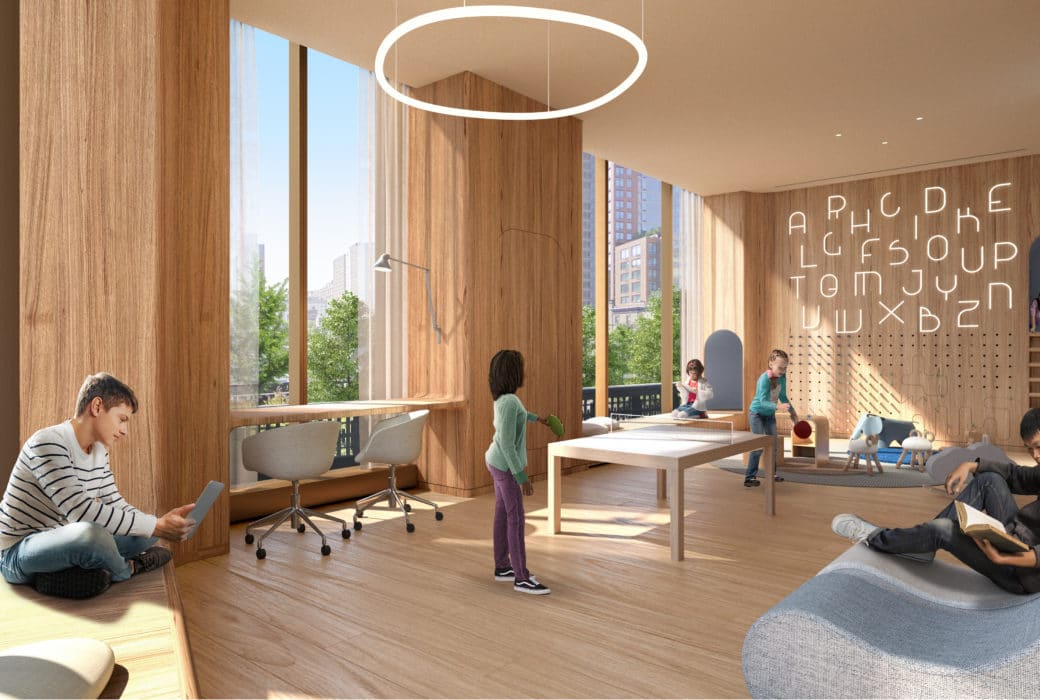 Amenities
Nine New Developments That Celebrate Play Time
Of all the amenities luxury buildings offer, children's spaces often end up at the bottom of the priority list for both buyers and developers. But more and more, high-end condo buildings are approaching kids' rooms with the same care and attention to detail that they bring to every other amenity.