Places
An Innovative Community Arises in a London Outer Borough
Mar 30, 2021 | By: LX Collection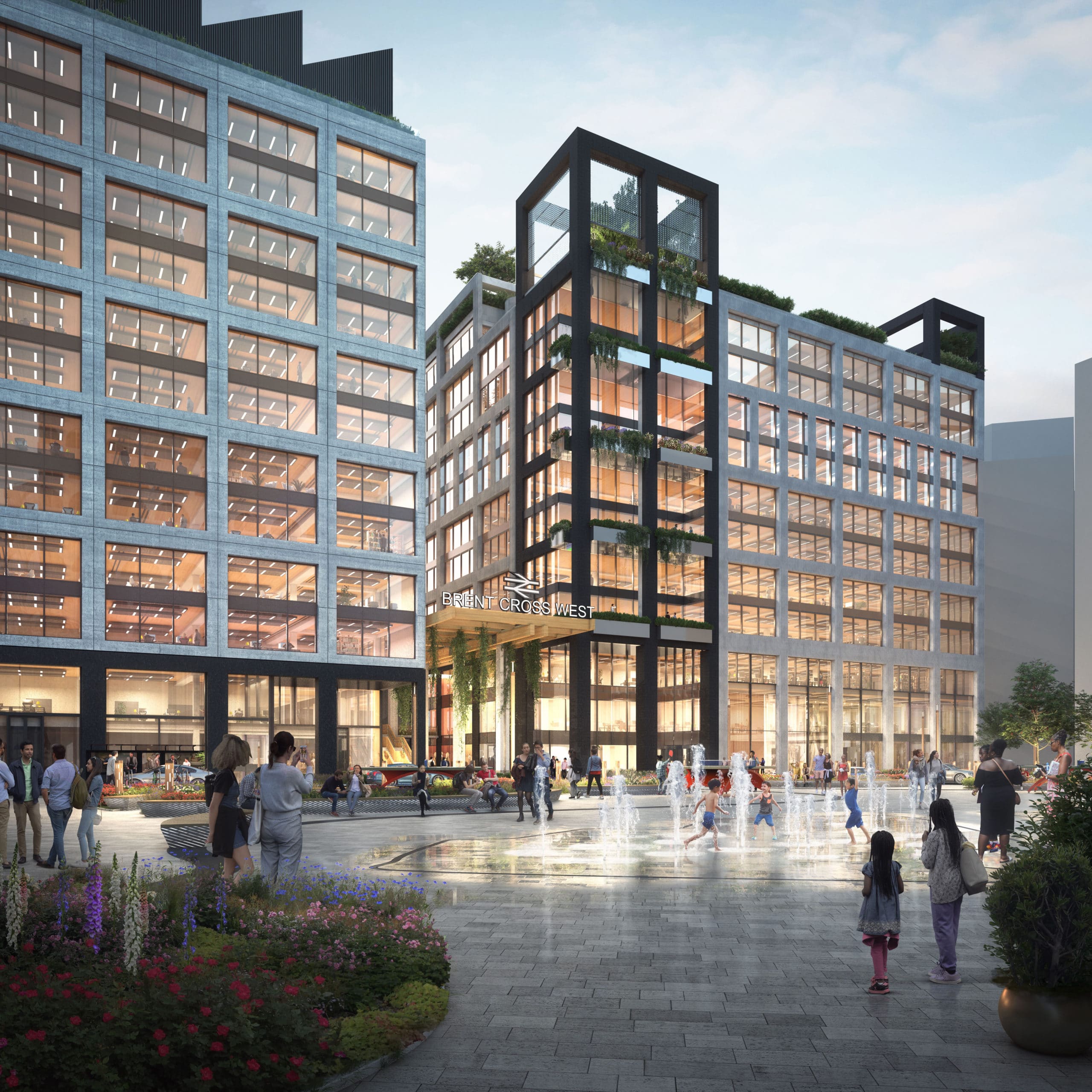 As more people seek to buy property in London's outer boroughs, some innovative designs for condominiums and their communities are emerging. One such vision is Brent Cross Town, in the northern borough of Barnet. 
Developer Argent Related says its "park town"—built on the foundations of community, health, and climate—will establish "a new standard for large-scale urban regeneration," as well as addressing questions that have arisen from three UK lockdowns. 
It will be a new look for a neighborhood most closely associated with shopping, flying, and the busy nearby road network.
Shopping Late and Flying High
Say "Brent Cross" to most Londoners, and they'll probably think of retail. In 1976, Brent Cross Shopping Centre opened as a brave new experience for English consumers: the country's first stand-alone American-style mall, it boasted air conditioning, an indoor fountain, and late-night hours—features that caused quite a stir at the time.
Long before Brent Cross thronged with Saturday shoppers, much of the action took place in the skies. The first hot air balloon launch from Hendon, immediately north of Brent Cross, took place in 1862 and was followed by an array of rudimentary airships and aircraft, including the "Grasshopper"—a contraption that could get off the ground in short bursts but never got fully airborne.
The fields here became Hendon Aerodrome, and between 1912 and 1923, the airfield marked the start and finish line of exhilarating "aerial derbies," in which derring-do pilots raced around an 81-mile circuit, cheered on by as many as 45,000 spectators.
Today's Brent Cross
The aerodrome closed in 1968, but the area's skyward legacy lives on in the RAF Museum, a free family attraction where Spitfires rub wings with Harrier Jump Jets.
But Brent Cross is now more closely associated with the roads entwining it, including the M1 freeway. These thoroughfares provide easy access into the surrounding countryside like the Chiltern Hills and Cotswolds—both "Areas of Outstanding Natural Beauty."
Plenty of peaceful escapes are accessible by foot from Brent Cross too; Dollis Brook meanders through green pockets like Brent Park and Windsor Open Space, providing opportunities for waterside picnicking and heron spotting. Thirty minutes' walk south of Brent Cross is Hampstead Heath, a rambling expanse of hilly and wooded land studded with swimming ponds, stately homes, and rustic pubs where highwaymen are said to have once slaked their thirst.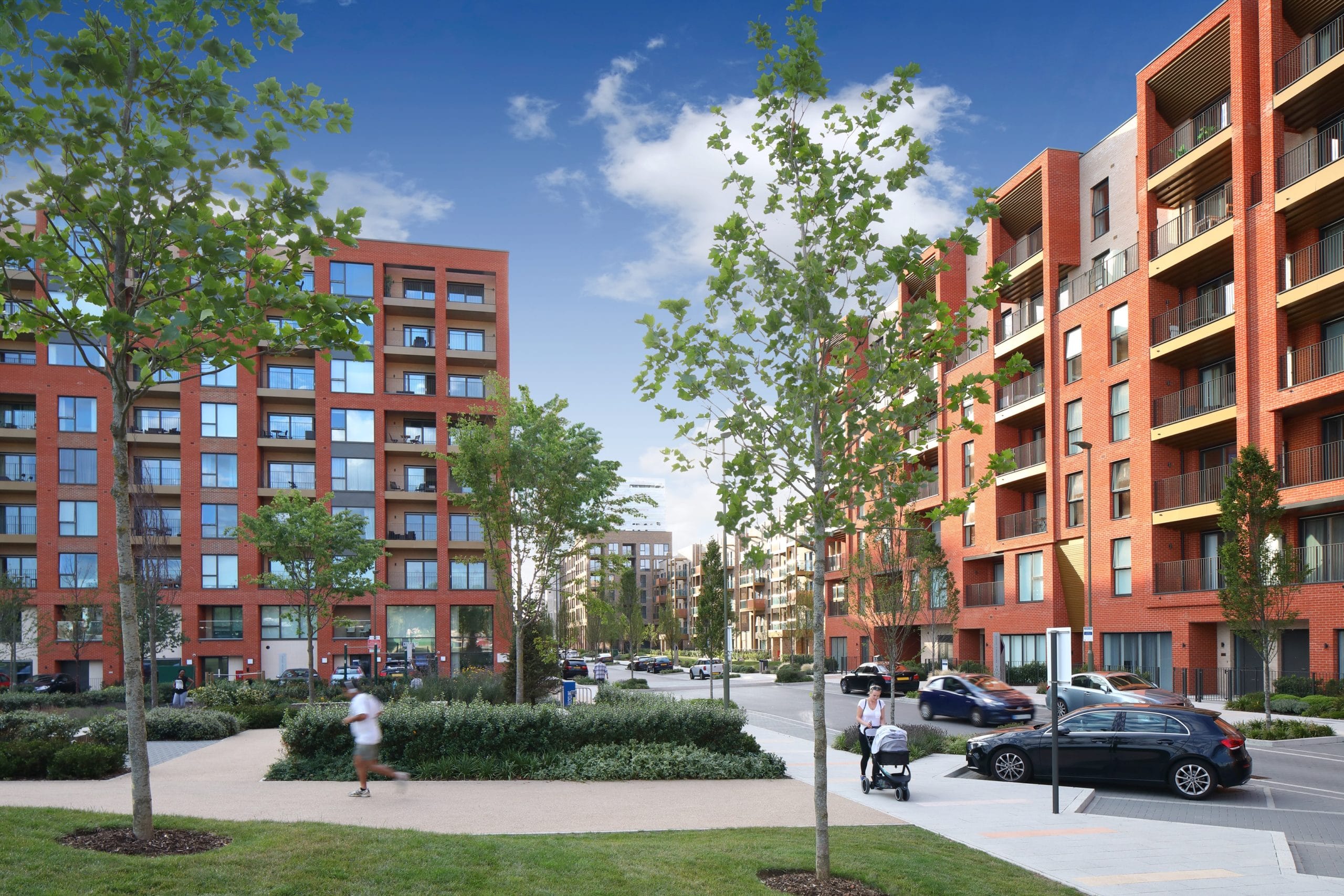 Brent Cross Town
Barnet's population is swelling rapidly: 27,000 new residents in the last five years. This influx has created a need for new housing. 
Hendon Waterside comprises 2,000 apartments, many overlooking the picturesque Welsh Harp Reservoir. Nearby is Colindale Gardens, a collection of luxury apartments set in nine acres of landscaped gardens. 
And then there's Brent Cross Town—a development of 6,700 new homes for sale and rent, situated just south of Brent Cross Shopping Centre, across the A406 road. It's slated for occupation in 2024, with phase one completing between 2026 and 2027.
What's being proposed here isn't just a collection of apartments but a new town in its own right. Sports and play facilities, retail, restaurants, student homes, a cinema, a primary school, and two new parks costing £5 billion ($6.9 billion) are promised—as well as a "business ecosystem" geared for 25,000 employees.
Argent Related, in partnership with Barnet Town Council, says that this bold vision will uphold four pledges: be a town where everyone can flourish; achieve net-zero carbon status by 2030; become the place in London for sports and outdoor activity; and strengthen connections, both locally and into Central London.
"The development will contribute to London's green economic recovery with sustainability, health and wellbeing, and a powerful sense of neighbourliness at its core," Argent says, and "will evolve to support the changing demands of modern life in a post-Covid world."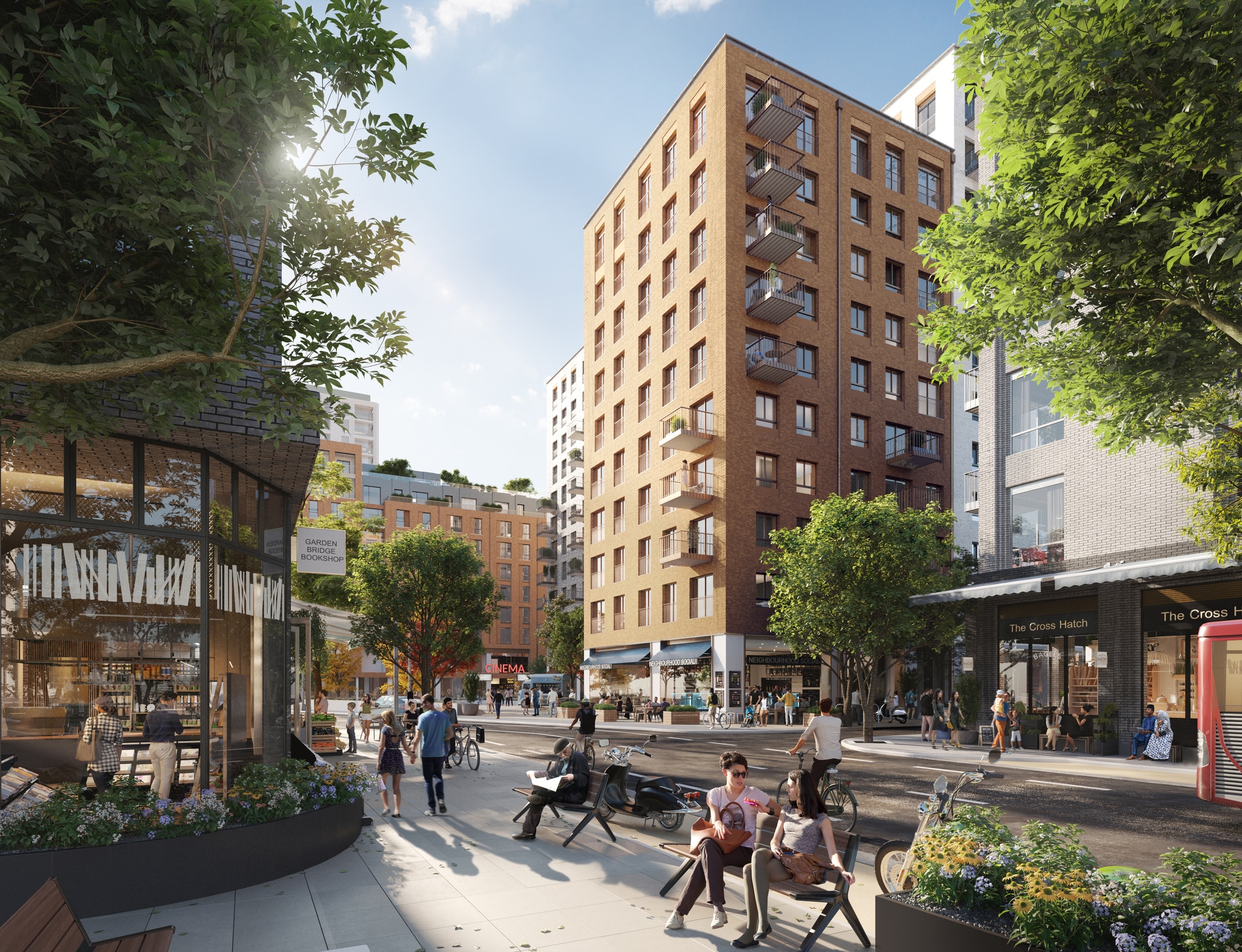 As if that weren't enough, Brent Cross Town promises to be a "15-Minute Town"—everything for residents' work, hobbies, and socializing, says Argent, will be within 15 minutes' travel. 
It's a tall order, and those familiar with London's past might be tempted to draw parallels with Thamesmead—a quixotic and ultimately flawed attempt in the 1960s and 70s to create the "town of the 21st century" in South East London. Thamesmead showed that you can't force a new community to function.
But Brent Cross Town is doing its best to lay the groundwork. On the blueprints are 50 acres of open green space, which will act as the "lungs" of the neighborhood. Sound pollution will be tackled with spaces created specifically for performance and collaborative sound production activities, plus the protection of the existing natural soundtrack (birdsong, insects, water, etc.). 
The project will also benefit from fresh rail links; the new Brent Cross West station is due in 2022, providing trains into King's Cross in just 12 minutes (the current journey time is around half an hour). Improved walking and cycling routes are in the cards, too, with the goal that residents will rely less heavily on the surrounding roads.
Partnerships have been created with Vattenfall to drive down carbon emissions and with Manchester University and Buro Happold to maximize health and wellbeing. Local causes are already receiving financial support.
A lot of thought has gone into Brent Cross Town—little touches as well as the sweeping ones.
Some earlier conurbations built from scratch around London did flourish, notably the "garden towns" like Welwyn Garden City, a half-hour drive from where Brent Cross Town will be. In the 1920s, Welwyn proved that a town could deliver, according to Welwyn Garden City Founder, Ebenezer Howard, "the advantages of the most energetic and active town life, with all the beauty and delight of the country."
A century later, the hope is that Brent Cross Town will not only equal Welwyn but improve on it. Certainly, that's what a post-Covid London is calling out for.