Places
Block & Lot: A Tribeca Street That Welcomes the Whole Family
Apr 27, 2021 | By: Elissaveta M. Brandon
Flanked by two parks, surrounded by a myriad of schools, and steeped in history, Block 150 in Tribeca—bounded by Reade Street, Duane Street, Hudson Street, and Greenwich Street—has something to offer for everyone in the family.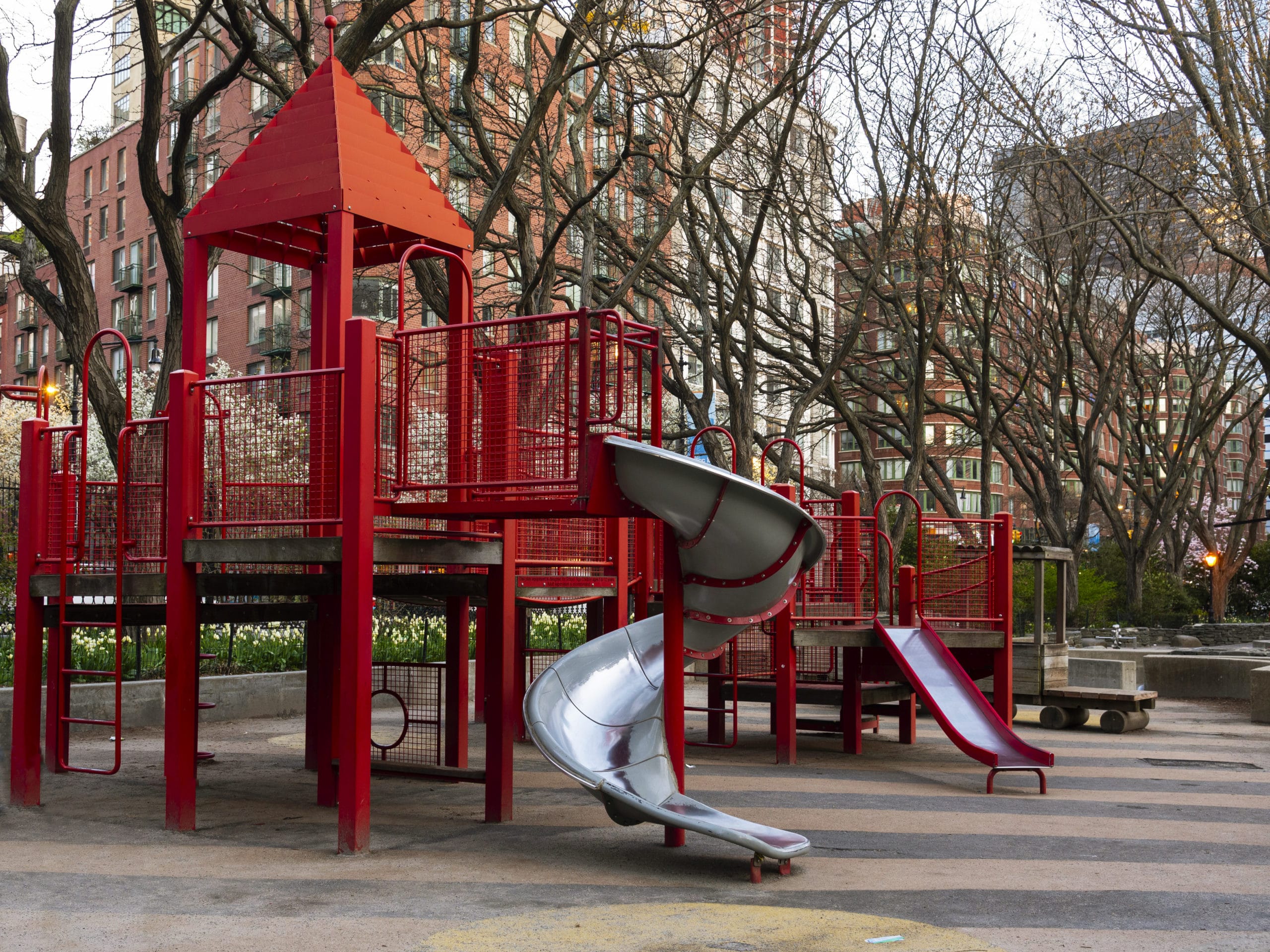 On the western edge along Greenwich Street, Washington Market Park sports a community garden, a butterfly garden, three playgrounds for the kids, some basketball and tennis courts for the adults, and a cast-iron Victorian Gothic gazebo that can be reserved for events and parties. 
When school gets out, children converge here from the cohort of public and private schools nearby, including PS 234, PS 190, Washington Market School, and the top-rated Stuyvesant High School two blocks over. When evening falls, the block comes to life with a rich selection of bars, restaurants, and cafes that range from the Laughing Man Cafe (founded by the one and only Hugh Jackman) on Duane Street to Marc Forgione's farm-to-table restaurant on Reade Street to two Italian eateries on Greenwich Street. 
On the eastern edge of the block, Duane Park—named after James Duane, New York's first mayor after the Revolutionary War—offers some respite from its lively counterpart. What it lacks in footprint (it's only 0.115 acres in size), it makes up for in seating, quietude, and a long history. 
Purchased in 1797 from Trinity Church—one of New York's largest landowners at the time—Duane Park is the city's second oldest public park, after Bowling Green in the Financial District. It is also the last remnant of a farm that once belonged to Annetje Jans, a Dutch American settler whose family immigrated to New York during the 17th century. 
More recently, in the late 19th century, Duane Street was the heart of Lower Manhattan's wholesale "butter and egg" district. Today, this legacy is reflected in the architecture of the block. At 176-184 Duane Street, Tribeca's most common early building type, the store-and-loft building, is exemplified by a quartet of identical structures. Historically, store-and-loft buildings spanned four to seven stories, with storefront space on the ground floor, offices above, and storage or manufacturing on the remaining floors. Designed by John B. Snook in 1868, the buildings on Duane Street even feature Tribeca's iconic entrance canopies, which were installed to protect perishable goods from the sun. 
Two buildings down, at 172 Duane Street, the area's butter and egg legacy remains visible to those with a discerning eye. Hiding behind a scaffolding shed, a pair of ornate cast-iron arches from 1872 conceal a spare, glass-block-fronted structure. By the 1990s, Tribeca was no longer home to butter and egg dealers, but in 1991, architect Vincenzo Polsinelli preserved and restored the cast-iron facade, which still features an egg-and-dart pattern along the spans. 
Meanwhile, on Reade Street, historic buildings mix with tasteful, contemporary townhouses like 138 and 144 Reade Street—six- and eight-story townhouses, both designed by BKSK Architects—and a red-brick 1990s townhouse at 148 Reade, which was renovated by Richard Gluckman, the architect behind the Gagosian Gallery. 
Tribeca is known for its family-friendliness, cobblestone streets, and its crop of converted warehouses. Like much of the neighborhood, Block 150 has stayed true to its history, embracing modernity along the way.