Places
What $2,000/Square Foot Will Buy in Miami's Bal Harbour
By: LX Collection
Known as an affluent seaside paradise, Bal Harbour is home to some of the world's most luxurious resorts and residences. Bal Harbour offers worldly art, enviable hospitality, and captivating experiences with unparalleled exclusivity, all at the northern tip of Miami Beach.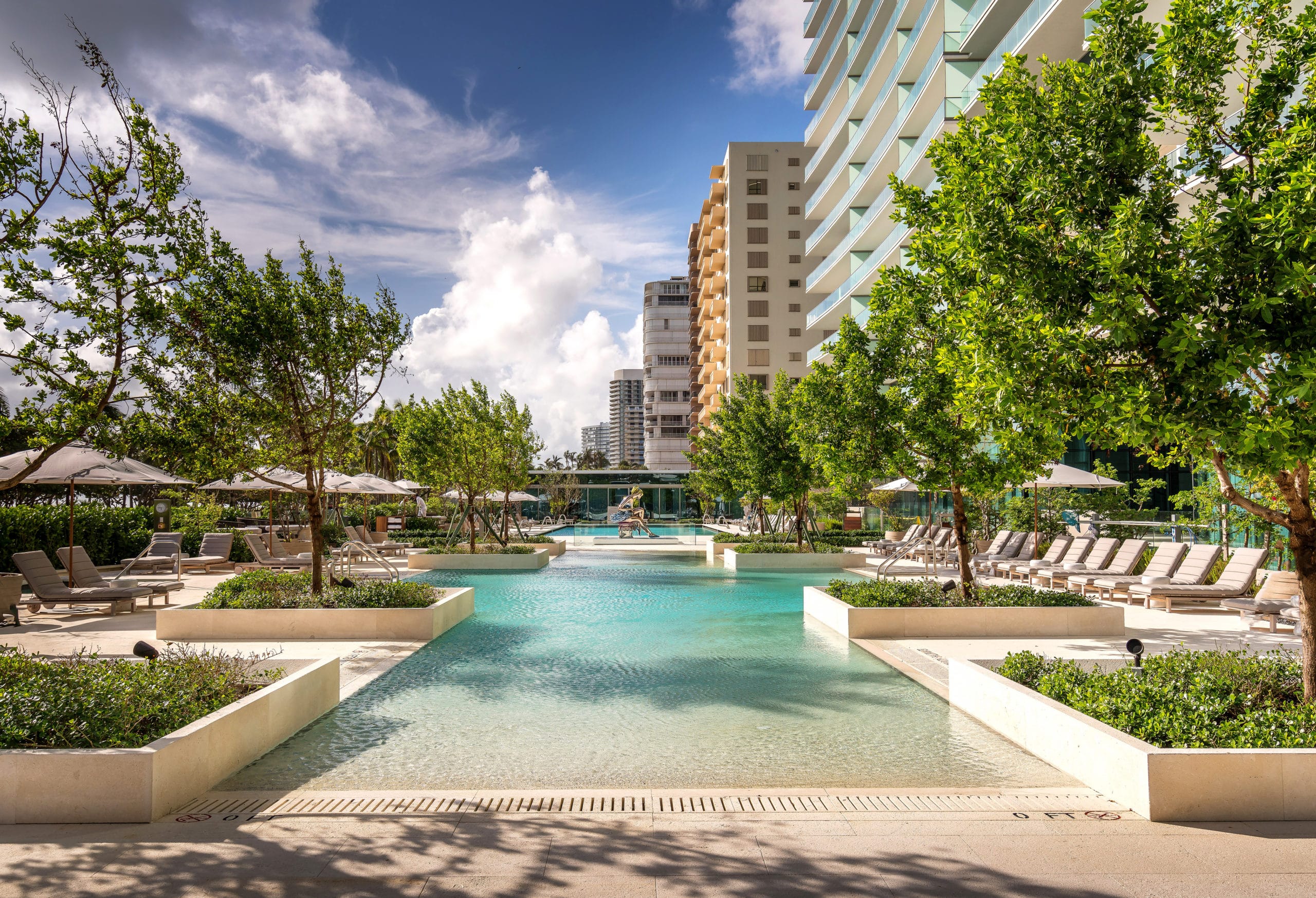 Surrounded by the azure Atlantic Ocean and breathtaking Biscayne Bay, residents of this exclusive island benefit from resort-style living year-round. Dubbed the Madison Avenue of the south, chic style and high-end labels come together at the Bal Harbour Shops. Tucked within a tropical setting brimming with palm trees, koi ponds, and fountains, the open-air haven has been the go-to for style and luxury since the 1960s. Legendary brands such as Balmain, Alexander McQueen, and Chanel are just a few of the more than 100 retailers at the Bal Harbour Shops, with 75 additional boutiques set to open by 2025. But the Bal Harbour Shops are more than a fashion hub: residents flock there for renowned dining options such as Makoto. The city's growing art and cultural scenes showcase initiatives such as Unscripted, a program granting Bal Harbour residents and guests year-round free access to Miami's top museums, private collections, and cultural destinations.  
Even amid the pandemic of 2020, Bal Harbour's luxury townhome and condo market maintained its worth. According to the Miami Association of Realtors, 2020 sales were down 13.3% year-over-year, a testament to limited inventory throughout Florida. At the same time, the median price of those sales increased 10.9 percent year-over-year to $1,026,000 for condos and townhomes. In Q4 alone, out of the 33 closed sales in Bal Harbour, 23 were cash deals, a 21.1% year-over-year increase.
Daniel Guerra, vice president of sales for Fortune International Realty, has seen the shifts in the South Florida real estate market over the years. Guerra has more than 27 years in the real estate industry, developing and selling thousands of units for billions of dollars throughout South Florida. "The resilience of our market was a welcomed surprise," says Guerra. "With such uncertainty, it was great to see the demand in Miami and Florida. The industry nearly came to a full-stop in March, but we came back with great vigor. In October and November, sales increased 16% and 23%, respectively, year-over-year. Such strong demand coupled with insufficient supply is resulting in substantial price appreciation."
Luxury condos in Bal Harbour range between $1,640 and $3,700 per square foot. Here's a look at what $2,000 per square foot will buy in three of Bal Harbour's most exclusive oceanfront developments. 
St. Regis Bal Harbour Resort & Condominium Residences 
The average price per square foot at the prestigious St. Regis Bal Harbour is $2,069. Located across the street from the Bal Harbour Shops, the oceanfront development showcases 275 well-appointed units ranging from one to six bedrooms. Three stunning towers, the North Tower, South Tower, and Center Tower, feature the exclusive amenities synonymous with the St. Regis brand. In addition to accessing St. Regis's anticipatory service and timeless elegance, residents may use the resort's amenities, including personal chefs, 24-hour in-room dining service, shopping bag pickup from Bal Harbour Shops, and private oceanfront cabanas equipped with flat-screen TVs and minibars. Approximately $2,000 per square foot offers buyers one- or two-bedroom, two-bath units with 1,069 to 1,725 square feet of living space in the St. Regis Center Tower. That same price in the North and South Towers affords buyers two- to four-bedroom units, two- to three-and-a-half baths, and a desirable 1,599 to 3,128 square feet. All the condos offer breathtaking north and south oceanfront views and expansive 11- to 14-foot terraces. Bespoke features include European-style, professional-grade kitchens, smart lifestyle technology, and tinted tempered glass to meet South Florida's hurricane code.
Oceana Bal Harbour
In addition to its views of the Atlantic, the masterful 240-unit luxury condominium is best known for its museum-worthy art collection, co-owned by residents. The collection includes two larger-than-life Jeff Koons sculptures: Pluto and Proserpina and Seated Ballerina, one of Koons's most recognized pieces. Designed by the world-renowned Italian architect and designer Piero Lissoni, 240 artful beachfront residences offer flow-through floor plans. Exquisite one- to six-bedroom residences in the all-glass tower range from $3 million to $30 million, averaging $2,100 per square foot. Residents have access to the private Ballerina restaurant, which features seasonally inspired dishes and live entertainment. While units in Oceana Bal Harbour can offer upwards of 7,000 square feet of interior space, for $2,000 per square foot, condos typically feature two bedrooms, two- to three-and-a-half baths, and between 2,148 and 2,625 square feet of living space, but select three-bedroom, four-bath units can be found at this price point. The craftsmanship in each luxury oceanfront residence features such impressive details as floor-to-ceiling windows, herringbone hardwood floors, extra-deep balconies, spa-like bathrooms, and gourmet kitchens.
The Ritz Carlton Bal Harbour Residences
The former One Bal Harbour is a stunning 26-story tower designed by architects Nichols, Brosch, Sandoval & Associates. The 185-unit development combines resort-style pampering with modern-day living. Priced between $1.7 million and $5.1 million, The Ritz Carlton Bal Harbour offers residents the most prestigious luxuries, such as the 10,000-square-foot world-class Exhale Spa with barre and yoga classes and the five-star oceanfront restaurant, Artisan Beach House. Grand kitchens and spectacular panoramas greet owners. Private elevator foyers in most residences, stone floors, and private terraces wrapped in glass round out the impressive features. A price of $2,000 per square foot nets some of the larger residences at The Ritz Carlton Bal Harbour Residences, such as a two-bedroom, two-and-a-half-bath unit with 2,256 square feet of space. It is possible to find 3,000-square-foot,  three-bedroom condos at this price point as well.
Luxury developments along Bal Harbour's pristine coast continue to maintain their value, and Bal Harbour provides residents the best of waterfront living in sophisticated surroundings.