The Belnord
Upper West Side, New York
225 W 86th St, New York, NY 10024, USA
Architect Robert A. M. Stern has characterized The Belnord as the grandest of New York's 20th-century, full-block courtyard apartment buildings. Imposing. Elegant. Prewar. Such great lengths were taken in the restoration of The Belnord on the Upper West Side that the team of architects, preservationists, and designers who helmed its reinvention are not referred to as "the design team" but rather as "the Conservators." Originally built in 1908, The Belnord's Italian Renaissance traits have been carefully protected, from its private palazzo-style landscaped interior courtyard spanning 22,000 square feet to its frescoed exterior details and elaborate entryway. The interiors have been completely reinvented, opened up to allow easy appreciation of the building's dramatic breadth, scale, and volume, bringing the Gilded Age into the modern day.
Developed By HFZ Capital Group and Westbrook Partners
Broker
Douglas Elliman Real Estate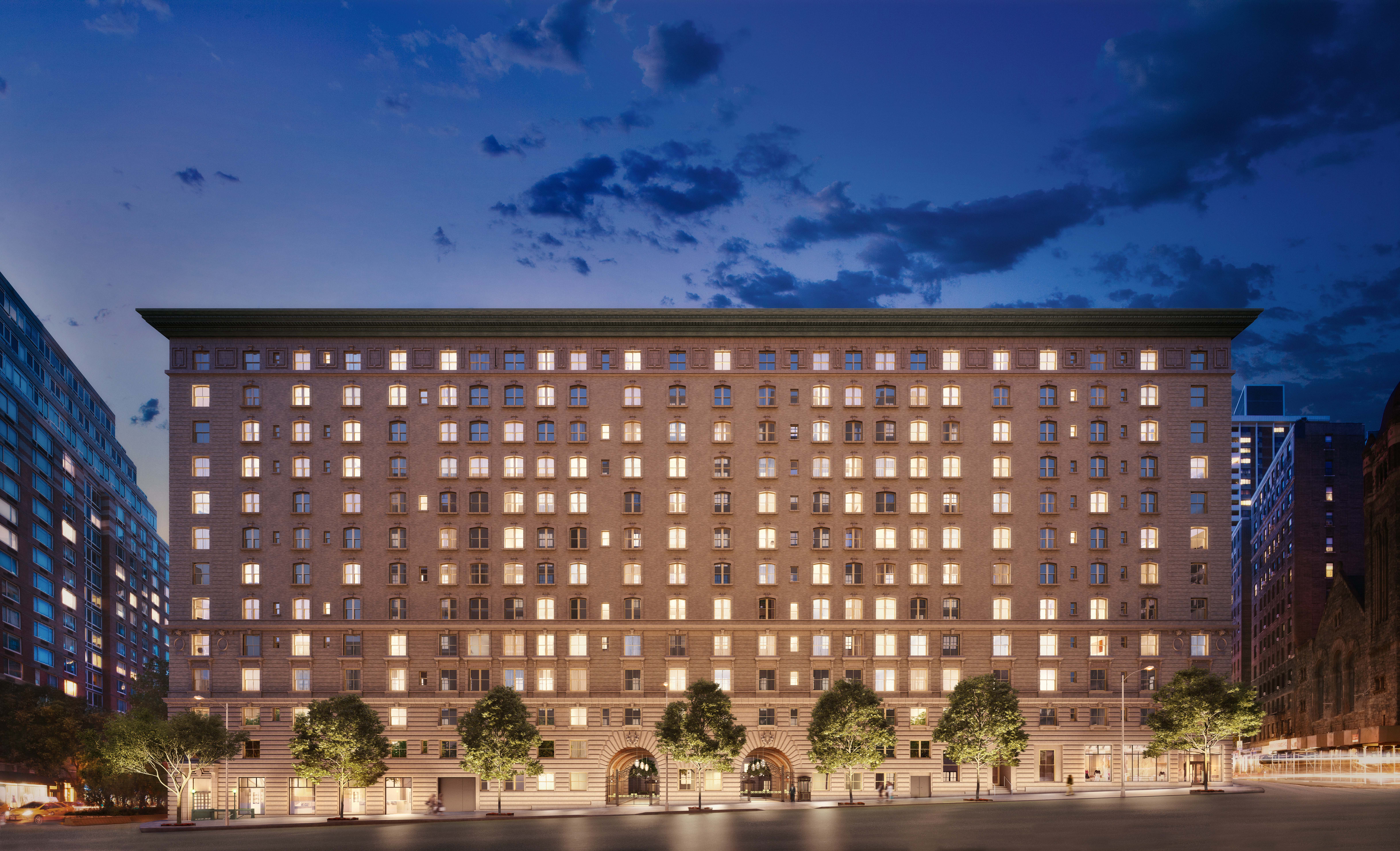 Hiss and Weekes designed The Belnord, an iconic full-block apartment house whose storied grandeur earned it a place on the National Register of Historic Places, in 1908. More than a century later, a team comprising BP Architects (Architect of Record), Page Ayres Cowley Architects (historic preservation), and Hollander Design Landscape Architects (courtyard and garden) made way for Robert A.M. Stern Architects and Rafael de Cárdenas to seamlessly blend history with contemporary design. A pair of two-story archways with gilded wrought-iron gates welcome homeowners into the vaulted porte-cochère, where original frescoes and arabesques honor the building's Italian Renaissance aesthetic. The circular driveway once meant for horses and carriages has been retrofitted for SUVs, and the courtyard's showpiece fountain has been restored. A light gray Indiana limestone facade keeps the building as commanding as ever.
Residence
Bed
Bath
Price
Int

SqFt

Ext

SqFt

Taxes
Common Charges
Floor Plan
Contact
1103
4
4.5
$8,850,000
3138
$4,782
$2,765
View
Contact
1012
5
4.5
$11,450,000
3949
$6,018
$3,479
View
Contact
412
2
2
$4,000,000
1611
$2,395
$1,385
View
Contact
410
3
3.5
$5,800,000
2258
$3,637
$2,102
View
Contact
908
3
3.5
$6,400,000
2258
$3,442
$1,989
View
Contact
306
3
4
$6,450,000
2573
$3,809
$2,202
View
Contact
1109
3
3
$6,600,000
2245
$3,421
$1,978
View
Contact
101
3
4
$6,750,000
2588
$3,792
$2,001
View
Contact
1005
3
3.5
$6,950,000
2562
$3,904
$2,257
View
Contact
112
4
4.5
$6,950,000
3114
$4,567
$2,640
View
Contact
804
4
4.5
$8,400,000
3129
$4,746
$2,743
View
Contact
At the center of the Upper West Side, in an enviable location between Central Park and Riverside Park, The Belnord complements its graceful surroundings. The Upper West Side is brownstone New York, punctuated by beauties like The Belnord; it's Lincoln Center, the New York City Ballet, and the Metropolitan Opera; it's smoked fish from Barney Greengrass and Zabar's. This is a neighborhood with deep roots, glorious architecture, and celebrated cultural institutions. And then there's Central Park, the 843-acre National Historic Landmark that spans 51 blocks from north to south and three avenues from east to west and includes fountains and lakes, playgrounds and walkways, wide-open green spaces, and manicured gardens.
Inside, Robert A.M. Stern and Rafael de Cárdenas, who focused, respectively, on the residences and the furnishings of common areas, kept a clean, contemporary aesthetic, allowing The Belnord's history to speak for itself. Interior architectural details include white lacquer surfaces, mosaic marble floors, black-lacquered residence entrances, and a mix of Nero Marquina and Statuarietto White marble floors and moldings. Staircases were restored, cerused-wood paneling placed in the elevators, and floor plans opened up to accommodate modern-day entertaining. Whether it's the views from room to room or outside to the courtyard or city skyline through oversized windows (with their weighted sashes and, in some cases, copper-clad bays), every detail was meticulously considered. Molteni kitchens in cerused oak or white lacquer feature Calacatta Gold marble countertops.
Prewar meets contemporary splendor with more than 30,000 square feet of amenities, including a 24-hour attended lobby, expansive porte-cochère, and meticulously landscaped courtyard and garden, evoking total privacy and tranquility. The light-filled Belnord Club further offers a wealth of options for relaxation and entertainment, including a state-of-the-art fitness center, a yoga/Pilates studio, an impressive double-height sports court, a gracious residents' lounge with a fireplace, a separate dining room with an adjacent chef's kitchen, a children's playroom, and a teen lounge.
24hr Doorman
Basketball Court
Bike Storage
Children's Playroom
Cold Storage
Concierge
Conference Room
Fitness Center
Game Room
Garden
Library
Lounge
On-Site Parking
Outdoor Space
Porte-Cochère
Private Dining
Spa
Swimming Pool
Terrace
Valet Parking
Wine Storage
Yoga Studio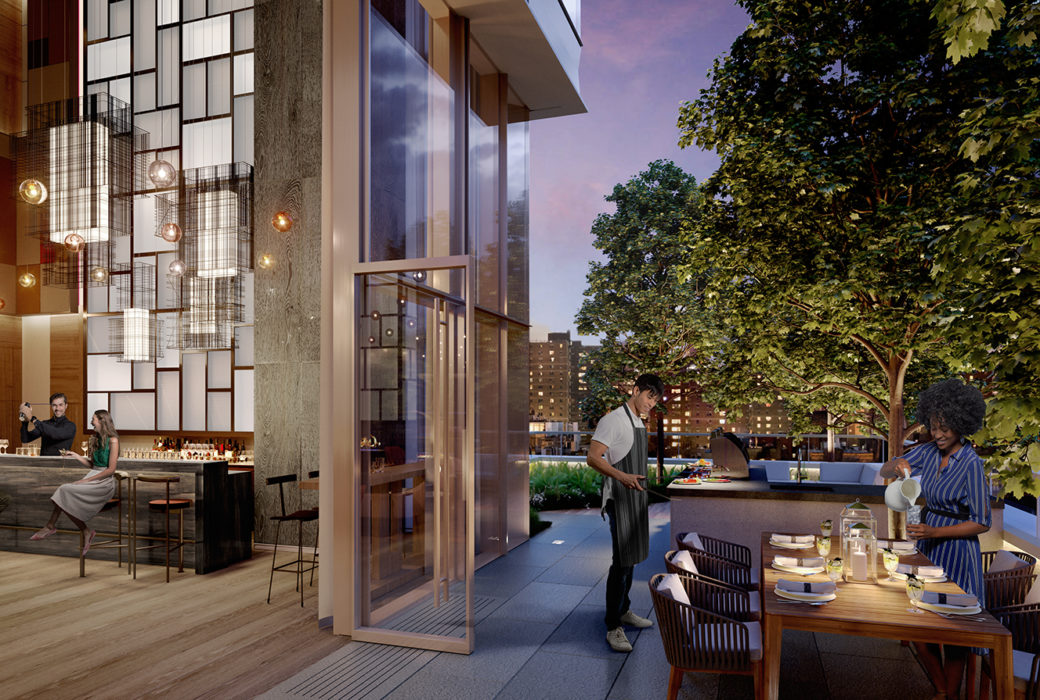 Amenities
The Age of In-Condo Dining
The dining experience has changed dramatically over the past year. That sense of occasion sparked by trying a new restaurant, ordering a predinner martini, or perusing an à la carte menu has been lost. New developments with their own dining and drinking amenities are an attractive alternative.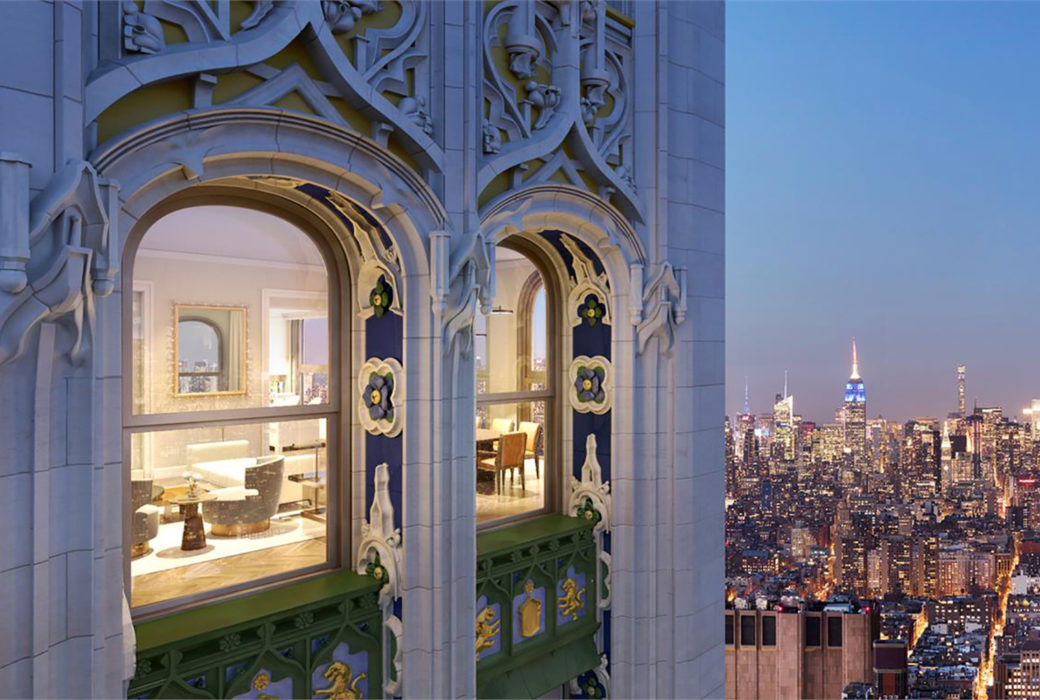 Architecture
Nine Condo Conversions That Bring History to Life
Every home tells a story, and nowhere is that more true than in developments that give new life to historic landmarks. It's possible to own a piece of history in these one-of-a-kind properties, where everything old is new again.