Location
London Displays Dazzling Array of Residences—from Towering Docklands Skyscraper to Iconic Riverside Power Station
By: LX Collection
London has been expanding for centuries, but right now, property developments are taking advantage of some exciting core themes, including land reclamation, the revitalization of historic properties, new buildings taking their cue from the old, and the renaissance of the garden.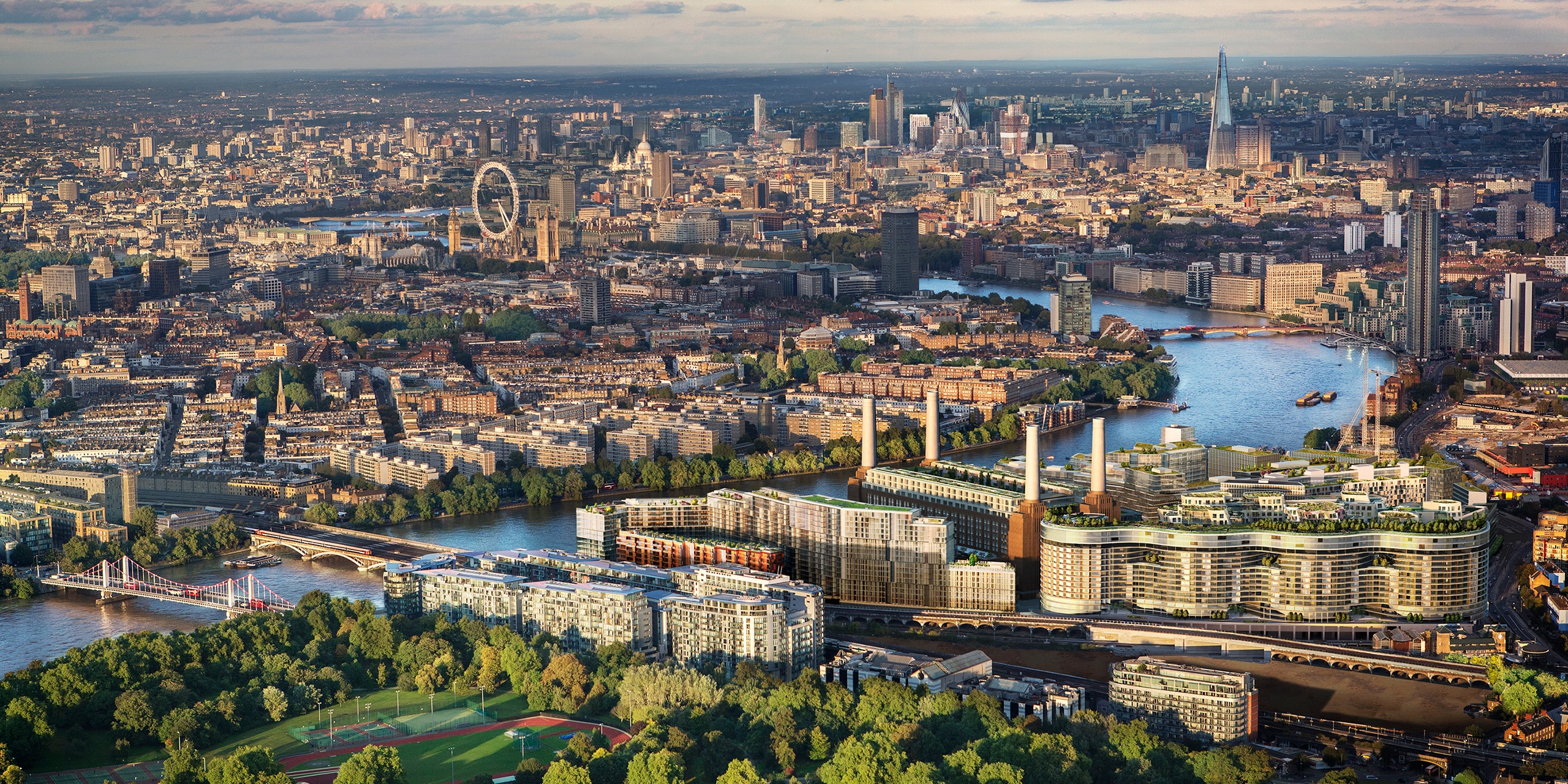 London's most ambitious development of late is Battersea Power Station on the south bank of the Thames opposite Chelsea. The iconic quadruple-chimney Battersea Power Station—developed by S P Setia, Sime Darby Property, The Employees Provident Fund, and Permodalan Nasional Berhad—has been in the works for over five years and exemplifies not only a landmark given new life but evidence of the scale at which land is being redeveloped for residential use. The 42-acre site features four buildings in addition to the former coal-burning power plant itself—Battersea Roof Gardens, Koa at Electric Boulevard, Circus West Village, and Gehry Partners' playful Prospect Place. The development's envy-inducing roof gardens appease city dwellers' thirst for urban oases, and, as with most large projects, retail and commercial are woven in, along with the boon of a new Northern line tube station (which in this case has meant the expansion of the Zone 1 tube fare zone). One of the most notable tenants is Apple, which has made BPS the home of their UK headquarters—an indication that this area has resoundingly put itself on the London map.
Directly across the Thames, in the salubrious Chelsea neighborhood, another historic site has undergone a rebirth. Chelsea Barracks sees the luxurious regeneration of a former army barracks, carried out by a supergroup of architectural and design luminaries, including Dixon Jones, Squire & Partners, and Eric Parry Architects. It exhibits the way that many newly minted London residences are currently paying homage to the encircling history: the gleaming Portland stone duplexes, townhouses, and apartments take their cue from Chelsea's Georgian townhouses. Furthermore, Chelsea Barracks is ensconced in contemporary garden squares bristling with English woodland and kitchen herbs—another sign that luxe living often means outdoor space.
While Chelsea Barracks is inspired by the architecture of old, No. 1 Palace Square—a jog to the northeast, over in Westminster and next to Buckingham Palace, no less—shows how London's developers are repurposing an entire spectrum of existing architectural styles. Italianate, French Renaissance, Beaux-Arts, Queen Ann, and contemporary buildings make up No. 1 Palace Square—a collection of heritage buildings reinvigorated for 21st-century living by Northacre and Squire & Partners. Painstaking thought has gone into remastering these buildings so that their charm is retained, while contemporary touches—such as underfloor heating and remote-controlled lighting—woo the contemporary cosmopolitan. London is a city shimmering with history, and the people who want to live here want to feel this in the fabric of their homes.
Another set of residences in this historic part of Westminster is The Broadway, which shows off a totally different direction of development. Squire & Partners is involved yet again; here, their six condominium towers rise from another swathe of disused land (this time, the site of a former police headquarters), with angular windows that inventively frame such landmarks as Westminster Abbey and the Houses of Parliament. The architectural inspiration here is subtler, although the architects confess to borrowing from the design palette of art-deco luminary Charles Holden.
Heading into the central London district of Fitzrovia, 101 on Cleveland is another model that exploits its surrounding environment to inspire something contemporary. Assael Architecture's 88 residences playfully mirror the eclectic skyline of central London, with the form of three towers that step up in height within a wedge-shaped intersection. There is substance and style here, with voguish geometric windows and balconies, while landscaped gardens are woven in between 101 on Cleveland's structures—somewhere quiet for residents either to relish the sights and sounds of the city or otherwise forget for a moment where they are. 
101 on Cleveland also demonstrates how the market is beginning to see more residences built in central areas where they wouldn't have been, say, one or two decades ago. This trend is no more apparent than with One Bishopsgate Plaza, the majestic 42-story tower developed by UOL Group Limited. For centuries, the City of London—aka "The Square Mile"—has been the fulcrum of London finance rather than somewhere to call home, but the Sky Residences at One Bishopsgate Plaza indicate a definitive turning point. Expect to see additional lofty residential buildings rise in the heart of London.
Speaking of tall buildings. A little east of the City of London, in London's Docklands area, it's less surprising to see regenerational development—this has, after all, been happening here since the 1980s. However, the 75-story Landmark Pinnacle—yet another Squire & Partners creation—is a statement that residential developers in London are no longer afraid to go big. At 674 feet tall, Landmark Pinnacle is one of the highest buildings in east London. But just because the residences are up in the clouds doesn't mean they go without green space; the panoramic sky gardens provide luxuriously leafy vantage points—27 stories up—from which residents can coo over the spectacular vistas and connect with nature. And though it may not be immediately obvious, even a contemporary behemoth like Landmark Pinnacle draws from London's rich heritage; in this case, its sky garden is inspired by Kew Royal Botanic Gardens.
The sheer spectrum of luxury developments in London right now is staggering—offering buyers everything from a premium slice of the city's rich heritage, to brand new forms of sky-high living, which until recently, were alien to London. And with the dollar's continued strong performance against the British pound, some might see this as a particularly exciting time to invest.