King Toronto
King West, Toronto
533 King St W, Toronto, ON M5V 1K4, Canada
King Toronto isn't just a luxury condominium development; it's a community with retail and office space woven into the design. It isn't just a series of Lego-like glass cubes; it's a collection of hundreds of homes that form a human-made mountain range. And it isn't just new construction; it grows up and around existing heritage buildings that are both separated and united by greenways, public spaces, terraced roofs, and living walls everywhere. In the words of Danish architect Bjarke Ingels, it is "inspired by the past, informed by the present, and aspiring toward the future." More simply put, King Toronto is "old-school future."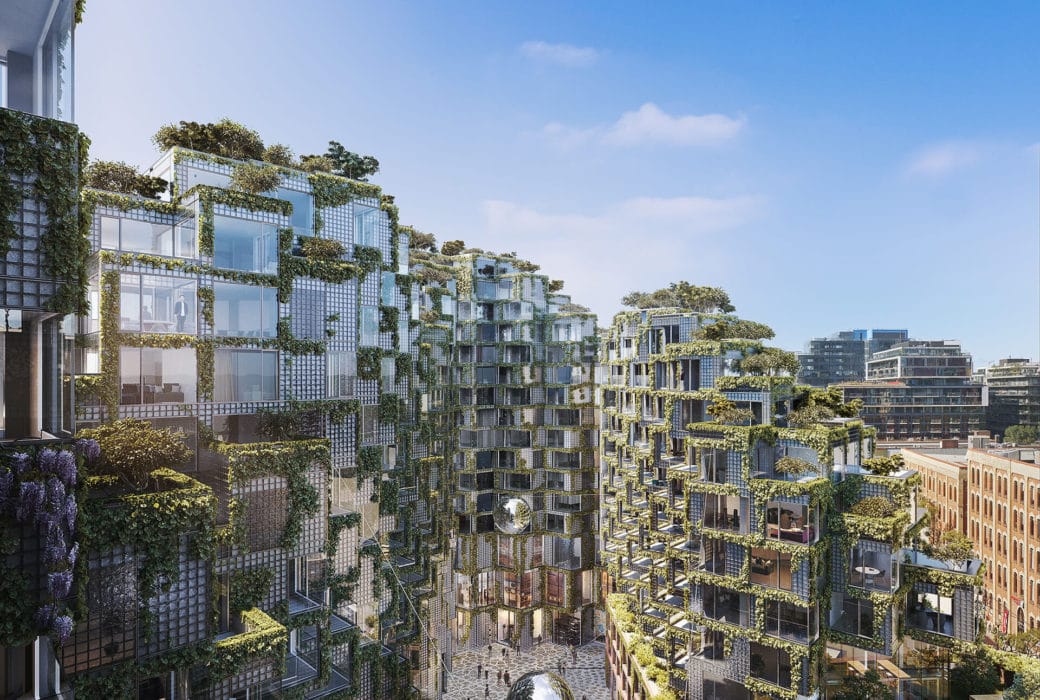 Availabilities
The following prices have been approximated based on the developers price sheet using standard currency exchange rates. Please consult the property's sales center for final pricing.
Residence Name
Bed
Bath
Price
Int

SqFt

Ext

SqFt

Taxes
Common

Charges

Floor Plan
Occupying almost an entire city block and spanning 600,000 square feet, King Toronto feels less residential development, more architectural compound—and that's by design. Bjarke Ingels, something of an architectural wunderkind, was inspired by Moshe Safdie's brutalist housing complex in Montreal, built for the 1967 World's Fair. Ingels's 21st-century interpretation is made of glass—glass windows, glass bricks, and glass balconies—shrouded with vertical gardens from landscape architecture firm PUBLIC WORK. The glass creates an effect that Ingels describes as "the glacial lightness of an iceberg." The North Mountain is 12 storeys; East Montain 18 storeys; South Mountain 13 storeys and West Mountain 15 storeys.
Nicknamed The Entertainment District, King West is one of downtown Toronto's coolest micro-neighborhoods. It's one of the best places to go out for drinks and dinner, and its streets are also lined with art galleries and shops, workout studios and boutique bakeries. Chinatown and Kensington Market are also within walking distance, as are Toronto's waterfront trail and numerous parks. In addition to its abundance of low- and mid-rise condo condominium buildings, historic row houses, and townhomes, King West is also home to office buildings — and it's just a 10-minute streetcar ride to the downtown core.
Bjarke Ingels's expansive urban mountain range is made up of 440 studios, one-bedroom, two-bedroom, and three-bedroom homes spread out among four different "mountains." There are valleys in between, but each residence also has its own garden in the sky, creating a perfect balance between public and private spaces, between community and individuality. Overall, the interiors have a refined industrial aesthetic inspired by the neighborhood's historic architecture. In some spaces, the vibe leans Scandinavian, with warm woods and leather accents, or more "green," with suede furnishings and lush plant life. Throughout, you'll find an emphasis on quality, from the top-of-the-line appliances and fixtures to custom terrazzo tile floors.
King Toronto's Downtown location, on a 600-foot stretch of King West, is, in itself, will be one of the most attractive (and unique) amenities. It affords walkable access to nearby bars and restaurants, supermarkets and movie theaters, parks and rec centers, like The Bentway and Rail Deck Park. A public art installation greets residents as they enter the development, where four buildings, each with its own private lobby, surround a communal village green. Greenery is everywhere, and nature is a common thread, including in the mountain-inspired spa, which has an indoor-outdoor pool, hot tub, and private hammam.