The Towers of the Waldorf Astoria
Midtown, New York
305 Park Ave, New York, NY 10022, USA
The unofficial palace of New York City, The Towers of the Waldorf Astoria is rich with history and known for unparalleled service that sets the standard for hospitality. The extensive restoration of this 625-foot-tall Park Avenue landmark delivers a collection of 375 contemporary residences in The Towers of the Waldorf Astoria above the legendary hotel, offering the first-ever opportunity to own a home with one of the most coveted addresses in the world. Each residence features luxurious art deco-inspired living quarters, ranging from spacious studios to opulent four-bedroom homes and glamorous penthouses with private outdoor spaces, complemented by unsurpassed amenities and services. This iconic building continues to set the precedent for hospitality across the globe.
Developed By Dajia Insurance Group
Broker
Douglas Elliman Development Marketing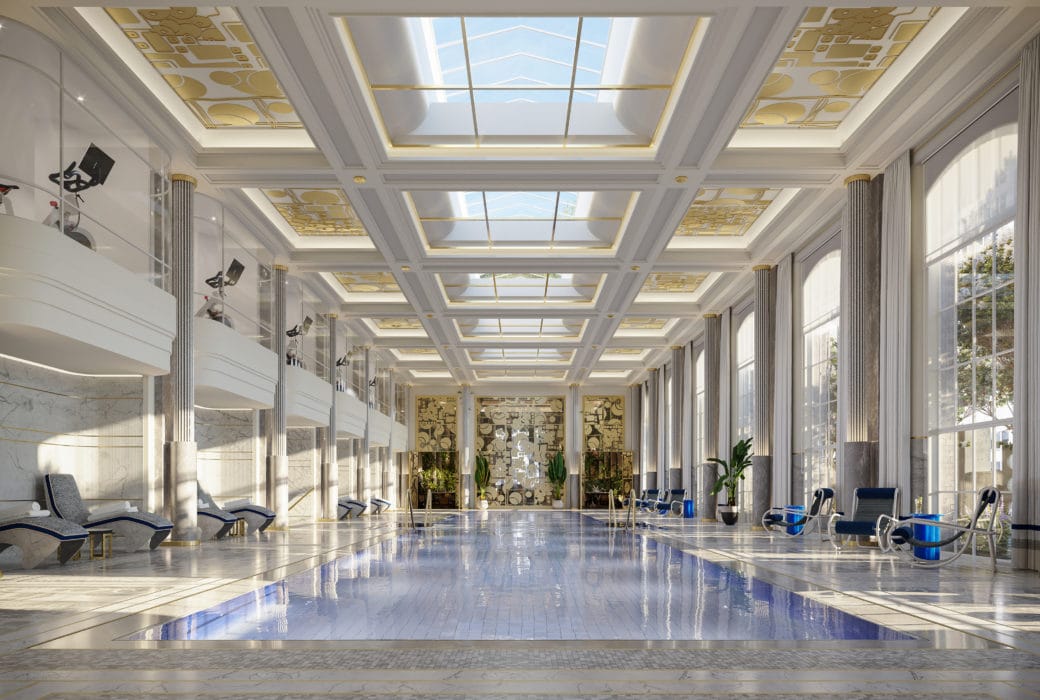 The restoration team at Skidmore, Owings & Merrill worked tirelessly to freshen up The Towers of the Waldorf Astoria New York and ensure the building's historical integrity remained intact. While honoring the structure's stunning art-deco architecture and history of hosting illustrious figures, the team converted 1,400 guest rooms into 375 condominium residences and 375 hotel suites, making residence at the location an attainable dream. Because the building is formally protected under New York's Landmarks Preservation Law, the restoration specialists were tasked with the art of careful updates, even undoing previous alterations that undermined the intended aesthetic, reinstating the opulence that makes the Waldorf Astoria a celebrated landmark.
Residence
Bed
Bath
Price
Int

SqFt

Ext

SqFt

Taxes
Common Charges
Floor Plan
Contact
3406
3
3.5
$10,600,000
2529
$5,780
$4,773
View
Contact
3407
1
1.5
$2,850,000
808
$1,847
$1,525
View
Contact
3310
2
2.5
$6,250,000
1705
$3,897
$3,218
View
Contact
3001
1
1.5
$2,850,000
814
$1,860
$1,536
View
Contact
2118
Studio
1
$1,800,000
535
$1,223
$1,010
View
Contact
1912
2
2.5
$6,250,000
1567
$3,581
$2,958
View
Contact
3102
1
1.5
$3,250,000
952
$2,176
$1,797
View
Contact
3309
2
2.5
$5,600,000
1716
$3,922
$3,239
View
Contact
4305
4
4.5
$19,000,000
2971
$6,790
$5,608
View
Contact
2210
3
3.5
$9,800,000
2335
$5,336
$4,407
View
Contact
2107
Studio
1
$1,895,000
561
$1,282
$1,059
View
Contact
3811
2
2.5
$6,150,000
1731
$3,956
$3,267
View
Contact
2417
1
1.5
$3,750,000
995
$2,274
$1,878
View
Contact
Midtown is both the heart of the business district and a center for the arts. Most widely known for Times Square and as the home of global corporate headquarters, Midtown presents intoxicating variety. To the north are Central Park, Michelin-star restaurants, Fifth Avenue's world-class shopping, and cultural institutions like the Museum of Modern Art. The south is anchored by beautiful green spaces like Bryant Park and Madison Square Park. The east is a dynamic blend that includes Rockefeller Center and the United Nations Headquarters. Venture further west in Midtown, and entertainment is abundant at Madison Square Garden and in the Theater District, while Hell's Kitchen offers access to quaint eateries and the Hudson River Greenway.
Esteemed designer Jean-Louis Deniot has married grandeur with modern comfort at The Towers of the Waldorf Astoria New York, showcasing art-deco scale and splendor while filling each residence with modern fixtures. Rooms offer awe-inspiring views of New York City, all framed by historical elements interwoven with practicality. Kitchens are equipped with custom-designed wood and lacquer cabinetry by Deniot, crafted by Italian design house Molteni&C, while top-of-the-line appliances are expertly concealed. Primary bathrooms feature heated floors, rain showers, and custom Italian vanities, all blending harmoniously with handcrafted finishes, natural materials, and art-deco elements, instilling subtle and tasteful nods to the building's intended design. 
The 25th floor of The Towers of the Waldorf Astoria offers 50,000+ square feet of private residential amenities. Residents can enjoy the Starlight Terrace with two kitchens overlooking Park Avenue or admire the verdant Winter Garden. The Monaco Bar and Starlight Lounge boast skyline views, ideal for private gatherings, plus an adjacent catering kitchen in the Grand Salon. From film viewings at the Stage & Screen Theater, cards in the Monte Carlo Gaming Room, and billiards in The Cue Club to the children's playroom, the entertainment is boundless. Private wine storage is available in the Tasting Room, which features Gaggenau wine vaults. The Empire Club provides first-class business accommodations, with coworking and private offices. Wellness amenities include a spacious pool area with a 25-meter indoor Starlight Pool and skylight, fitness center, and lounges with saunas and treatment rooms. 
Design Overview
As an homage to the Waldorf Astoria's long history of arts patronage, the world-renowned auctioneer and collector Simon de Pury curated an art collection from new, young artists who will help breathe new life into the historic building. Interior designer Pierre-Yves Rochon updated the public spaces by blending restored materials with contemporary finishes and furnishings, creating continuity between the hotel's past and present. And the bright, modern residences were carefully curated by celebrated French interior designer Jean-Louis Deniot. His goal: create the "backdrop to be as captivating as possible, without being overpowering."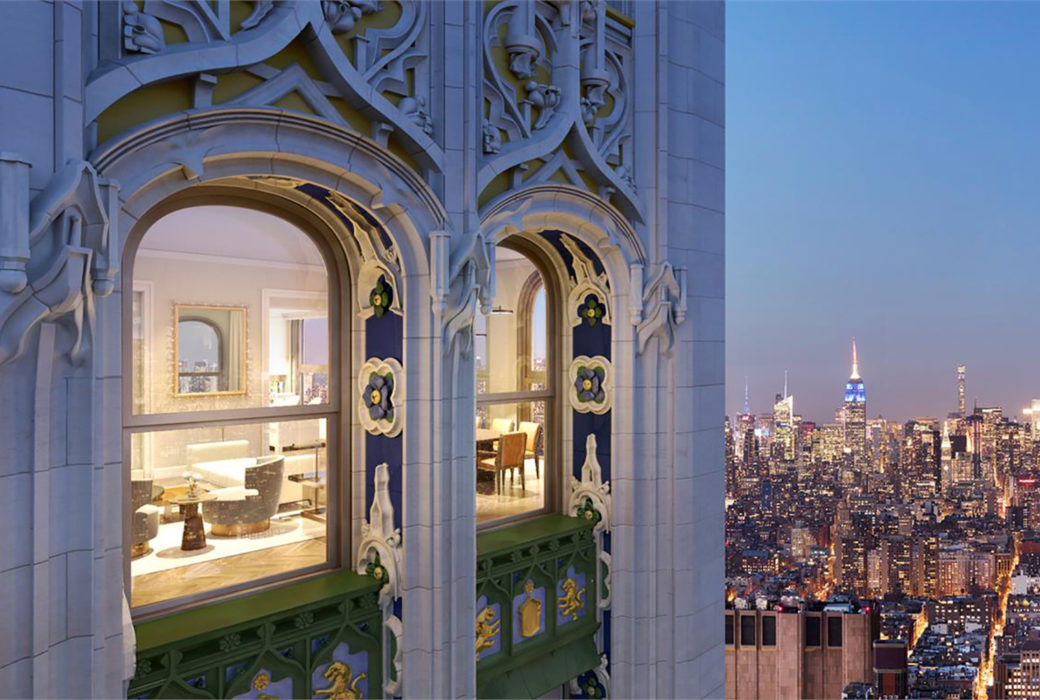 Architecture
Nine Condo Conversions That Bring History to Life
Every home tells a story, and nowhere is that more true than in developments that give new life to historic landmarks. It's possible to own a piece of history in these one-of-a-kind properties, where everything old is new again.