Forest Hill Private Residences
Forest Hill, Toronto
2 Forest Hill Rd, Toronto, ON M4V 2L3, Canada
In Midtown Toronto, on the corner of bustling St. Clair West and lush and serene Forest Hill Road, Forest Hill Private Residences offers a compelling combination of accessibility and asylum. You can frequent local boutiques, restaurants, and farmers markets, or you can retreat into the elegance of your home, taking in the views of canopied streets and parks from your private outdoor terrace. Pair that with elegant architecture by Graziani + Corazza Architects, gorgeous interiors by U31, and resort-style amenities curated by The Forest Hill Group, and you have all the trappings of modern luxury.
Developed By Altree Developments
Broker
Sotheby's International Realty Canada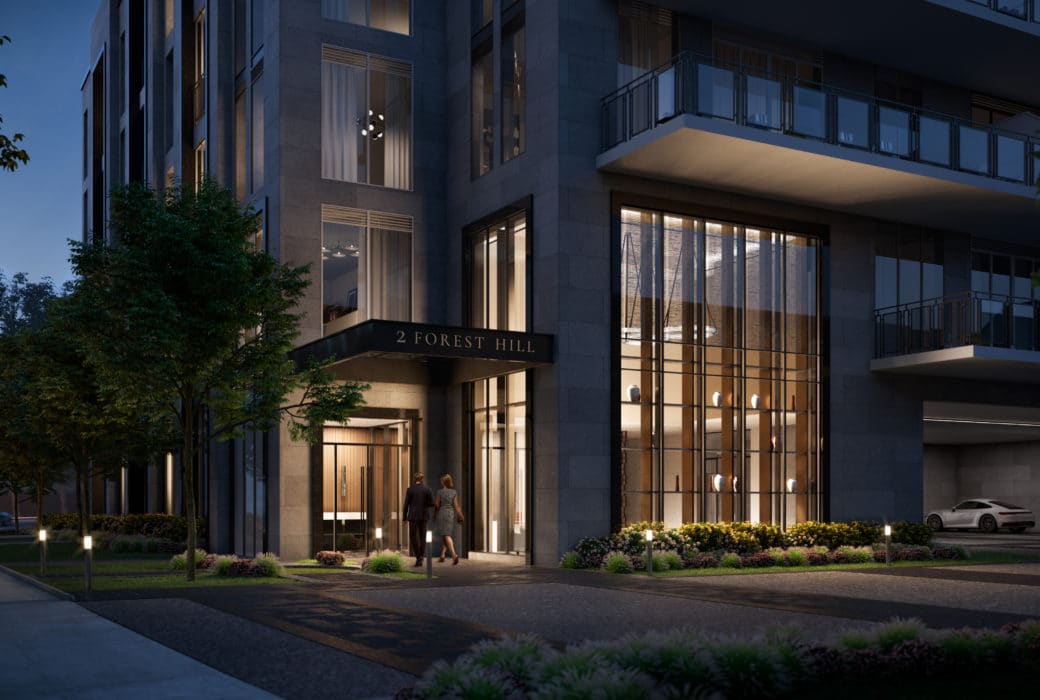 About Forest Hill Private Residences
Graziani + Corazza Architects sought to respond to the duality of the location—urban and residential—in one cohesive design. The result? A nine-story building that's refined elegance in the front, relaxed living in the back. It's grand but also understated, with clean lines, a strong sense of verticality, and protruding balconies and setbacks that provide points of interest. 
In Midtown Toronto, Forest Hill is an upscale neighborhood with grand mansions and a village-like feel. Here, you'll find local shops, family-run cafes, and bars where everyone knows your name. Its Midtown location means that cultural attractions and bustling nightlife are never far away, but it also boasts parks, tree-lined streets, and a nature trail that runs along the Belt Line Railway. It's one of Toronto's most attractive neighborhoods and one of its most exclusive.
With just 94 residences, ranging in size from one-bedroom suites to three-and-a-half-bedroom townhouses, this is boutique condo living at its finest. As the name suggests, the attention to detail and level of luxury make each home feel more like a private residence, each with its own expansive outdoor space. Interior design firm U31 delivers generous open layouts, soaring ceilings, and oversized windows paired with top-of-the-line appliances, high-quality materials, and textured finishes.
From the sleek lobby to the state-of-the-art fitness center, nothing is lacking at Forest Hill Private Residences. The building has its own sommelier, valet, and concierge service—and if it's not on-site, The Forest Hill Group is there to help you find it, from personal trainers to salon reservations. Of course, the most prized amenity of all may be the location in one of Toronto's most exclusive neighborhoods.
24hr Doorman
Catering Kitchen
Fitness Center
Garden
Lounge
Outdoor Space
Pet Spa
Porte-Cochère
Private Dining
Steam Room
Swimming Pool
Valet Parking
Wine Sommelier
Wine Storage
The Design
Principal Architect Enzo Corazza speaks on the choices that went into designing Forest Hill Private Residences. "We are creating a palette that we feel will make you feel like you're at home," says Corazza. A combination of limestone and granite lend the building a timeless design. The outdoor spaces, including balconies and expansive private terraces, replicate the atmosphere of a traditional standalone home.